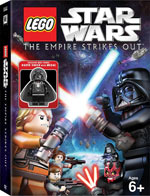 LEGO Star Wars: The Empire Strikes Out

Starring:
voices of Anthony Daniels, Brian Blessed, Julian Glover, Ahmed Best, Tom Kane
Running Time:
22 minutes
TV Air Date:
September 26, 2012
DVD Release Date:
March 26, 2013 (
Amazon.com
)
Plot Summary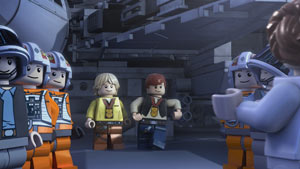 Your favorite characters are back to save the galaxy in LEGO® Star Wars®: The Empire Strikes Out™. The heroes of the Rebel Alliance including heroic Luke Skywalker, swaggering Han Solo and steadfast Princess Leia have no time to celebrate their victory over the Empire as a new Imperial threat arises. But as Jedi-in training Luke embarks on this next mission, he discovers that his celebrity status as a "Death-Star-Blower-Upper" can be a double-edged lightsaber when he's constantly mobbed by crazed fans. So much for secret missions! Meanwhile, Darth Vader and Darth Maul are locked in a hilarious "Sith-ling" rivalry as they compete for the Emperor's approval. It's an action-packed comic adventure that's out of this world! (from Think Jam)
Film Review
It's pretty amazing when you ponder the longevity of Star Wars. With even just the first three movies spanning 1977 to 1983, the popularity of the series endured tremendously. And now at six films--with a seventh slated for 2015--and two animated TV series under its belt (both for the Clone Wars), there just is no sign of Star Wars slowing down.
Several years ago, the LEGO Star Wars toys migrated into the world of video gaming, starting with the newer trilogy and then expanding to cover the original series. After that, they released all six together and, more recently, a Clone Wars edition. They're fun for all ages and pretty amusing too. So it wasn't a huge surprise that an animated TV special was created using the LEGO counterparts of these Star Wars characters. That special aired on TV in September 2012 is now available for fans to watch on DVD anytime they want to.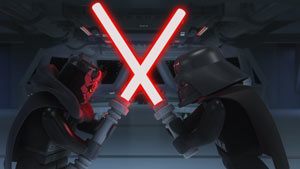 The Empire Strikes Out is a spoof of characters and events from all six films, goofing on all kinds of situations from the movie series, creating an all new story in the process. This story takes place after the events of the original Star Wars movie when Luke had destroyed the Death Star and the Empire was preparing to retaliate. But this LEGO story doesn't play by any sensible rules and aims to be as ridiculous as possible. The Emperor decides to rebuild the Death Star and is excited to have his "boys" help out--Darth Vader and Darth Maul (who obviously was long gone before Vader even grew up in the movies). From Maul's hysterical "theme song" derived from John Williams' score for him in The Phantom Menace, to his six-bladed lightsaber, it's a pretty hilarious take on his character. Meanwhile, Luke flies to Naboo and is mobbed by girls who are fans since he destroyed the Death Star, and C3PO and Chewie are accidentally left behind together. Without giving it all away, it's just one rapidfire joke after another. Some do inevitably fall flat, but most of them hit the mark (and the Storm Troopers find the droids they're looking for and Han gets to shoot first!). But because there are no rules with this alternate LEGO Star Wars universe, the gang is able to show Luke's fan girls a real life photograph of Hayden Christensen as Anakin in Attack of the Clones to get them to stop chasing Luke and harass Vader instead (since they tell him that that's what he looks like under his helmet). Before that, one of the fans holds up a photorealistic Star Wars lunchbox with real Star Wars poster art on it (featuring the real actors from the film). It's totally silly but it's unexpected and works well with the zaniness of the story.
The episode clocks in at 22 minutes which is the standard time of a regular half hour TV episode without commercials. The DVD includes this, with some chapter selection, but that is the extent of the DVD's content. There are no extras and it's all done after those 22 minutes. The only bonus you get is an exclusive Darth Vader LEGO figure that has him wearing an award medal (like Luke got at the end of the 1977 film). All in all, it's not much for what you're likely to pay for it, but diehard fans will probably still like to check it out, and it is kind of neat to have an exclusive LEGO figure.
The packaging says the combo of the DVD episode and toy are for kids 6 years and up, so I wouldn't recommend it for really little kids. There is some violence, but it's mostly comedic and involving LEGO characters. For example, we see Luke in his X-Wing when a stray shot breaks through the cockpit and shoots off his hand. He screams and then stops and just pops on a new LEGO hand. Another time, we see storm troopers get shot to pieces, since they're made of LEGO blocks. Finally, there's a scene of innuendo that wasn't expected. C3PO is thrown in front of Chewbacca who is sitting at a set of flight controls, so that he's laying face down at Chewie's lap. C3PO comments on Chewie needing to "watch his hands" but just tells Chewie to fire the controls anyway (so it looks like Chewie's hands are at C3PO's crotch -- who's a robot, mind you). It's awkward and off-color, with the implications being undefined enough that some can shrug it off while others will definitely be offended by it. It was definitely not needed and not even all that funny.
When all is said and done, The Empire Strikes Out is mostly a fun Star Wars spoof, but its short running time (It would have been great as a longer feature) and bonus feature-less DVD release make it a tough purchase to recommend completely.
-
John DiBiase
(reviewed: 4/1/13)
Disclaimer: All reviews are based solely on the opinions of the reviewer. Most reviews are rated on how the reviewer enjoyed the film overall, not exclusively on content. However, if the content really affects the reviewer's opinion and experience of the film, it will definitely affect the reviewer's overall rating.
To find out why we don't typically review R-rated movies,
click here