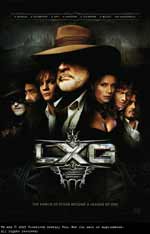 LXG: The League of Extraordinary Gentlemen


- for intense sequences of fantasy violence, language and innuendo.
Director:
Stephen Norrington
Starring:
Sean Connery, Peta Wilson, Stuart Townsend
Running Time:
1 hour, 52 minutes
Theatrical Release Date:
July 11, 2003
Official Site
Plot Summary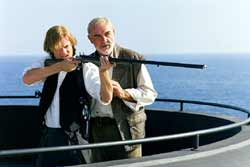 The League members are staunch individualists, outcasts in fact, with checkered pasts and singular gifts that have been both blessing and curse. Now they must learn to trust each other and work as a team for the very hope of civilization. With little preparation and no time to lose, they will be transported via Captain Nemo's extraordinary submarine, the Nautilus, to the frontline of defense: Venice, Italy. There, a masked madman known as the Fantom plans to sabotage a conference of world leaders by setting off a domino chain of explosions, sinking the entire city. The threat is catastrophic, the risks are staggering. The League of Extraordinary Gentlemen has 9 hours to save the world…
Almost as Daredevil did earlier this year, The League of Extraordinary Gentlemen (or LXG) is less of your light-hearted superhero fanfare and more of the gritty, dark action adults might go for. But just as Daredevil suffered from problems from every aspect, LXG does so as well.
What LXG has going for it are the characters, big visuals, and, of course, Sean Connery. But the film suffers most from poor editing. I felt the story was engaging enough although rather basic and, at times, kind of hard to follow. But the League of characters were interesting ones. Each character had a past and were nothing short of outcasts so it made their developments interesting to watch. Toss in some classic "Who can you trust?" twists, a hearty helping of tasty visuals and you've got an entertaining comic book adaptation.
But the tourniquet around the neck of this project was the editing. In the first real all-out action sequence involving the newly-formed League, the splicing of shots involving the characters is cut so ridiculously bad, you truly will not know what you're watching. The camera barely stays on a character long enough to allow you to figure out who is swinging their fists before your tossed to another shoddy encounter. The end result? A complete mess of an action scene that had all the potential of being nothing short of exciting is reduced to steaming pile of ashes. Aside from that, other sequences happen so quickly you barely know what it is you're watching or why the characters are doing what they're doing. But when the film does slow down from time to time to allow the viewer a chance to get to know some characters, that's when you really feel like you're being offered a movie -- not a mess of randomly spliced pieces of filmstrip.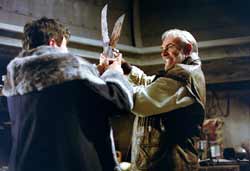 In the content department, LXG is heavy on the violence. Probably the roughest moment is when we're introduced to Mina's vampire ways and she violently attacks a man and kills him via a bloody bite to the neck. Aside from that, we experience some pretty disturbingly gross shots of Jekyll turning into and back from Mr. Hyde, not to mention the overall creepiness of Hyde's character, and a brief effects shot of a character's face decomposing rapidly (ironically like in one of Connery's classic films Indiana Jones and the Last Crusade). Language is minimal and sexual content is reduced to merely a minor comment and a kiss.
So after all these complaints, why bother with even three stars? Connery saved this film for me. I've enjoyed his films since I was a kid and saw him in The Hunt For Red October and The Last Crusade (yeah, okay, I'm 23, so I wasn't schooled in Connery's early work will I got older!). Connery didn't act an Oscar-winning performance but it sufficed and was fun enough to make this film watchable. Other notable characters were Townsend's suave Dorian Gray, Jason Flemyng's schizophrenic Dr. Jekyll, Naseeruddin Shah's unique take on Captain Nemo, and Shane West's Tom Sawyer. The special effects were impressive. The scenery was often beautiful and intriguing. I also enjoyed watching the characters interact with each other. Sort of like a poor man's X-Men (or more like a classic monster movie version), LXG was just an all-around different kind of film. So while the flaws were pretty evident, the overall movie was still intriguing enough for me to enjoy it.
All in all, I thought the movie wasn't all that bad. It was - in a lot of ways - incredibly flawed but I found a lot of those flaws forgivable for the most part. This is not a film for the youngsters by any means so if you must see them, please leave them at home. So while LXG is entertaining, your summer will not be incomplete if you miss this one. If you have to see only one or two movies this summer, make sure it's Pirates of the Caribbean, Finding Nemo, or Bruce Almighty.
-
John DiBiase
(reviewed: 7/16/03)
Parental Guide: Content Summary

Sex/Nudity
: Dorian makes an off-color comment to Mina about "nailing" her (an innuendo since she's a vampire). A couple other minor comments are made.

Vulgarity/Language
: 1 "s" word, 3 "h*ll," 2 "d*mn," 1 "a" word 3 "G-d"

Alcohol/Drugs
: Some characters drink at random times during the film.

Blood/Gore
: When masked, we see the Fantom's disfigured mouth through the openings in the mask as well as what looks like red-colored burned flesh around his eyes. We see a bullet hole in a person's shirt when they're shot and killed. Dorian is completely shot up by a machine gun and we see the burned bullet holes appear through the back of his jacket. Dorian then opens his shirt to reveal all of the bloodless bullet holes which quickly heal up and dissipate like dust. Mina is held with a knife to her neck. She then turns on the man and violently bites his throat. We see blood covering her mouth (as well as inside of it), and she licks her mouth clean (we don't see the wound on her victim). We see some blood on Mina's finger after a small glass breaks in her hand. Sawyer has a small bloody cut on his forehead. During a fight, Mina stabs a man with little blood, but he is unharmed. He then hits her and we see the scrape on her face heal up (as does a wound on the man who she is fighting). A man wipes blood from a sword after stabbing someone with it. We see a man who dies by quickly decomposing. We see their face rapidly melt away and decompose in a pretty grotesque fashion. We see an invisible character who is showing visibly burned skin. While neither bloody nor gory, when Jekyll turns into Hyde (and vice versa), we see interim shots of the transformation that show his skin bulging in a gross and disfigured manner that may be unsettling to some viewers.

Violence
: Lots. A lot of shooting, fighting, buildings collapsing, some fatal deaths, stabbings, etc.
Disclaimer: All reviews are based solely on the opinions of the reviewer. Most reviews are rated on how the reviewer enjoyed the film overall, not exclusively on content. However, if the content really affects the reviewer's opinion and experience of the film, it will definitely affect the reviewer's overall rating.
To find out why we don't typically review R-rated movies,
click here