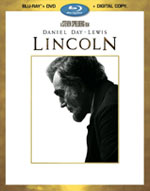 Lincoln


- for an intense scene of war violence, some images of carnage and brief strong language.
Director:
Steven Spielberg
Starring:
Daniel Day-Lewis, Tommy Lee Jones, Sally Field, David Strathairn, Joseph Gordon-Levitt, James Spader
Running Time:
2 hours, 30 minutes
Theatrical Release Date:
November 16, 2012
Blu-Ray Release Date:
March 26, 2013 (
Amazon.com
)
Official Site
Plot Summary
A revealing drama that focuses on the 16th President's tumultuous final months in office. In a nation divided by war and the strong winds of change, Lincoln pursues a course of action designed to end the war, unite the country and abolish slavery. With the moral courage and fierce determination to succeed, his choices during this critical moment will change the fate of generations to come. (from MovieWeb.com)
Film Review


When a movie like Lincoln releases, it's a bold reminder as to just why Steven Spielberg is one of the most celebrated film directors of our time. Lincoln is a project Spielberg had been hoping to develop for some time, and it finally became realized when he was able to secure the film rights to a book by Doris Kearns Goodwin. Screenplay writer Tony Kushner then presented Spielberg with a 500+ page script that the director pulled 70 pages from to make into the film Lincoln. And this story focuses on the last four months of the president's life when he was trying to pass the amendment to end slavery in America.
Lincoln is an epic on the grand scale of most cinematic epics, including Spielberg's own underrated masterpiece, War Horse. However, while it opens with a brief Civil War battle scene, most of the movie is a dramatic piece about the political process of ending slavery. It's a drama by every manner of the genre's definition and it puts an incredible amount of reliance on the film's players to make it work. Thankfully, Spielberg has assembled an incredible cast of recognizable talent to get the job done, and the end result is surely impressive.

Daniel Day-Lewis does an amazing job slipping on the top hat and jacket to bring our famed president back to life (And it was said he never broke character while on set). Spielberg's direction keeps the film looking very cinematic, which dramatizes a major event in the history of the United States, making it accessible to a new generation. But Spielberg takes a classic approach to direction, using long, unbroken shots of dialog and not over-dramatizing scenes just for the sake of entertainment. John Williams' theatrical score is subtle but appropriate, while Spielberg uses the look and feel of the movie to support the emotion of the time and, specifically, the leading man. Any U.S. school student will have studied Abraham Lincoln in some form in their life, and Spielberg's treatment gives viewers a different side of the man than what we've come to know via textbook page. He's still noble and a bit larger-than-life, but he's more relatable than ever.
Lincoln plays out more like a documentary at times than entertainment; the political aspects of this time in our history are covered in-depth, so those who have a short attention span or tolerance for such subject matter are likely to lose interest in the movie early on. The movie doesn't take the subject of slavery head-on from the slaves' perspective at all. It's completely shown through the perspective of Lincoln, limited to these last four months of his life. We gain some insight into what this fight has cost him as a man and family man (including losing a son in the war and fearing to lose another when another one of his boys insists on enlisting). We get to see a little more of the ugliness of the war at this time in our country's history, but more so the political battle that's being waged in Washington. It's as political as politics get and at times, the film gets quite dry because of it.
But some of the characters help alleviate the dryness along the way, helping to keep the film quite watchable regardless of its wordy, dialog-heavy and often snail's-paced scenes (albeit fitting). I'm already a big fan of Tommy Lee Jones' work through the years, but Jones is really wonderful as Thaddeus Stevens. He's old, tired, and ready to see an end be put to this long and drawn-out ethical war, but he stands his ground no matter what his feelings may be. James Spader may be the film's lightest character entirely. He plays W.N. Bilbo, who helps Lincoln recruit Democrats to support the vote for the amendment to abolish slavery. And Day-Lewis brings such a warmth to Lincoln that it's nearly impossible not to really feel for the man and everything he's going through in and out of the spotlight.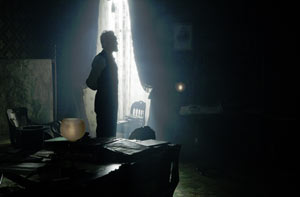 The content for Lincoln is a little rough at times. While the movie plays out as a really important depiction of American history, there's a sprinkling of profanity--mostly of "g*dd*mn" unfortunately--throughout its two-and-a-half-hour running time. But Spader's Bilbo character uses the "F" word twice in the film in two instances that are intended to be light and amusing, but they're completely unnecessary and seem rather out-of-place in an educational movie such as this. Otherwise, there is some graphic content that is shown to depict the horrors of war, which I completely understand why it's included, but it'll be intense for some viewers. For example, Lincoln takes his son Robert to a local hospital to dissuade him from enlisting and Robert witnesses a cart of amputated limbs being dumped into a pile of other amputated limbs that are being buried out back. And later in the film, we see a stretch of battlefield that shows twisted, dead bodies of soldiers from the war--some with their eyes wide open in a ghostly fashion, with another body that's ripped open and rather gory. All of it is shown pretty quickly, but it's a sobering and disturbing sight. Again, I understand the importance of expressing this horror of the war, but it's certainly unsettling.
Overall, Lincoln is a wonderful historical drama, but the overlong running time and the incredibly slow pacing will be its main hindrance for a wider range of viewers being able to enjoy it. It's beautifully shot, wonderfully acted and expertly directed, but unless you're a pretty faithful lover of history, Abraham Lincoln, or politics, you're probably not going to enjoy it as much.
-
John DiBiase
(reviewed: 4/3/13)
Blu-Ray Special Features Review
Lincoln
is available now in a 4-Disc Blu-Ray combo pack that includes the Blu-Ray disc, a Blu-Ray disc of bonus features, a digital copy disc, and a DVD copy of the film. There's also a 2-Disc Blu-Ray set that includes just the main Blu-Ray disc and the DVD, and also a single-disc DVD release. This will be a review for the 4-disc set. The Blu-Ray picture is incredibly crystal clear and presents a truly impressive picture.
The Journey To Lincoln (9:24) - Here, Steven Spielberg expresses his reverence for the person Lincoln was and how he'd been interested in making this movie for over ten years. We hear from the scriptwriter, book author and Spielberg about how the story came together. Day-Lewis and Jones also reflect briefly on the project.
A Historic Tapestry: Richmond, Virginia (4:00) - This short documentary is dedicated to filming on location in historic Richmond, Virginia.
Blu-Ray Bonus Disc Extras: (Only in the 4-disc set)
In The Company of Character (10:23) is dedicated to the film's cast, including Daniel Day-Lewis's immersion into the character of Lincoln. It's interesting to hear Daniel talk about him and the role, as well as the cast and crew working with him. It then moves on to all of the core cast, including Levitt, Jones, Strathairn, Field, Nelson, and many more. It's a wonderful featurette.
Crafting The Past (10:43) is a neat featurette that covers the imagery and art of the look of the movie. It's interesting to hear Kathleen Kennedy highlight the fact that many scenes are meant to look like "snapshots" of historical moments. It's impressive to see how much detail went into recreating the accurate look and feel of the time and place.
Living With Lincoln (27:04) is a nearly half-hour special about what it was like to film the movie. Spielberg talks about what working on the set was like, while the cast and crew reflect on their own experiences (especially working with Daniel Day-Lewis). Everyone's dedication to the project is admirable. It definitely helped lend a sense of authenticity to the film.
In Lincoln's Footsteps (16:35) addresses the editing and the long, uninterrupted shots in the movie. It's intriguing to hear Spielberg talk about how he didn't want to do too many cuts or edits in a given scene to let the focus be the words being spoken. We also hear from John Williams about his score and what his approach was for the movie. The sound guys then talk about the ambience and sound of the film, and how with there only being one battle scene in the beginning, they focused on stuff like clocks ticking to fill in the background in key scenes. Spielberg and Daniel also talk about how difficult it was to say goodbye to the project. The featurette ends with a brief retrospective on Lincoln's legacy.
-
John DiBiase
,
(reviewed: 4/3/13)
Parental Guide: Content Summary

Sex/Nudity
: None, really. We see Mary undressing for bed and briefly see her in an under-robe type garment; We see a man climb in bed with a woman. Both are clothed and they just briefly kiss, but they don't do anything else. (And it's not implied that they do)

Vulgarity/Language
: 2 "F" words, 12 *g*dd*mn," 3 "S.O.B," 4 "S" words, 6 "d*mn," 1 "J*sus," 1 "Dear G-d," 6 "h*ll," 1 "cr*p," 1 "Chr-st," 1 "Oh my G-d," 7 "n*gger"

Alcohol/Drugs
: Some characters are seen drinking or using tobacco during the film.

Blood/Gore
: We randomly see an amputated leg from the knee down in a display case that shows exposed bone (possibly for medical knowledge purposes?); Robert follows a hospital worker pushing a cart along a ramp that's dripping blood and it stops at a pit that contains amputated human limbs. The cart is revealed to show newly amputated limbs as they're added to the pile. This sickens Robert and frightens him about joining the war; Lincoln visits the battlefield and we see many, many dead and somewhat bloody bodies strewn about. One body is briefly seen cut wide open and rather gory in appearance.

Violence
: The opening scene is of the Civil War battlefield where many men are brutally fighting in the mud. Some punch and beat each other, while others are stabbed with bayonets and such. It's extremely violent. The scene ends with one man's head being pushed under the mud under another man's boot; Lincoln slaps Robert in the face; Bilbo is shot at by another man a couple times as he's running away; We see a burning city or series of buildings on the horizon.
Disclaimer: All reviews are based solely on the opinions of the reviewer. Most reviews are rated on how the reviewer enjoyed the film overall, not exclusively on content. However, if the content really affects the reviewer's opinion and experience of the film, it will definitely affect the reviewer's overall rating.
To find out why we don't typically review R-rated movies,
click here