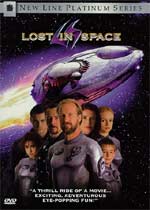 Lost in Space


- for some intense sci-fi action.
Director:
Stephen Hopkins
Starring:
William Hurt, Gary Oldman, Matt LeBlanc, Mimi Rogers
Running Time:
2 hours, 10 minutes
Plot Summary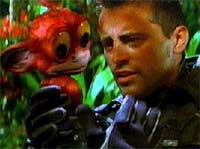 The Robinson family hit the big screen in the new remake of the classic 1960s TV show, Lost in Space. The film begins with the Robinson family preparing to embark on their long journey on the Jupiter 2 to Alpha Prime where they will build a colony for future colonization of the planet to be done. John Robinson (William Hurt) picks the egotistical war hero, Don West (Matt LeBlanc) to pilot the Jupiter 2 to its destination. Dr. Smith (Gary Oldman) has been hired to sabotage the Jupiter 2 & stop the Robinson family from completing their mission with the help of a giant robot (voice by Dick Tufeld). They regain control of the vessel but not before the damage has been done. To save themselves from not being drawn into the sun, they use "hyper drive" and are hurtled into space... where they are lost.
Film Review
Before i go any further, let me just say that the film's screen play was written by the guy who wrote the screenplay for Batman and Robin. With that said, I'll proceed with the commentary. Lost in Space was a campy TV show from the 1960s. This film basically is a version of the pilot episode. I've never seen the pilot episode, but I assume it is by the fact that in this episode, they get lost. The costumes in the film & some of the sets are a little too ornate and elaborate. But my biggest complaint is with Penny Robinson who is played by Lacey Chabert. To be flat-out blunt, she is extremely annoying. Her voice, appearance, attitude & her stupid "Penny Vision" camera puts a corny damper on the film. But the absolute plus of the film is Gary Oldman's performance of Dr. Smith. In my opinion, i think he was fantastic! He provided a serious villainous side, while still remaining "Dr. Smith."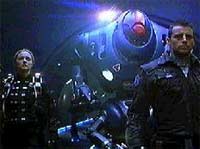 As far as the content goes... the language isn't too bad for modern day films. The only major problem I had was how they scripted little Will Robinson to say the "s" word. Dr. Smith corrects him, & follows up with his own "s" word when he sees what Will had been surprised by. As far as violence and blood/gore go, this, too, is not too bad. When Dr. Smith gets scratched by the alien spider-like things, they show the scratch later on twice-- both times it is discolored & bubbly, looks considerably disgusting. There are some rather frightening aspects to the film in the sense that you may not want your kids to see it. For one, the alien spiders are a little creepy. They scurry along the ground really fast with mighty incisors & chase the Robinson family & crew around. In my opinion, I think this would scare & even give nightmares to younger ones. Also, another creepy, possibly frightening thing would be the "futuristic" Dr. Smith portrayed as a mutant spider. They obviously used computer effects for this, where he is shown as a large, hunched-backed, insect-legged creature with a hooded "cape" covering him. He later removes the cape (reminiscent of "Edgar" from Men in Black) where he straightens up really tall as a computer-generated human-like grotesque insect (like all my adjectives?). Very scary for young ones. But above all, this is a light-hearted science fiction flick with some scary & humorous aspects to it. But i recommend caution before you let your kids view this film.
-
John DiBiase
Parental Guide: Content Summary

Sex/Nudity
: None. However, there is a little bit of sexual innuendo between Judy Robinson & Don.

Vulgarity/Language
: 4 "s" words, 6 "h*ll," 9 "d*mn," 1 "G-d"

Alcohol/Drugs
: None.

Blood/Gore
: Not bad. There is a nasty burn on Dr. Smith's palm after a communicator shocks him. There is a minor slightly head wound on Dr. Smith. After being wounded by a spider-like alien, we see an infected-looking scrape on his back which later has worsened and looks grosser. Also, when the spiders are shot, they explode with a slimey goo.

Violence
: Quite a bit. Characters being punched, shot at, alien spiders blowing up, ships blowing up, etc.
Disclaimer: All reviews are based solely on the opinions of the reviewer. Most reviews are rated on how the reviewer enjoyed the film overall, not exclusively on content. However, if the content really affects the reviewer's opinion and experience of the film, it will definitely affect the reviewer's overall rating.
To find out why we don't typically review R-rated movies,
click here