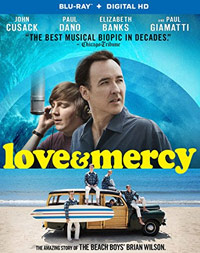 Love & Mercy


- for thematic elements, drug content and language.
Director:
Bill Pohlad
Starring:
John Cusack, Paul Dano, Elizabeth Banks, Paul Giamatti
Running Time:
1 hour, 52 minutes
Theatrical Release Date:
June 19, 2015
Official Site
Blu-Ray Release Date:
September 15, 2015 (
Amazon.com
)
Plot Summary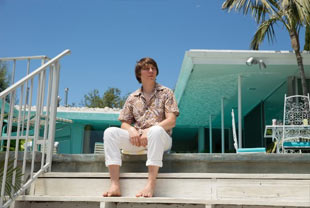 Love & Mercy is an unconventional portrait of Brian Wilson (portrayed by both John Cusack and Paul Dano), singer and songwriter for The Beach Boys. The film intimately examines the unique journey and ultimate salvation of this musical icon, whose success came at an extraordinary personal cost. (from Lionsgate)
Film Review
Biopics--I suppose like any genre--are a bit of an acquired taste and a mixed bag. Fans of any of the cast will be picky about the subject matter, while fans of the real-life person/character will be critical of the film and the choices made of who is playing who. Then when you add music to the equation, it's a whole 'nother story. Take Walk The Line for example; it was a great drama with pretty good music, but many people had trouble processing the casting of Joaquin Phoenix as Johnny Cash. Indie film Love & Mercy, from first-time director Bill Pohlad (who is an accomplished producer, however), takes a look at a couple decades out of the life and career of The Beach Boys' own singer/songwriter Brian Wilson. It simultaneously--and ambitiously--tells the story of Wilson's struggles while recording some of the band's most popular songs, as well as his tumultuous years later in life under the thumb of a controlling and destructive therapist. John Cusack steps into Wilson's shoes later in his life while rising star Paul Dano fills in as the Beach Boy during the height of the band's career.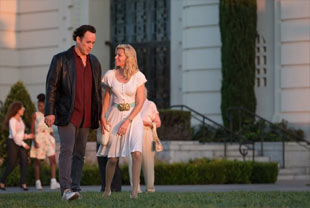 Immediately, many viewers will have to work to look past Cusack as a physically contrasting older Brian Wilson. Cusack is such a well-known actor that it won't be easy to see him as anyone but John Cusack. Still, John dives into the role pretty immersively, and you get the tortured and schizophrenic nature of Wilson very tangibly from his performance. Dano is even better as the younger Brian as he has the tougher job of illustrating Brian's slow descent from genius into madness after the impact that drugs had on his personality and career. What helps bring it all to life even stronger is Pohlad's creative and quirky directorial style, which works more often than it doesn't (and it mostly doesn't later in the film as he uses some confusing editing choices to portray Wilson's lost grip on reality). Pohlad has said that their main goal with the film was to capture more of the emotion of Brian's story than pinpoint accuracy, so they designed the look, feel and sound of the story to convey the emotions of the events rather than the exact retelling of those events. And, for the most part, it works nicely as an art film and also an emotional drama. Elizabeth Banks is a great romantic interest for the older Brian, and it's easy to be drawn into her experiences with Brian and his controlling therapist, Dr. Eugene Landy, played by Paul Giamatti. Paul plays Landy with this warmth and genuine concern that's misleading at first--and rightfully so--and it makes the reveal that he's actually kind of an evil character all the more surprising when it happens.
Biographies are tough to pull off with the feel of a cinematic movie, but Pohlad strikes a nice balance between documentary and fictional drama. Some of the film's best scenes happen when Dano is playing Brian Wilson in the studio recording The Beach Boys' album Pet Sounds. His enthusiasm is infectious and it's exciting to get some insight into how his mind works and how the creative process evolves. And through the way Pohlad directs the scenes, they even feel like they're lifted right out of the archives as footage taken from these actual sessions. They often have that unscripted, raw directional feel that comes from a camera man using a handheld camera while trying to capture a moment as it's unfolding. Other footage has a really dated feel that makes it seem like we're really watching 1960's-era footage of The Beach Boys on set or in the studio. It's so wonderfully executed.
Unfortunately, the excitement that Brian radiates for his music is mostly in the 60's era of his life and is directly juxtaposed against his broken older self, as well as the hard road he takes getting to that point. From doing drugs and abusing alcohol to dealing with the failure of an album he and the band were excited about, there's some seriously weighty stuff here. If there wasn't the hopefulness that stems from the relationship between Melinda and Brian when he's older, the movie would just keep getting bleaker and bleaker. Thankfully, Pohlad's ability to successfully juggle the two eras works in the story's favor. Instead of showing us everything visually from Wilson's life, he lets some of it be told by Brian to Melinda in dialog. The shuffled timeline works in its favor, saving the movie from being just another from-childhood-to-fame-to-today biopic.

The content for the film is actually pretty significantly rough. While the image of The Beach Boys--at least to this reviewer--was mostly family friendly and happy-go-lucky, this film reveals that it was anything but that. I have always had a distant, casual appreciation for their music (as my parents loved to listen to the "oldies" station while I was growing up, which played a lot of their hits), so their personal story is completely new to me. I was heartbroken to see how horrible and vicious the Wilson father was to his children, and finding out a lot of their later music was written under the influence of drugs is just sad as well. The relationship that Brian had with his therapist, Dr. Landy, is a toxic one, and there are several scenes of Landy verbally berating Brian and even Melinda. This is also when the majority of the film's blasphemy is uttered, and it's sharp on the ears of those of us sensitive to it. In addition, there's 1 "F" word and a handful of other common profane words, some talk about the abuse from the Wilsons' father, and we see the guys smoking pot in the studio. Another scene shows a young Brian telling his wife he did LSD twice and then he goes from being excited about it to breaking down in tears. Older Brian sleeps with Melinda and we see them under the covers lying next to each other on a bed. At one point, we see two glimpses of Melinda's entire bare back (down to her hips) as she re-wraps a sheet around her. The themes for the movie are very mature, so I definitely suggest proceeding with caution.
When all is said and done, Love & Mercy is a well-crafted, well-acted story, but it's not a light one by any means. If you're hoping to just go "surfin'" and "have fun fun fun," there's very little of that to be found here. But if you're a fan of any of the central cast or Brian Wilson, there's a really solid, artful film to be found in Love & Mercy.
-
John DiBiase
(reviewed: 9/14/15)
Blu-Ray Special Features Review
The Blu-Ray release of
Love & Mercy
gives viewers a digital Ultraviolet copy along with the high definition transfer. It's an absolutely beautifully made and colorful film and the HD Blu-Ray transfer is really impressive. Along with the feature film and a director and co-writer audio commentary track (which is very insightful) are the following extras:
A California Story: Creating the Look of Love & Mercy (10:48) - The first featurette focuses on the film's look, locations used, the eras revisited, the film's colors and the moods they're meant to portray, etc. The filmmakers reveal here their intentions to convey emotion through the story and how they tried to make sure the events in the film took place in as many real locations relevant to the story as possible.
A-Side/B-Side: Portraying the Life of Brian Wilson (25:31) - This is the main featurette where they talk about the two different Brian's represented in the film through Paul Dano and John Cusack. We also hear a lot from all of the cast about their respective roles and get to hear a little from the real Brian as well. Director Bill Pohlad talks about his intentions for the film, what they hoped to achieve, their techniques used, etc. It's a really interesting and insightful look at the making of the movie.
Deleted Scenes (7:27) - There are four deleted scenes with a Play All option. The first one, "Brian Meets His Idol" is kind of a sad little scene where Brian meets Phil Spector on the street, and the musician is a total jerk to Brian after Brian heaps lots of praise on him. "Brian Talks with His Family" takes place after his nervous breakdown on the plane as he tells his family he needs to stop touring with the band (1 "g*dd*mn"). "Brian Looks for a Collaborator" is a short scene where he has a one-on-one meeting with a jingle writer, asking him to work with him. Lastly, "Murry Interrupts the Recording Session" is a longer scene where the Wilsons' father Murry interrupts the guys as they're recording "I Get Around" and criticizes them (1 "S" word, 1 "J*sus," 2 "a" words). All of the scenes are good additions to the Blu-Ray disc, but none are crucial to the movie (except the scene where Brian talks with his family probably could have been left in).
-
John DiBiase
,
(reviewed: 9/14/15)
Parental Guide: Content Summary

Sex/Nudity
: We see some 1960s footage of The Beach Boys recording music videos and partying and we see girls in 60's style bikinis; As the guys are comparing their lyrics to The Beatles, they comment on how that band copied their background vocal style. One brother jokes that the "dit dit dit" sound was actually "t*t t*t t*tties"; One of the brothers tells young Brian that the girls in Japan are better than the U.S. girls; Older Brian and Melinda go back to his place and we see them kissing in the shower fully clothed. The next scene shows them lying next to each other naked with just bed sheets wrapped around them. We then see Brian asleep there with Melinda lying awake until he suddenly wakes up in a panic and runs around with a sheet wrapped around him. Melinda then gets up and follows him and quickly re-wraps herself in her sheet twice, flashing her bare back all the way down to her hips); Landy, while screaming at Melinda, calls her a "slut" twice.

Vulgarity/Language
: 1 "F" word, 7 "g*dd*mn," 4 "J-sus Chr-st," 2 "Chr-st," 1 "J-sus," 5 "S" words, 1 "My God," 6 "H*ll," 4 "Oh my G-d," 1 "G-d," 5 "t*ts," 3 "b*tch," 1 "cr*p," 1 "p*ss"

Alcohol/Drugs
: We see drinking at some parties (Brian even dives backward into a pool with a beer bottle in his hand); We see Murry with a glass of liquor in his hand as he listens to Brian playing a song; Older Brian mentions messing up his life with drugs and drinking; One of the Beach Boys asks Brian if the lyrics to one of their songs is a drug song (which Brian sort of denies); Brian and some other band members appear to be smoking pot in the studio; We see some of the Beach Boys drinking by a pool; Brian sits around and looks high/stoned. We then see him crawl into bed with his first wife and he tells her he did LSD twice. At first, he seems excited and then he breaks down in tears; We see one of the Beach Boys with a beer in hand during a video they filmed; We see the band members sitting in a dark tent drinking and smoking.

Blood/Gore
: None.

Violence
: Brian has a nervous breakdown and panics on an airplane and ends up on the floor as his bandmates panic and try to come to his aid; Older Brian talks about his dad spanking them and punches his hand repeatedly and angrily while describing the sound of his father's spanking; We see a flashback of Murry slapping Brian as a little kid; Dr. Landy screams at someone who is behind a door and slams his hand into the door in anger.
Disclaimer: All reviews are based solely on the opinions of the reviewer. Most reviews are rated on how the reviewer enjoyed the film overall, not exclusively on content. However, if the content really affects the reviewer's opinion and experience of the film, it will definitely affect the reviewer's overall rating.
To find out why we don't typically review R-rated movies,
click here