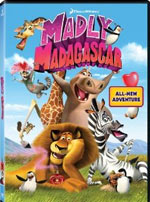 Madly Madagascar

Starring:
voices of Ben Stiller, Chris Rock, David Schwimmer, Jada Pinkett Smith
Running Time:
22 minutes, 7 seconds
DVD Release Date:
January 29, 2013 (
Amazon.com
)
Plot Summary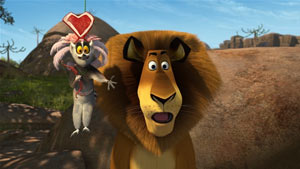 Your favorite Madagascar pals are back in an all-new adventure! Alex's favorite holiday, Valentine's Day, brings hilarious surprises and excitement for the entire gang. Melman plans a big surprise for Gloria, Marty tries to impress a new friend and everyone wants to get their hands on King Julien's love potion. You'll fall in LOVE with Madly Madagascar! (from Think Jam)
Film Review
Ever since DreamWorks tackled Christmas with their highly successful Shrek franchise, it's become more and more popular for other properties of theirs to be given holiday treatments. In 2011, the studio brought back their Madagascar gang for another adventure, following their Christmas special Merry Madagascar, with a Valentines Day special, called Madly Madagascar.
This 22-minute TV special follows their 2008 film Escape 2 Africa and precedes the events of 2012's Madagascar 3: Europe's Most Wanted. Here, a cargo plane hauling Valentine trinkets tosses a bottle of Love Potion No. 9 out its window, which falls into the hands of the lemur King Julian. With the romantic holiday upon our furry characters, Julian dubs himself the "King of Love" and starts selling drops of it to the impressionable island animals to make them be "irresistable." When it runs out, the penguins try to come up with their own brew, which Marty douses himself with and quickly becomes the object of desire for every female on the island. Meanwhile, each of the other New York animals struggle with adjusting to Valentine's Day in Africa, away from home.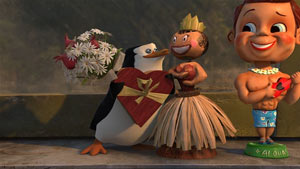 In contrast, while still silly and entertaining, Madly Madagascar is considerably less zany than the latest film in the series, but it does feel like an improvement over the first sequel--which I didn't care much for (I really liked the first film, both Christmas shorts, and the third film). However, Merry Madagascar, which followed the first film, is a fun and enjoyable entry that has become a treat to revisit each Christmas season. With there not really being many Valentines Day-specific movies or TV specials (especially for kids; there's a plethora of romantic comedies for adults), this is definitely a great addition to the Madagascar series.
The content is in line with the films, with a gag about Maurice dressing like a woman as part of Julian's con with the potion, and little Mort being briefly attracted to him (as a her; he's repulsed when Maurice reveals himself). Also, later, another homemade potion causes Julian to lose his fur and Mort acts bizarrely complimentary towards Julian about him being naked. It's played for laughs, but a bit strange. Lastly, Skipper the penguin (who's in love with a bobble head hula girl) says "shiitake mushrooms!" at one point, as an exclamation, which pushes the inference there.
Overall, the short and sweet cartoon is great for Madagascar fans and should be worth rewatching every February. If you love the movies, definitely check it out... just try to find it for a low price, given that there's not much on the DVD. With all features included, the whole DVD doesn't run much longer than thirty five minutes.
The only two extras on the DVD disc are two animated shorts from 2006. The first is called First Flight and is about a chubby business man sitting at a bus stop who encounters a baby bird and helps it to learn to fly. The second, which is a favorite of mine, is the short that had been produced for the Over The Hedge feature film DVD, called Hammy's Boomerang Adventure. In it, RJ the raccoon and the kids tease the hyper Hammy the squirrel with several boomerangs and film the funny results on a handheld camera. Steve Carell's performance as Hammy is just perfect!
-
John DiBiase
(reviewed: 1/27/13)
Disclaimer: All reviews are based solely on the opinions of the reviewer. Most reviews are rated on how the reviewer enjoyed the film overall, not exclusively on content. However, if the content really affects the reviewer's opinion and experience of the film, it will definitely affect the reviewer's overall rating.
To find out why we don't typically review R-rated movies,
click here