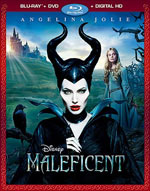 Maleficent


- for sequences of fantasy action and violence, including frightening images.
Director:
Roberts Gannaway
Starring:
Angelina Jolie, Elle Fanning, Sharlto Copley, Juno Temple, Sam Riley
Running Time:
1 hour, 38 minutes
Theatrical Release Date:
May 30, 2014
Official Site
Blu-Ray Release Date:
November 4, 2014 (
Amazon.com
)
Plot Summary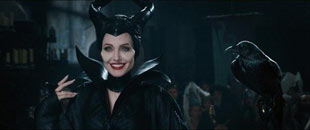 "Maleficent" explores the untold story of Disney's most iconic villain from the classic "Sleeping Beauty and the elements of her betrayal that ultimately turn her pure heart to stone. Driven by revenge and a fierce desire to protect the moors over which she presides, Maleficent cruelly places an irrevocable curse upon the human king's newborn infant Aurora. As the child grows, Aurora is caught in the middle of the seething conflict between the forest kingdom she has grown to love and the human kingdom that holds her legacy. Maleficent realizes that Aurora may hold the key to peace in the land and is forced to take drastic actions that will change both worlds forever. (from Movieweb.com)
Film Review
When one thinks of Disney princesses, the name "Maleficent" doesn't come to mind. But while a new feature film all about the Sleeping Beauty villainess doesn't quite make her a "princess" (but does have one be part of the plot), it redefines the character in a way that almost makes her a heroine. For Maleficent, the title character's origin story is told and the "Sleeping Beauty" story is retold in a new way that is likely to surprise viewers (and upset those who won't appreciate a new telling of the story).
Angelina Jolie brilliantly steps into the title role, donning the creepy horns and a pair of wings as the villainous character. In this tale, Maleficent is a fairy who is guarding a magical land. As a child, she meets a human boy named Stefan who sneaks into the kingdom--despite humans in their land being forbidden, and the two strike up an unlikely friendship. This of course turns into a little more than that, but the two end up not seeing each other for several years, and as adults, they're reunited and their love is rekindled. But here's where the groundwork is really being laid heavily for how this lovely fairy can become a villainess. (And there are some spoilers ahead in the rest of this paragraph, so be warned!) A human king tries to take the fairy's land and when he fails, he puts a bounty on Maleficent's life -- her head for kingship. Stefan ends up betraying her by cutting off her wings and presenting them to the king, winning his throne when he passes away. It's enough to turn Maleficent's heart cold and it inspires her to bestow that fateful curse upon baby Aurora's life when Stefan's wife gives birth to her. The three bumbling pixies who raise Aurora still do in this story, but unlike the animated film, Maleficent knows of their care for Aurora from the beginning and ends up watching over her as she grows. In this version of the story, Aurora and Maleficent end up having a relationship not unlike that of a mother and daughter.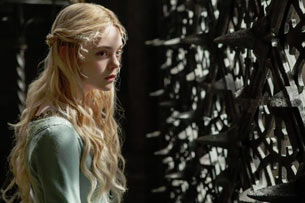 I have to admit, while movies about villains as the central characters aren't unusual, I kind of liked the idea of Maleficent's new story, even if parts of it didn't really make much sense. The fact that Maleficent knew all about Aurora being raised by the three pixies pretty much from day one made their raising of the baby for 16 years rather irrelevant to the story, but it allowed her to watch her from closer than if she'd lived in the castle. It's clear that aspect remained in the story merely because it was part of the Sleeping Beauty story. But the whole "a woman scorned" story made some sense for what might turn Maleficent evil--even if it had the same resolution as Sleeping Beauty. Instead, it plays out a bit more like Frozen than the traditional Sleeping Beauty tale, and it probably would have played out slightly better overall had Frozen not been released just a few months before this film.
In some ways, Maleficent has that same familiar-yet-rebooted feel that Oz the Great and Powerful did last year. It's familiar in the sense that it's a world or story we've seen before in some form, but it's given a new chapter or a retelling to give audiences a different perspective. However, Jolie's performance alone propels Maleficent to greater heights than Oz could reach. Plus, it's just an overall better story. However, one of the biggest problems Maleficent has is similar to what dogged Oz too: uneven effects. Oz the Great and Powerful relied too heavily on so-so special effects and visuals to create a sense of wonder, but the greenscreen work to fabricate Oz was way too obvious and often just too fake looking to "wow" or be whimsical. Here, the film doesn't rely so much on the visuals to carry it, so when things aren't quite as impressive, it doesn't cause the film to just crash and burn. One frustrating visual trick happens to be the all-CG treatment of the three pixies who take care of Aurora. Their mini versions are like something lifted from a Robert Zemeckis motion-captured film (I have no doubt that's how these pixies were created) and then when they grow full size to pose as humans caring for Aurora, they're replaced by the real actresses. It's at that moment that it becomes obvious just how synthetic the mini pixies looked when we see their real faces after they grow bigger. Still, effects like Maleficent's wings and Diaval turning from human to bird and into a gigantic dragon all look pretty impressive. But the effects aren't always good, and it's a bit of a strike against the film.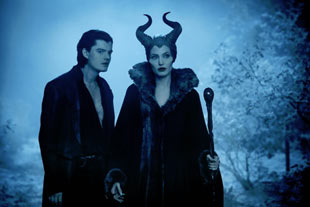 The content on Maleficent is definitely of the PG variety, with a big battle scene near the beginning, and Maleficent being pretty creepy in and of herself. However, the most intense sequence is definitely the ending when she has it out with the villain and Diaval turns into a dragon to menace their attackers. Honestly, I expected the whole movie to be a bit darker overall, and was pleasantly surprised by how much tamer it was than I originally assumed it would be. Still, it's creepy and intense at times, with the sight of Maleficent being not for the easily affected younger viewers. There's no profanity, and sexuality is limited to just a couple kisses. As far as graphic violence, the villain has some blood on him during the finale (and we see him fall slowly to his death in dramatic fashion), and Maleficent has some bloody scrapes on her face as well. When her wings are taken from her, we see the stumps where they were cut off on her clothed back, but it's dimly lit and not very graphic. Other violence includes tree monsters throwing and smashing into armor-clad soldiers during the early battle and Stefan smacking his assitants or throwing stuff in anger. Finally, there's some silly, mischievous slapstick violence where the three pixies poke and slap each other, with Maleficent usually causing it with her magic.
Maleficent has moments where it's better than it seems like it should be, but there are times when things just fall flat as well. Overall, though, Maleficent has more working for it than against it (thanks to a great performance by Jolie and its theme). The redemption story angle is a nice touch and definitely will leave viewers on an upbeat note. While it's not quite as classical as its source material or without its missteps, Maleficent is still a fun fantasy story.
-
John DiBiase
(reviewed: 11/2/14)
2D Blu-Ray Special Features Review
Maleficent
is available in a 2D Blu-Ray/DVD 2-disc combo pack or as a single-disc DVD (and through the usual digital services). The 2D Blu-Ray disc has a few bonus features while the feature film looks crisp and vibrant in HD. The following extras are included:
Aurora: Becoming a Beauty (4:53) - The first featurette is all about Elle Fanning playing the part of "Sleeping Beauty." The producer, Joe Roth, admits she caught his attention from seeing the film Super 8 and thought she'd make a great Aurora. Elle talks here, too, about loving the character as a kid and looking forward to playing her dream part. Angelina also talks a bit about what it was like working with Elle.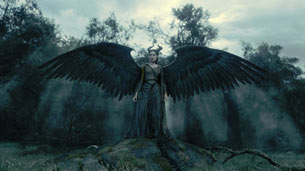 From Fairytale to Feature Film (8:13) - Angelina and the film's screenwriter, Linda Woolverton, talk about the new story and trying to make a movie about Maleficent work on its own. It's cool, too, because Angelina talks about how she was able to get her own 4 year old daughter to do the scene where a little Aurora finds her in the woods and smiles at her (since she was the only little girl who wasn't scared of the Maleficent appearance). Angelina also talks about the movie being a mother/daughter story.
Building An Epic Battle (5:48) is all about filming the battle scene and how they used a lot of wire work for the practical effects of the soldiers being thrown into the air. They also show Angelina being filmed with her flying against a blue screen for them to insert into the battle sequence.
Classic Couture (1:34) is a short little featurette about designing the horns she wears on her head.
Maleficent Revealed (4:45) is a special effects featurette that shows how they layered effects, and it quickly goes through the whole story, showing different stages of the effects process.
Deleted Scenes (6:41) - There are five deleted scenes. The first, and longest, shows Stefan going into the king's room before the battle and he marvels at the crown sitting before a mirror. He tries it on and the king walks in and finds him like that. They then talk briefly and the king warns him never to do that again. In the next one, the pixies ask King Stefan to seek asylum in his kingdom because the moors have grown too dark. The third scene briefly shows Maleficent calling the pixies "idiots." Next, Diaval asks Maleficent when she'll revoke the curse. Finally, the pixies have more men kiss Aurora in an attempt to wake her (and it features unfinished animation for them).
-
John DiBiase
,
(reviewed: 11/3/14)
Parental Guide: Content Summary

Sex/Nudity
: There are a couple kisses, but nothing more.

Vulgarity/Language
: None.

Alcohol/Drugs
: None, although there might be some goblets with stuff in them during some scenes at the castle. Also, Stefan appears insane at one point, staring at a case displaying Maleficent's wings, and it's possible he's drunk here.

Blood/Gore
: A king touches Maleficent's bare shoulder with his iron gauntlet and her neck burns briefly before healing; We see slightly bloody stumps where wings were sticking out of a person's back; A soldier has some soot and scrapes on his face; When Aurora touches the spinning wheel needle, we see blood form on the tip of her finger and drip down the needle; When Maleficent is netted, we see some burns on her skin briefly; Maleficent and Stefan both have some bloody cuts on their faces during the finale.

Violence
: Maleficent yelps in pain when shaking Stefan's hand because his iron ring burns a fairy's skin; A king leads an army of men with swords on horseback against the moors. Maleficent summons tree beasts on boarback and the two armies charge each other and fight a big battle. One of the monsters flies and burrows through the ground like a snake or worm. Maleficent charges people, knocks them off horses and blows them back with her wings. She then screams at the king who has fallen to the ground and he touches her bare shoulder with his iron gauntlet and her neck burns briefly before healing; A man raises a dagger above the sleeping Maleficent but cannot bring himself to kill her; A woman screams when she wakes up to find her wings have been cut off; As Maleficent walks, we see a rock wall around her fly apart into the air; Maleficent has a green fire rise from her as she casts a spell of death on baby Aurora. During a following montage, we see spinning wheels being burned; Maleficent causes huge walls of thorns to surround her home; Catapults shoot fireballs at the thorn wall. She then has the thorns grab some of the soldiers and throw them into the air; Stefan backhands a soldier in the face. He then throws things off of his table and stabs his tabletop with a knife; Maleficent teases the pixies so they start fighting each other and pulling each other's hair; Maleficent causes a wolf to come out of the darkness and chase soldiers away. Then shes uses magic to raise them into the air, throwing them into each other and then tossing them to the ground; Aurora and some kind of fairies have a mud fight; The three pixies bicker and two of them throw flour at each other before one of them slaps the other in the face; Aurora dramatically touches a spinning wheel's needle and falls over asleep; Stefan smacks one of the little pixies away roughly; Maleficent hits a soldier in head with her staff; Stefan's men drop an iron net onto Maleficent and they hit and poke her with their weapons while she's down. She screams from the net burning her; Maleficent turns Diaval into a dragon and he breathes fire while fighting Stefan's soldiers; They use a steel whip against Diaval and Maleficent; The soldiers shoot at Maleficent with arrows and spears; Stefan ropes Maleficent and is dragged behind her as she flies through a window, shattering it. The two then struggle and she hits him and he falls from the castle and dies.
Disclaimer: All reviews are based solely on the opinions of the reviewer. Most reviews are rated on how the reviewer enjoyed the film overall, not exclusively on content. However, if the content really affects the reviewer's opinion and experience of the film, it will definitely affect the reviewer's overall rating.
To find out why we don't typically review R-rated movies,
click here