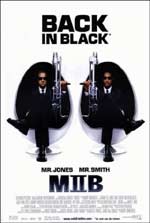 Men in Black 2


- for sci-fi action violence, some provacative humor.
Director:
Barry Sonnenfeld
Starring:
Will Smith, Tommy Lee Jones, Lara Flynn Boyle
Running Time:
1 hour, 34 minutes
Plot Summary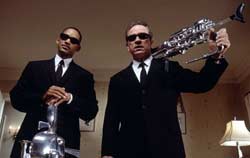 Five years since James Edwards (Will Smith) had left his normal life to become Agent J of the Alien-busting organization known as the Men in Black, J finds himself going through partner after partner during his routine work. When an alien named Serleena (Lara Flynn Boyle) lands on Earth seeking something, the men in black realize they need the help of an agent who hasn't been an agent for years. J seeks out and finds his former partner K (Tommy Lee Jones) who's memory was neuralized after their last mission and attempts to get his memory back. With K and J back together, it's up to them to stop Serleena from acquiring an object that could once again bring about the Earth's destruction.
Film Review
I don't know if I'm mutating into a real movie critic or if films just aren't fulfilling their potential these days. Take Men In Black 2 for example. It's been 5 years since the 1997 original film wowed audiences and grossed them out with the alien busting duo of Jones and Smith. The ending of the original pretty much sealed Agent K's fate and left the door wide open for Agent J and Agent L to continue their duties. After watching Men In Black 2, you might wonder why they couldn't have come up with something better in 5 years? MIB 2 sadly enough feels pretty rushed and lacks the slick, sly, originality of the original film. The dialog was wittier, the acting was better, the plot was more interesting, and the characters were just plain better. But here's another thing that needs to be mentioned. The original had more foul language, and was more gruesome and violent. The audience is clearly aimed at the younger ones this time around, but the content still contains too much inappropriate stuff for them. Although, it was cleaner enough to be noticeable and stand out so differently there from the original.
Like in The Mummy Returns, it was great to see a lot of the characters back together, but something was missing. Again the filmmakers had no problem speeding the pace up a bit more and tossing out any further character development or meaningful time for the characters. It goes so fast it barely stops long enough to let you on to enjoy the ride. Both original movies had a certain careful attention paid to it when crafting it that didn't transfer on to the sequels. The acting was okay this time around. Only major problems I saw were Rip Torn's Zed seemed a little too worn out and tired for his part. Zed had a certain spark 5 years ago that is absent here. And while Tommy Lee Jones is one of my all-time favorite actors, he wasn't given much to work with here, but did well with what he did get. Making Frank the pug dog a major character just kind of wreaked of Jar Jar Binks from the Star Wars films. He was a little too cute for the kind of film the original was and might have worked better in smaller dosages. MIB 2 wasn't big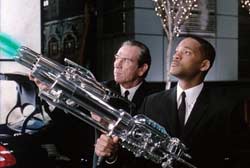 enough. For a sequel it just seemed to hold back visually and in overall presentation. It would be hard to believe the sequel to such a big film (was the twelfth highest grossing film of all-time after its release and is currently the twenty second of all-time) would have a smaller budget. But the fact is it's actually larger, but most of it probably went to lining the pockets of Smith and Jones to get them to do another movie.
Lara Flynn Boyle did a decent job as the film's villain, but had some pretty big shoes to fill. The alien "Edgar" from the original was so unique in that he was an insect inhabiting a dead human (who decomposes as the film progresses), that Serleena immediately pales in comparison to the creativity of Edgar. While gross beyond reason in appearance, Edgar was funny in his mannerisms as he fought to control the human body he inhabited. There was something humorous beneath the darkness of the character. Serleena is almost completely serious and there just isn't a whole lot of chemistry between her character and the boys in the suits. But part of the problem is that the filmmakers didn't allot enough time to build it either. Another problem is the finale of the film has little to no payoff. You keep wondering when it will climax and it just barely does.
What worked? It was great seeing the characters on screen again. Sequels are usually nice regardless of how disappointing they might be because you get to revisit some old theatrical friends. There were a handful of laughs (some hearty), but MIB 2 just doesn't measure up to its predecessor.
All in all, MIB 2 was a nice effort, but a disappointment for anyone expecting a bigger, better Men In Black installment. Still worth a peek, but let's hope if MIB 3 gets made that we're treated to a new side of the MIB that we haven't seen before.
-
John DiBiase
,
(reviewed: 7/4/02)
Parental Guide: Content Summary

Sex/Nudity
: Serleena's character is that of a Victoria's Secret model. We see her often in a bra and panties that show cleavage and the like. There are several sexual comments made, but nothing especially explicit. Also, we see an alien called a ballchinian which has testicles hanging from its chin (which we only see briefly). A small community inside a locker mention adult entertainment and we see them entering a small building with "sex" written on the outside. Serleena sticks her tongue in K's ear in a sensual way to torture him.

Vulgarity/Language
: 2 "b*tch," 4 "cr*p," 9 "d*mn," 7 "a" words, 7 "h*ll," 1 "G-d," 1 "Oh my G-d"

Alcohol/Drugs
: We see some of the worm aliens having drinks.

Blood/Gore
: Neither bloody or gory, but we see Serleena run the tentacles from her fingers around Charlie's neck and through his ears and nostrils (but to interrogate him, not kill him). We see the rubbery skin of a dead human who was an alien on the floor (not bloody or gory either). We see a worm creature in half before he pulls himself together (not bloody or gory either). When an alien who's head is shot off, there's a splatter of green goo, but nothing especially graphic or bloody.

Violence
: People thrown around, punched, creatures blown up, etc.
Disclaimer: All reviews are based solely on the opinions of the reviewer. Most reviews are rated on how the reviewer enjoyed the film overall, not exclusively on content. However, if the content really affects the reviewer's opinion and experience of the film, it will definitely affect the reviewer's overall rating.
To find out why we don't typically review R-rated movies,
click here