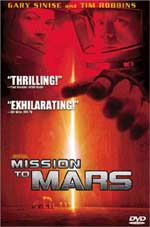 Mission to Mars


- for sci-fi violence and mild language.
Director:
Brian DePalma
Starring:
Tim Robbins, Gary Sinise, Jerry O'Connell
Running Time:
1 hour, 53 minutes
Plot Summary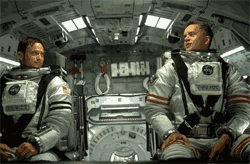 When a crew go to Mars on a mission to see if the planet is inhabitable, something goes wrong and the majority of the crew die. It's then up to a rescue team to finish the mission, find out who or what is on there and to rescue any survivors.
Film Review
Huh?!
That's the basic reaction me and my movie-going friend had after seeing this film. Mission to Mars, the first release this year I've had the chance to see due to the slew of unwatchables currently out there, is a bizarre sci-fi flick with stunning special effects, great cast, but B-movie execution.
The films rides it's proverbial bike through the projection screen but falls off and suffers the broken leg of poor character development. Although the main characters are likable and enjoyable, you never get the feeling you know them too well. Director DePalma's delivery of the characters leaves you feeling like your observing rather than the more-desired feeling of getting to know the personal side of them. While you get to see some of their struggles and feelings, you never get to see what makes them tick, and are left viewing a relatively flat character that leaves you somewhat apathetic if one of them meets their demise.
The content of the movie is outrageous as a whole. When you pull out all of the negative aspects and pin them up on the wall, you find they leave a bad taste in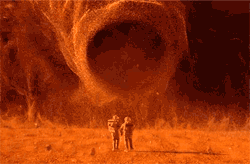 your mouth in retrospect. The language is relatively clean in the obscenity department, but where they don't curse, they insert our Savior's name instead to be taken in vain, a fact that I didn't take too well. The blood/gore factor is considerably high, as well, for a PG-rated film. The three main incidents alone warrant the film a PG-13 rating instead. From the brief violent dismemberment of an astronaut to the rather bloody impaling of another's hand (see below content summary for specifics), a parent may be shocked to find it in the movie. And lastly, but most disturbing if taken to heart, is the movie's message. From the tagline before the movie even released ("For centuries, we've searched for the origin of life on Earth... We've been looking on the wrong planet"), to the film's pretty ridiculous ending, the movie present the idea that life originated from aliens that lived on Mars before creating life (which evolved into other things) on earth as opposed to God creating life, thus refuting Christianity. However, this idea is presented in such a way that to take it too seriously would be ridiculous in itself. But on the other hand, in all its idiocy, it makes for a unique and entertaining story. It is enjoyable if you realize how dumb the idea really is and if you don't take the whole thing too seriously.
While the film does tend to get cheesey at times-- especially toward the movie's close-- and the instrumental score is horrendous, the film does indeed have some redeemable qualities. While the characters are considerably underwritten, the actors are good and help to save the script. The special effects, most evident in the sand funnel scene, are fantastic and act as a crutch to hold the film up. And while the movie can drag a little at times, as a whole it is rather enjoyable and not a complete waste of 2 hours. I just suggest you catch a matinee and save your $7.25.
In summary, the movie was ok. It isn't really a family movie due to the violence, although with some editing, it could pass for one, but it is a good sci-fi flick with some good moments that help you forget the bad moments (even though the ending is disappointing and leaves you hanging-- making it look like the director ran out of ideas, said "Cut" and pasted "The End" on the screen). Not a movie to write home about, but definitely a consideration for a rainy day, I grant Mission to Mars a 1.5 out of 5.
-
John DiBiase
,
(reviewed: 3/11/00)
Parental Guide: Content Summary

Sex/Nudity
: Considerably minor references. 1 including an astronaut trying to pick up and attractive woman to spend his last night with.

Vulgarity/Language
: 2 S.O.B.s, 11 "h*ll," 1 "g*dd*mn," 4 "d*mn," 8 "J-sus," 8 "G-d," 2 "Oh my G-d," 1 "Chr-st," 1 "For Chr-st's sake"

Alcohol/Drugs
: Some people drink at two instances involving parties.

Blood/Gore
: A tornado-like phenomenon sucks up an astronaut who begins to spin violently before tearing apart in many pieces. We see this from a distance, and while graphic, it isn't especially bloody or gory. We see Luke has some blood on him during a scrambled video transmission. As little meteors pierce the shuttle, a small one impales Phil's hand and releases drops of blood that coagulate and float around the weightless environment in the ship. As a dead astronaut floats out in space, we see that his face looks frozen with what appear to be cracks in it.

Violence
: Explosions; people getting hit by rocks, etc; a person is torn apart; two astronauts have a struggle, one has a pick-axe
Disclaimer: All reviews are based solely on the opinions of the reviewer. Most reviews are rated on how the reviewer enjoyed the film overall, not exclusively on content. However, if the content really affects the reviewer's opinion and experience of the film, it will definitely affect the reviewer's overall rating.
To find out why we don't typically review R-rated movies,
click here