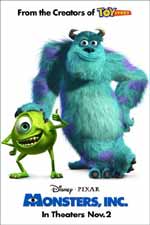 Monsters Inc.


- for not containing material to warrant a higher rating.
Director:
Pete Docter
Starring:
voices of John Goodman, Billy Crystal, Steve Buscemi
Running Time:
1 hour, 32 minutes
Plot Summary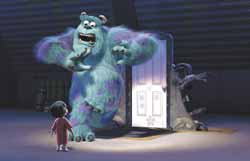 James P. Sullivan is the top scarer at Monsters Inc, a company that runs its town by capturing screams of little children to generate power. When Sulley and his assistant Mike Wazowski one day discover that a small child has crossed through their doors, all heck breaks loose as the monsters believe a child's touch could kill them. Sulley and Mike have to decide what to do with little "Boo" as Sulley grows increasingly attached to their new little "toxic" friend.
Film Review
Pixar Studios has just been amazing, putting out consistantly excellent animated features such as Toy Story 1 & 2 and A Bug's Life. It's been a joy to watch the films this company produces. In 2001, Pixar works with Disney once again to create yet another computer-animated feature. Monsters, Inc explores the world of the supposed existence of "monsters in the closet" or under the bed. The result is a hilarious and exciting look into the profession of these monsters.
The animation is detailed and jaw-dropping. I couldn't believe the detail in merely Sulley's fur. It was extremely realistic. You even see it moving naturally from a breeze or while walking, etc. The characters almost become believably real. At times you do forget you're watching a "cartoon." Cartoons these days are becoming less cartoons and more theatrical works of art. While they're animated films, they are far-surpassing most live-action films in storyline, creativity, acting, and definitely content. While having only animated features would easily be exhausting and boring after so long, live-action films should look toward animated films for what works and what doesn't. If the movies that seem to get the most positive reviews are animated, isn't there something to be learned here?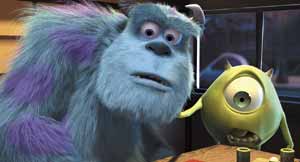 All of the voices are performed perfectly. This is John Goodman's second consecutive voicing after doing Pacha for last year's The Emperor's New Groove. Billy Crystal does an excellent job as Sulley's (Goodman) neurotic and wise-cracking sidekick Mike Wazowski. A perfectly cast voice assembly (got to love the bit with the abominable snowman), wonderfully animated characters and sequences, and squeaky clean content make for very little to complain about with this film. While it's not as side-splitting funny as The Emperor's New Groove, if the film doesn't have you laughing, it has you completely charmed. The little girl "Boo," who was voiced by the three-year-old daughter of one of Pixar's employees, is one of the most adorable animated human children I've ever seen. She's far from annoying and just plain impossibly cute.
So all in all, I loved this movie. I thought it was great. It's a really fun family film that I can easily recommend. Monsters Inc joins Shrek as one of the best movies of 2001.
-
John DiBiase
,
(reviewed: 11/4/01)
Parental Guide: Content Summary

Sex/Nudity
: none.

Vulgarity/Language
: none.

Alcohol/Drugs
: none.

Blood/Gore
: none.

Violence
: Some monsters fight each other and other various minor cartoon violence or slapstick
Disclaimer: All reviews are based solely on the opinions of the reviewer. Most reviews are rated on how the reviewer enjoyed the film overall, not exclusively on content. However, if the content really affects the reviewer's opinion and experience of the film, it will definitely affect the reviewer's overall rating.
To find out why we don't typically review R-rated movies,
click here