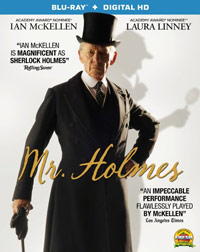 Mr. Holmes


- for thematic elements, some disturbing images and incidental smoking.
Director:
Bill Condon
Starring:
Ian McKellen, Laura Linney, Milo Parker, Hiroyuki Sanada, Hattie Mornahan, Patrick Kennedy
Running Time:
1 hour, 44 minutes
Theatrical Release Date:
July 17, 2015
Blu-Ray Release Date:
November 10, 2015 (
Amazon.com
)
Plot Summary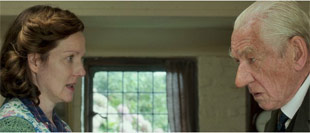 OscarŽ nominee Sir Ian McKellen* joins fellow Academy AwardŽ nominee Laura Linney** in the mysterious and intriguing Mr. Holmes. Based on Mitch Cullin's novel "A Slight Trick of the Mind," written for the screen by Jeffrey Hatcher (The Duchess), and directed by Academy AwardŽ winner Bill Condon (Best Adapted Screenplay, Gods and Monsters, 1998), Mr. Holmes finds a retired Sherlock returning to close the book on the one mystery he could never solve. (from Lionsgate)
Film Review
Sherlock Holmes has been a really popular and enduring character for decades, but it seems as if he's had quite the resurgence in recent years. From the popular BBC show Sherlock to the U.S. TV modern retelling, Elementary, to the pair of Robert Downey, Jr.-helmed feature films, Holmes is alive and well in pop culture. Now, acclaimed actor Ian McKellen trades in the beard and pointy hat of Gandalf and the purple helmet of Magneto for a top hat, playing an elderly, retired Sherlock Holmes.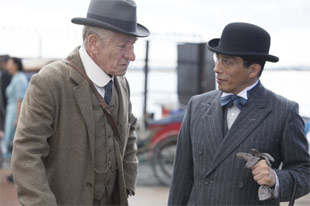 Mr. Holmes takes place while the famous detective is living as kind of a hermit with just a housekeeper and her young son to keep him company. John Watson has been gone for years and Holmes is dealing with one of the most frightening things Sherlock Holmes could possibly experience: memory loss. In this version of Holmes, the character is treated as a real life celebrity whose tales that we know of had been written and told by Watson himself. Holmes explains that Watson would embellish some of the cases when he'd write about them, and when we meet the aging Holmes, we find that he is trying to recall his very last case -- but can't remember it. And because of that, he believes the case went unsolved, when in fact, it may actually have been. As he tries to remember events from 35 years earlier, we see flashbacks of Holmes' trip to Japan and interactions with his very last client.
Mr. Holmes isn't your typical Sherlock Holmes story. Yes, Sherlock here was a detective and still has a deep love and appreciation for bees (among other Sherlockian things), but this story deals mostly with themes of getting older, isolation, memory loss, guilt and self-forgiveness. Those hoping it's a whimsical Holmes and Watson adventure shrouded in intrigue and mystery will be sorely disappointed. Holmes' greatest adversary in the film is really his own memory, and while there are some good mystery twists and turns (but nothing too shocking), it's an extremely slow-paced drama that focuses mostly on Holmes as a lonely, elderly man. What makes this story really work, however, is McKellen's impeccable performance -- both in his 90's and late 50's. While his adventures at 58 show McKellen more as we know him, his performance as the struggling 93-year-old is incredible. Laura Linney is good as his housekeeper, but her role is less of a warm companion than her son Roger, who's wonderfully played by young talent Milo Parker. Holmes' fatherly relationship with Roger is part of the charm of the film.
Many viewers are likely to feel a little restless waiting for the story to reach its conclusion. For Holmes fans, the most interesting parts of the story are when we're seeing flashbacks and he's investigating his last case. These scenes are all too few, and if it were not for McKellen being so fantastic in the later scenes, the film just wouldn't play as well. Because the sustaining theme is loneliness and companionship, the film is ultimately rather melancholy; anyone expecting something more upbeat will be in for a surprise. Seeing a beloved character like Sherlock Holmes reduced to a secluded, retired old man struggling with his memory is otherwise really depressing.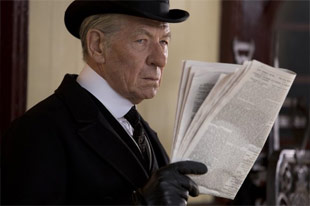 The PG-rated film is pretty light on content (and there may be some spoilers ahead here...), but part of the mystery deals with the topics of murder and suicide. Also, there's a scare when a character is stung many times and is rendered unconscious. Also, Holmes falls a couple times and in one instance has some minor bloody cuts on his arm. The tone of the film is kind of heavy and thematically weighty as well. Because of that, I wouldn't consider it a family film, but it definitely doesn't really have much content I'd deem objectionable.
Mr. Holmes is more the kind of acting vehicle that allows for actors to give Academy Award-winning performances than solely aiming to entertain. It's a good film, but unless you can appreciate slower-paced films with leanings on the dramatic, then Mr. Holmes won't be your cup of tea.
-
John DiBiase
(reviewed: 11/8/15)
Blu-Ray Special Features Review
Mr. Holmes
is available on DVD or Blu-Ray. The film looks wonderful in high definition and, along with the feature film and a trailer, includes just two short little featurettes (but no commentary of any kind).
Mr. Holmes: The Icon (2:21) is a promo commercial that features clips from the film and shows the director talking about bringing the story to life, and an icon playing an icon.
Mr. Holmes: The Story (2:29) is in the same format, but this time is about reuniting McKellen with the director (who worked with him on Gods and Monsters), and about Holmes trying to solve a case he couldn't before.
-
John DiBiase
,
(reviewed: 11/8/15)
Parental Guide: Content Summary

Sex/Nudity
: A man mispronounces prickly ash as "ashy prick"; A sad and lonely woman tells Holmes they can be "alone together." It's unclear whether it's meant to be intimate or just companionship, or a mixture of both.

Vulgarity/Language
: 1 "damning" and 1 "pr*ck"

Alcohol/Drugs
: Maybe some drinks at dinner, but nothing significant.

Blood/Gore
: In Japan, we see a woman with scarring on the side of her head and ear; Roger has a red mark on his neck and a bee's stinger sticking from it. We then see a close up of Holmes removing it; We see some blood on Holmes' arm and shirt. Roger bandages him up; We see a character passed out covered in sting marks and large, discolored welts. Later we see them as just red marks on their skin.

Violence
: We see a devastated field in Hiroshima with fires burning nearby; Holmes passes out and is found on the floor. We see smoke in his room; Holmes falls out of bed; We see a person walking in front of a train as it bears down on them; We see a character passed out covered in sting marks; Holmes and Mrs. Munro burn an insect nest.
Disclaimer: All reviews are based solely on the opinions of the reviewer. Most reviews are rated on how the reviewer enjoyed the film overall, not exclusively on content. However, if the content really affects the reviewer's opinion and experience of the film, it will definitely affect the reviewer's overall rating.
To find out why we don't typically review R-rated movies,
click here