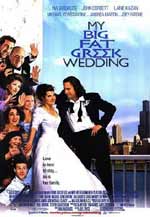 My Big Fat Greek Wedding


- for sensuality and language.
Director:
Joel Zwick
Starring:
Nia Vardalos, John Corbett
Running Time:
1 hour, 35 minutes
Plot Summary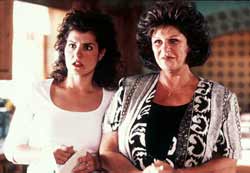 Fortoula 'Toula' Portokalos (Nia Vardalos) is a 30 year old Greek woman who has yet to fulfill her father's dream of "getting married, having kids, and feeding her family." It isn't until Toula decides to make something of herself that she runs into English teacher Ian Miller (John Corbett). As the two begin to fall in love and get serious about their relationship, Ian must deal with the strange beliefs and habits of Toula's large Greek family and the fact that he is not Greek himself, an issue her family can't dismiss...
Film Review
My Big Fat Greek Wedding is a small independent romantic comedy that has snagged the attention of quite a few people. With only a budget of 5 million dollars (yes, that's tiny for movies these days), this film has made over 50 million since its release in mid April. As its release has expanded due to positive word of mouth, the film continues to take in the profits. After viewing this much praised film, I kinda see why...
My Big Fat Greek Wedding is a comedy more than a romance flick using the antics and stereotypes of an eccentric Greek family to fuel all of the film's comedy. Not a completely unique or innovative piece of filmmaking, Greek Wedding does wonders with just its witty heart-warming comedy. The character of Toula is often so pathetic or down-to-earth that it makes her all the more easy to relate to or sympathize. But the filmmakers do a wonderful job painting the picture of the insanity present in her household and family. The only problem with a lot of the jokes based upon the Greek culture is that some people will feel like the movie is one large inside joke. Me being Italian but not Greek, I found a lot of it funny from just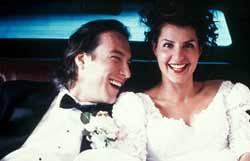 a standard comedic zany viewpoint, but I know that people of Greek heritage will find this film even funnier and close to home. Although not free of some more adult content, Greek Wedding is a breath of fresher air for those wanting to laugh, but not having to settle for the popular raunchy flicks that so commonly populate the theaters these days.
Another mistake the film clearly made, was allowing there to be a physical relationship between Ian and Toula. While it may be funny to some to see her flounder about and make a goofball out of herself, it detracts from the innocent nature of her victimized character (Toula finds that being Greek often has its disadvantages). While it's not vocalized or visualized, it's heavily implyed that the main characters sleep together and it just felt out of place in the film. I had to remind myself a couple times that it was just a PG film. While no real serious PG-13 material was present, this movie balanced on the fence and is definitely intended for a more adult/mature audience. Nonetheless, what is offered on the screen is a fun and light-hearted comedy.
It's not for everyone, but definitely a fun affair, My Big Fat Greek Wedding is a surprise hit and a notable release for 2002.
-
John DiBiase
,
(reviewed: 8/22/02)
Parental Guide: Content Summary

Sex/Nudity
: Nikki wears a lot of revealing shirts throughout the film. We see Toula and Ian making out in a car several nights in a row, but nothing happens. In another scene, Ian takes Toula up to his apartment and she throws him onto a couch and jumps on him (implying they probably had sex). In a scene later on, we see them in bed together. She appears to be wearing pajamas and he's just in his boxers. Nothing sexual happens, though. While in her office, we see Ian standing behind Toula and he runs his hands up and down the sides of her clothed body. Nikki adjusts her chest in one scene. We see a classic nude Greek statue of a woman.

Vulgarity/Language
: 1 "s" word, 4 "a" words, 1 "h*ll," 6 "Oh my G-d," 2 "For G-d's sake," 1 "J-sus," 1 "G-d"

Alcohol/Drugs
: People drink many times during the movie and at one point, Ian's parents get drunk off of a liquor Toula's family gives her.

Blood/Gore
: None.

Violence
: Some slap-stick humor, i.e. an old lady beats Ian with a purse after he accidentally bumps into her.
Disclaimer: All reviews are based solely on the opinions of the reviewer. Most reviews are rated on how the reviewer enjoyed the film overall, not exclusively on content. However, if the content really affects the reviewer's opinion and experience of the film, it will definitely affect the reviewer's overall rating.
To find out why we don't typically review R-rated movies,
click here