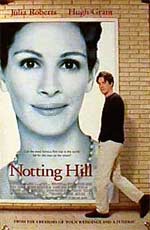 Notting Hill


- for sexual content and brief strong language.
Director:
Roger Michell
Starring:
Julia Roberts, Hugh Grant
Running Time:
2 hours, 4 minutes
Plot Summary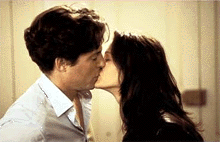 William Thacker (Hugh Grant) lives a rather normal, uneventful life as a Travel book shop owner in Notting Hill, London. One day, that all changes when the most famous actress in the world, Anna Scott (Julia Roberts), enters the store "undercover" to check out the store. Soon begins a series of meetings that turn into and odd romantic relationship that includes all the ups and downs of a super popular actress who is in love with a normal, poor shop owner. As William fights to keep Anna and gets his heart broken several times, the 2 travel realize the difficulty of their odd match.
Film Review
*Sigh* Typical romantic comedy? No. Well, hmm... maybe. Ok, yes. Actually... No. It's funny at times, very sad at times, and typical at times, but include enough mini-twists to make it stand out from the rest of the romantic comedies. Let me explain...
There's plenty of cute comedy in the film, but unfortunately it isn't present when needed most and also is not enough to overpower the sometimes over-baringly sad scenes. In the movie, there are at least 3 rather rough break-ups between the leading couple, when the traditional romantic flick has one major one. The saddest part was each break-up was pretty much Julia Roberts' character Anna's fault. And William (Hugh Grant) took them all so good-naturedly. If anyone is too sensitive to the "feelings" of the character or might feel like they can relate to William's feelings of being used at times, then be warned: it's real sad. But despite the sadness, it's a good flick and very entertaining, but like most movies like this, they include many flaws...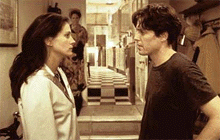 The nudity/sex isn't too too bad. The leads do end up having premarital sex (which annoys me), but thankfully they don't show the scene much longer than passionate kissing resulting in the next morning seeing the 2 in bed. Nudity is kept to a minimum at partial shots of Anna's bare back and a scene where Spike's "butt crack" can be seen in his sweat pants. Also, another scene shows him in his underwear with a butt cheek hanging out (all played for laughs).
The language is also annoying with 2 "f" words contained. One written on a shirt of Spike's reading "Fancy A 'f'?" in a sexual manner. And the other used as an exclamation when William's sister meets Anna. Also various other cuss words are used like "s," "a," and many others. (see below)
The verbal sexual content/innuendo is unfortunately present as well. A discussion at a restaurant of a bunch of guys making lewd comments about actresses such as Meg Ryan and "Anna Scott." Also other playful comments relating to sexual things are made between Anna and William. All stuff that was unnecessary but not as bad as it could have been. Although there are a few "sick" comments made that totally were unnecessary.
Overall, the movie is pretty good, however, due to the stupid sex scene, sexual innuendo, cussing, and sadness, I can't grant this film more than 2 and a half stars.
So, as usual, if you have any questions about the film before you see it, feel free to contact me.
-
John DiBiase
,
(reviewed: 6/28/99)
Parental Guide: Content Summary

Sex/Nudity
: There are a few conversations with lewd comments and some innuendo When William and Anna are about to have sex, they passionately kiss, and then he removes her shirt and we see her bare back only. We then see them in bed the next morning, implying they had sex. Parts of Spike's butt are visible several times during the movie - when he's only in his briefs, and when his sweat pants are riding down on him. (Spike also wears a shirt with the "f" word on the back used sexually)

Vulgarity/Language
: 2 "f" words (1 on a t-shirt), 5 "s" words, 3 "g*dd*mn," 5 "a" words, 2 "pr*ck," 4 "d*mn," 1 "d*ck," 3 "h*ll," 1 "b*tch," 3 "cr*ps," 2 "Chr-st," 12 "G-d," 5 of "Oh my G-d," 2 "For G-d's sake," 1 "Good L-rd"

Alcohol/Drugs
: Lots of people drink wine; several get drunk, etc...

Blood/Gore
: Spike sports a shirt with "I love blood" written on it. It also has a large graphic of blood on it.

Violence
: None.
Disclaimer: All reviews are based solely on the opinions of the reviewer. Most reviews are rated on how the reviewer enjoyed the film overall, not exclusively on content. However, if the content really affects the reviewer's opinion and experience of the film, it will definitely affect the reviewer's overall rating.
To find out why we don't typically review R-rated movies,
click here