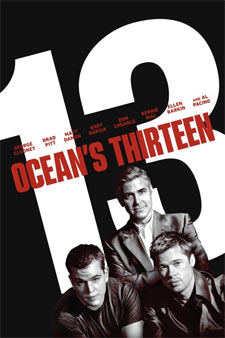 Ocean's Thirteen


- for brief sensuality.
Director:
Steve Soderbergh
Starring:
George Clooney, Brad Pitt, Matt Damon, Al Pacino
Running Time:
2 hours, 2 minutes
Theatrical Release Date:
June 8, 2007
Official Site
Plot Summary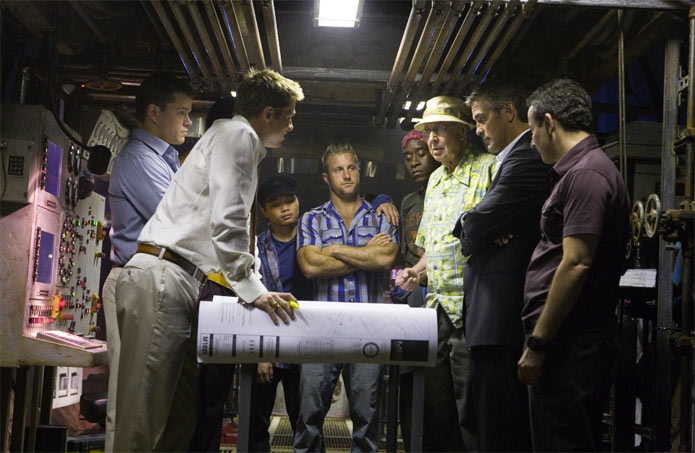 When Reuben Tishkoff (Elliot Gould) is cut out of a deal with Willy Bank (Al Pacino), it sends Reuben over the edge and the other ten of Danny Ocean's (George Clooney) team plot revenge against Bank to help Reuben recover and take care of their own.
Film Review
Maybe it's a guilty pleasure to enjoy a film series that basically glorifies stealing and gambling, but understanding it's all a bunch of fun for the sake of entertainment helps to not take it too seriously. But the character chemistry, the intricate plots, and the snappy dialog is really what makes the Ocean's films so much fun to watch. While it doesn't usually work to make sequels to remakes of original films, it has worked so far for these heist comedies. While many fans of the 2001 update of Ocean's Eleven didn't find the 2004 follow-up Ocean's Twelve to be a worthy sequel, the first sequel actually strayed enough from its predecessor's formula to stand on its own. But the discontent apparently spoke loud enough to conjure up a third outing, and Soderbergh and friends sought it fit to give it one last ride.
Ocean's Thirteen opens with central characters Danny Ocean (Clooney) and Rusty Ryan (Pitt) rushing to their friend Reuben's side after a deal with the ruthless Willy Bank (Al Pacino) goes sour. Immediately, Ocean's team reassembles without question, and it there's little delay before the guys are back to planning an elaborate heist. The loyalty among the group is impressive and to see the devotion to friendship among them is one of the best things about the characters in these films. In the first film, it was just a team assembled to pull a job (and of course, win back Danny's ex-wife). In the the second, the guys reunited to try to pull an impromptu job in under two weeks to pay back what they stole in the previous film. This time, they're back and eager to inact their revenge on Bank for what he'd done to one of their own. We all want to see Pacino's character get his, and it's fun as anything to watch the process unfold.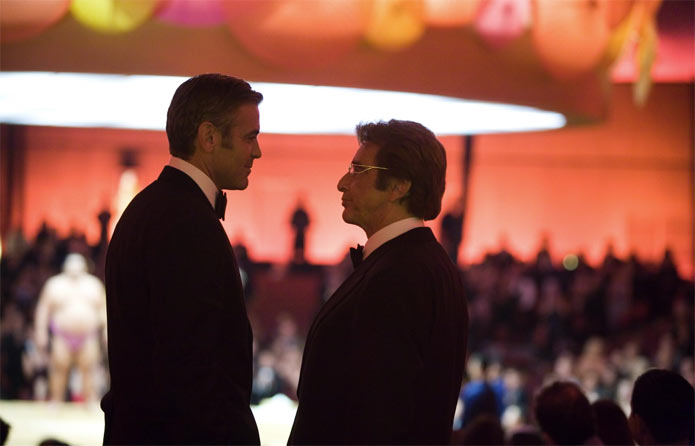 I can't help but feel that Ocean's Thirteen is really primarily for passionate fans of the first two. Unless you really enjoy watching these characters and the humor and scheme-hatching that ensues, you'll either be bored to tears or just plain underwhelmed. There are plenty of inside winks and nods to things from the previous films that will generate laughs, giggles, and smiles from the fans of these films, while others will just regard it as either filler or altogether pointlessness. Pacino is a nice addition to the cast as the ruthless Willy Bank. Pacino has this uncanny ability for making any sleazy villain mildly likeable (or at least just fun to watch) at the same time. He is indeed a formidable opponent for Ocean - much more so than than the Nightfox from the previous sequel. Finally, there are plenty of little surprises and tricks and snags and snares to keep Ocean's Thirteen interesting and enjoyable. Each player of the con team seems to get a bit more screen time in the third round, even Twelve's newcomer Eddie Izzard who played tech geek Roman Nagel. And for those wondering why Danny's wife Tess, played by Julia Roberts, and Rusty's significant half Isabelle, played by Catherine-Zeta Jones, aren't present this time, the boys excuse their absence early on in one simple, four word sentence - "It's not their fight." While I was worried they'd excuse the ladies with some disappointing, negative way (i.e. divorce or even death), I thought this simple reasoning was adequate enough.
Content was a bit mixed. The MPAA slapped Ocean's Thirteen with just "Brief Sensuality," but language is still a bit of a hindrance. While it's the only one of the three films not to include at least one "f" word, there are still a handful of "s" words and a few other "colorful" words. The language isn't frequent, which is refreshing, but it's still present unfortunately. Sexuality is upped a little from the previous installments. The main instance involves Linus enticing Ellen Barkin's Abigail as part of the plan, and we see her coming on to him several times, with him trying to resist her advances. Nothing is especially gratuitous, but the rating tag is deserved. Barkin, as the series' latest female lead, isn't given much to do except show a lot of cleavage, proving her shoes could have been filmed but just about anybody. Barkin ends up as the least memorable of all of the Ocean's women.
Overall, Ocean's Thirteen is an unexpected third installment in the ensemble cast-driven heist series, but a successful one at that. Three's a charm for fans, even if nothing exceptionally different from the earlier films occurs. It's great to have everyone back, and director Steven Soderbergh keeps the mood fun and hip yet again. Composer David Holmes also creates another winning score for the film, helping to tie the three movies together, wrapping up the trilogy in a unified, cohesive package. A step above Ocean's Twelve, but still behind 2001's Ocean's Eleven, Ocean's Thirteen just might be the best threequel you'll see this Summer, and the least disappointing as well.
-
John DiBiase
,
(reviewed: 6/8/07)
Parental Guide: Content Summary

Sex/Nudity
: There is a small drawing framed on the wall in a hotel/condo room of a naked woman's backside (a dark statue of a similar image is shown beneath it); Franks asks a group of girls to hike their dresses up three inches; Turk asks Virgil if he's in yet (meaning hacked into a computer), and Virgil replies "I hate that question" (which is a double meaning); Rusty makes a comment to Danny about Isabelle not enjoying his surprise of dropping his towel after his shower (just a story, not shown); Fender Roads sees two young girls go in his trailer and decides to follow them. We then see his suit being passed through the trailer window to Basher (implying something sexual is going on inside the trailer); Abigail is often wearing a dress that shows lots of cleavage. In a scene shown in segments, Linus wears a fragrance that turns her on and we see many shots of her with the straps on her shoulders falling down and her trying to kiss Linus and get him alone. Later, she grabs his hand to put it on her chest, but he pulls away and spills a drink in his lap. She then undoes his pants despite his objections and we see his boxers. The scene is interrupted there (nothing else happens between them); We see sumo wrestlers in small towels as they fight (therefore we see most of their bare butts)

Vulgarity/Language
: 8 "s" words, 2 "g*dd*mn," 2 "J-sus," 1 "Oh L-rd," 4 "h*ll," 2 "a" words, 1 "d*mn," 2 S.O.B., 9 derivatives of "G-d"

Alcohol/Drugs
: Some drinking casually throughout the film's duration; Abigail and Linus have some champagne together

Blood/Gore
: It's minor, but the man reviewing Bank Casino has all kinds of bug / mite bites all over his face

Violence
: A couple casino reps smash a man who's been cheating's head into a roulette table and then pick him up and ram him into the side of a slot machine; To fool a lie detector test, Livingston puts a tack in his shoe and presses down on it; A minor earthquake is caused that makes some items in a hotel fall over; A person points a gun at another person; A man throws a molotov cocktail during a riot of factory workers in Mexico and sets a van on fire.
Disclaimer: All reviews are based solely on the opinions of the reviewer. Most reviews are rated on how the reviewer enjoyed the film overall, not exclusively on content. However, if the content really affects the reviewer's opinion and experience of the film, it will definitely affect the reviewer's overall rating.
To find out why we don't typically review R-rated movies,
click here