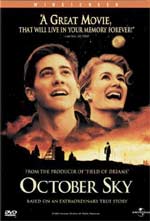 October Sky


- for language, brief teen sensuality and alcohol use, and for some thematic elements.
Directors:
Joe Johnston
Starring:
Jake Gyllenhaal, Laura Dern, Chris Cooper
Running Time:
1 hour, 48 minutes
Plot Summary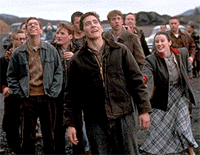 Homer Hiccumb (Jake Gyllenhaal) is a young teenager growing up in West Virginia in 1957 during the Cold War. After Russia launches its Sputnik shuttle into space, Homer is struck with a dream and a desire to launch is own rockets. With the help of 3 friends, he tries to carry our his dream while is father (Chris Cooper), tries to make him drop his new "hobby" & follow his own footsteps as a coal miner.
Film Review
I have to be honest and say that when I first heard about this movie, heard about its plot and saw a part of a preview on TV, I wrote the film off as looking really stupid and as something I would not want to see. But when I agreed to see it with a bunch of friends who were going to see it, I went with the mindset that it could be good. To be blunt, I walked away shocked.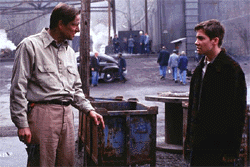 As i sat through the first 5 to 10 minutes, i practically prayed that it would be good, because it just wasn't seeming to promising. Then the characters began taking form, conflict set in, a plot took shape, and i was hooked. All of a sudden, this film showed characteristics of a great movie: humor, drama, heart, suspense (in a mild way), and fun. The poor-sounding subject of the film melted away and a truly good film emerged.
The film's material was pretty good for the 90's standards, but it still contained some mild language (including several "S.O.B.s" & 2 "s" words). There isn't much sexually-related content. However, in one scene, we see Homer sitting in the backseat of a car just talking with a girl & the windows are fogged up a bit. The implication of what went on is not clear & isn't explained. The worse instance of violence is when one of Homer's friends is being smacked and hit by his drunken stepfather. But other than that, the violence is kept to a minimum
Overall, the movie is very good-- I was very impressed. I'd recommend this film to almost anybody, but please check over the details below to see what may be objectionable to you. And if you ever have questions about a film mentioned here, don't hesitate to email me and ask. So due to this film's well-done production, I can't give it any lower than 4 stars.
-
John DiBiase
,
(reviewed: 3/8/99)
Parental Guide: Content Summary

Sex/Nudity
: 2 instances of relatively minor sexual innuendo; In one scene, Homer is shown sitting in the back seat of a car talking with a girl. The windows are steamed up but nothing is seen & no kissing is seen.

Vulgarity/Language
: 2 "s" words, 1 "g*dd*mn," 12 "d*mn," 10 "h*ll," 7 S.O.B.'s, 2 "a" words, 1 "J-sus," 1 "Swear to G-d," 1 "G-d," 1 "For G-d's sake"

Alcohol/Drugs
: Beer; alcohol; one of the character's step fathers is an alcoholic.

Blood/Gore
: We see a dead man's face has a little blood on it while laying on a stretcher. We see that one of the boys' face is bruised from being hit.

Violence
: Rockets blow up; A boy shoots his own dead car; A stepfather hits his stepson; 2 boys struggle on the ground; A bullet goes through the kitchen window, missing Homer's father -- no one is hurt.
Disclaimer: All reviews are based solely on the opinions of the reviewer. Most reviews are rated on how the reviewer enjoyed the film overall, not exclusively on content. However, if the content really affects the reviewer's opinion and experience of the film, it will definitely affect the reviewer's overall rating.
To find out why we don't typically review R-rated movies,
click here