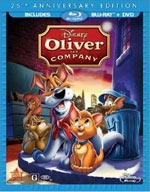 Oliver & Company


Director:
George Scribner
Starring:
voices of Joseph Lawrence, Billy Joel, Cheech Marin, Bette Midler, Dom DeLuise
Running Time:
1 hour, 14 minutes
Theatrical Release Date:
November 18, 1988
Blu-Ray Release Date:
August 6, 2013 (
Amazon.com
)
Plot Summary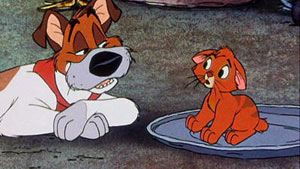 Celebrate the 25th anniversary of a Disney classic with the stunning Blu-ray debut of Oliver And Company, featuring perfect picture and sound. Relive this charming animated adventure, packed with excitement, fun and unforgettable songs by Billy Joel, Bette Midler and Huey Lewis.

In the heart of New York City, Oliver, a mischievous orphaned kitten, is befriended by Dodger, a carefree pooch and his ragtag family of misfit mutts. Life gets even better for Oliver when he is adopted by a lonely little girl named Jenny. But when tough guy Sykes and his Doberman sidekicks try to keep Jenny and Oliver apart, the spirited kitten and his newfound friends discover the meaning of courage and find a home where they truly belong. (from Click Communications)
Film Review
When you watch animated movies at a young age, they tend to leave some kind of lasting impression -- whether good or bad. I actually have a distinct memory of seeing Disney's Oliver & Company in the theater when I was just eight years old. I don't remember how much I may have seen if after that trip to the cinema, but I was pretty interested in reliving my childhood through Disney's brand new Blu-Ray release of Oliver & Company.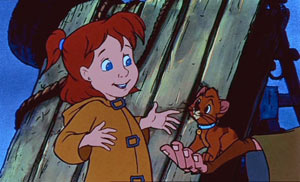 One thing that's glaringly obvious when watching the 1988 movie 25 years later is just how distinctly dated to the 80s it is. While other older, classic Disney films have imprints of the time period they were released in, despite if it's intended to be a period film or not, Oliver & Company was set in "present day" New York in 1988. So, as such, the film immediately greets you with a Huey Lewis & The News theme song and images of people dressed in late 80s attire. There's even a moment where a teen goes strutting down a New York street listening to 80s hip hop on his boombox. It's basically an animated, 1980s telling of the classic story of Oliver using children and animals.
Needless to say, I was a bit curious how my almost-3-year-old was going to react to such a dated film. However, that aspect didn't seem to affect him much. The story didn't hold his attention like modern day computer animated films do, but the songs from Billy Joel and Huey Lewis seemed to definitely grab his attention. What was strange to my wife and I, though, was how we found our son asking to watch Oliver & Company again several times over the next couple of days after that first viewing. So, it apparently still resonated with him to some degree.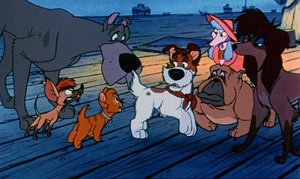 Most older animated Disney films have a slower pace than today's. They aren't quite as busy, which isn't necessarily a bad thing. Oliver & Company has some serious subject matter, though. Because it's based on Charles Dickens' "Oliver Twist," there's a poor little kitten named Oliver who is left alone as an oprhan on the streets until he's shown some attention by a thief, a cool dog named Dodger. Dodger kind of takes him under his wing a bit (but not before using him first to steal a string of hot dogs), which leads Oliver to being introduced to Dodger's posse of poor, needy animal friends. Their caretaker is a bum named Fagin who owes money to a powerful man in a nice car and suit, named Sykes, who is often seen smoking a cigar and has a pack of Dobermans who threaten Dodger and his friends. Oliver eventually comes under the care of a child named Jenny who lives in a wealthy home and soon becomes a target of Dodger and his gang for robbing. Fagin decides to ransom Oliver in order to save his own neck from Sykes and try to get some money out of Jenny's family, but when he tries to call it off, Sykes kidnaps the little girl. The movie gets a bit dark and violent toward the end, and I was really surprised to see this in a Disney film. Granted, I tend to have a rosy recollection of Disney animated films when I think back on my childhood, but with revisiting each of them, I've been shocked at how rough some of them have really been (and I'm certainly more sensitive to it since becoming a father). Oliver & Company has been one of the roughest that I've seen recently of films I'm revisiting from my childhood. Before the film's end, Sykes pulls out and loads a gun and there's a car chase in the film's finale that ends with a car exploding when it's hit by a train (killing Sykes inside), and the animals briefly thinking that Oliver might have died (but he didn't). Needless to say, it was surprisingly violent at times for a G-rated movie. And if you add in the considerable amount of characters smoking and a disgraceful amount of Coke product placement, and you have to wonder just how Disney released this without using better discernment.
Overall, if you're already a fan of Oliver & Company, this new Blu-Ray release is ideal to pick up. The picture is crisp and clear and it's never looked better. However, if you have a low tolerance for 80s films that use music from the decade and even some of the dress of the time, then you'd be better off passing on it. It's not one of Disney's better animated offerings, but it's still a fun one, especially if you once saw it during your childhood.
-
John DiBiase
(reviewed: 7/31/13)
Blu-Ray Special Features Review
The Blu-Ray debut of
Oliver & Company
offers a DVD along with it (but no digital copy). The movie looks great in HD, but the clarity does pull the characters away from the stylized, watercolor-brushed look of the city background. But, in reality, this is the presentation as it was meant to be seen.
The Making of Oliver and Company (5:31) is a vintage special made back in the 1980s. While the quality is limited to the original time it was made, it's really cool to see older specials like this one. Here, they talk about the film's voice cast and utilizing computers to make tough shots a reality for this otherwise all hand-drawn feature film.
Disney's Animated Animals (1:29) is basically a short commercial for the 1996 theatrical re-release of the movie.
Publicity Materials includes a TV spot, the original 1988 theatrical trailer, the 1996 rerelease trailer, and 'Return of a Classic "Theatrical Release of Oliver'" The latter is a commercial about its theatrical re-release in 1996.
Sing-Along with the Movie - This one launches the full-length movie but provides subtitles for the song portions of the movie to sing-along to.
"Lend a Paw" Animated Short (8:08) is a classic Mickey cartoon with Pluto. It's about Pluto finding a kitten out in the snow and not being too thrilled about it. But Mickey likes him, much to Pluto's horror. So, throughout the story, Pluto's good and bad consciences battle over giving him advice on what to do.
"Puss Cafe" Animated Short (7:10) is a Pluto cartoon featuring two nonchalant and dopey cats who try to steal milk from Pluto's yard.
-
John DiBiase
,
(reviewed: 8/5/13)
Parental Guide: Content Summary

Sex/Nudity
: Dodger whistles and flirts with girls on the street; Georgette suggestively asks Tito to talk for a bit alone with her upstairs and he acts like he knows what she means (somewhat sensually). Before they go upstairs, she tells him he needs a bath. Later we see him bolt out of the house in horror dressed in embarrassing clothes.

Vulgarity/Language
: None.

Alcohol/Drugs
: We see a street vendor smoking a lot; We see rats in an alley smoking; We see Sykes smoking; Tito sniffs a cigar and puts it in his mouth; We see Sykes smoking again;

Blood/Gore
: None.

Violence
: Some menacing stray dogs chase Oliver in the streets; A street vendor kicks Oliver off his shoe and Oliver flies into the side of a garbage can; Dodger chases Oliver to distract the vendor and steal hot dogs; Dodger washes away Oliver with a fire hydrant; Oliver accidentally knocks over a sunglasses table; Francis hits Tito; One of the dogs kicks Tito; Dodger starts playfully wrestling with the dogs; Sykes closes Fagin's hands in the car window and Fagin almost falls off the docks into the water. He then actually does fall; Roscoe kicks a TV; Oliver slashes at Desoto with his claws and scars his nose; Tito gets electrocuted and a lamp light crashes on Einstein's head; We see some footage of animated wrestling on a TV screen; Georgette's mirror falls over and shatters; Georgette smacks Tito off camera and we see him fall down the fire escape; Two Dobermans attack and bite Dodger; Fagin accidentally gets tangled in a rope and a bucket lands on his head; Sykes kidnaps Jenny and tosses Oliver aside; Sykes picks up the bucket while it's on Fagin's head and the handle briefly strangles Fagin; Sykes ties up Jenny with the dogs watching her; Tito bites camera wires and gets shocked; We see Sykes loading a gun; Sykes shatters a window on a door, breaks through and grabs an axe and hits wires with it; Fagin shatters through a window on a scooter; Sykes chases the scooter in his car; Jenny lands on the windshield of Sykes' car and Sykes punches through the driver side window and grabs her; Oliver bites Sykes' hsnd and Sykes throws him in the back seat; A Doberman falls onto the tracks and gets shocked; Another dog pushes Dodger's head toward the train tracks and Oliver jumps on his head and causes him to fall onto the tracks too, presumably dying (we don't see this); A train hits Sykes' car just off screen and we see an explosion with flames and debris from the car; Oliver had been thrown from the car and the gang worries that he may be dead but he then appears okay.
Disclaimer: All reviews are based solely on the opinions of the reviewer. Most reviews are rated on how the reviewer enjoyed the film overall, not exclusively on content. However, if the content really affects the reviewer's opinion and experience of the film, it will definitely affect the reviewer's overall rating.
To find out why we don't typically review R-rated movies,
click here