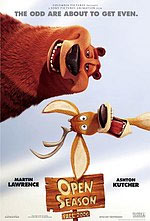 Open Season


- for some rude humor, mild action and brief language.
Director:
Jill Culton, Roger Allers, Anthony Stacchi
Starring:
voices of Martin Lawrence, Ashton Kutcher, Gary Sinise
Running Time:
1 hour, 27 minutes
Theatrical Release Date:
September 30, 2006
Official Site
Plot Summary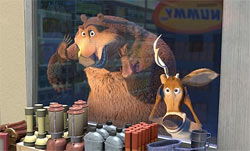 In Columbia Pictures' new action-adventure comedy Open Season, the first feature-length animated film from Sony Pictures Animation, Boog (Martin Lawrence), a grizzly bear with no survival skills, has his perfect world in the tranquil town of Timberline turned upside-down when he meets Elliot (Ashton Kutcher), a scrawny, fast-talking wild mule deer. Elliot arrives in Timberline missing an antler and strapped to the hood of a truck, courtesy of the paranoid über-hunter Shaw (Gary Sinise). Against his better judgment, Boog frees Elliot. Elliot attempts to return the favor by "freeing" Boog from his idyllic existence with his beloved Park Ranger Beth (Debra Messing), who raised him since he was a cub. Things quickly spiral out of control. The two troublemakers are relocated together to the wild... just three days before open season! With hunting season upon them and Shaw in hot pursuit, Boog and Elliot must learn to work together and unite the woodland creatures...
(from MovieWeb.com)
Film Review
Open Season is just one of the many animated films hitting big screens this year. The film takes a domesticated bear out of his element as he teams up with an outcast deer in his first experiences in the wild.
Familiarity runs amuck in Open Season. From the teaming of a big fish-out-of-water character and an unwelcomed talkative sidekick (a la Shrek) to the release of domesticated animals to the wild (Madagascar, The Wild), you may constantly feel like Open Season is something you've seen before. However, its execution and main plot points are unique to this story. For instance, Boog is the film's central character - a bear that was adopted by a park ranger and kept as a pet in her garage. He doesn't know anything else to life except being with his owner and performing tricks for the local townspeople. Boog is released to the wild against his wishes when the town begins to feel he could be a threat - an idea put in their minds from his newfound encounters with a mischievous little buck named Elliot. Also, the film's chief villain isn't another animal, but a mullet-wearing redneck hunter named Shaw, who simply views all animals as future meals or wall decor. Before the film's end, all hunters are painted as the villains and Open Season becomes a poster ad against hunting.
Although I've never been a fan of either of the leads, Martin Lawrence is perfect as Boog while Ashton Kutcher does a fine job bringing a healthy amount of delirium to Elliot. Both main characters are sweet hearted and genuine which adds to their likability. The humor is random and fast-paced, but is broken up by some slower moments when the film will pause for a sentimental moment or sad spot. Most of the jokes are spot-on in an Emperor's New Groove meets Over The Hedge kind of way. But standout moments include when Elliot coerces Boog to raid a convenience store together after hours, they argue over who is the bigger loser, or fight behind a curtain in front of an audience in such a way that unintentionally looks like Boog is mauling Elliot. Sometimes the envelope is pushed just a tad to earn its PG-rating, but it never goes too far like Shrek might.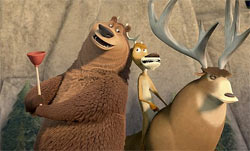 Open Season also earns its PG rating for some of the more intense moments involving the hunter, Shaw. Although his scenes probably aren't more intense than the über-creepy misfit toy scenes in the first, G-rated Toy Story, he's out for the animals' blood, and the chase is often more on the darker side. In one particular scene, Boog finds himself in Shaw's cabin and surrounded by animal heads mounted on the wall. He even knocks a rabbit head off the wall by accident, causing its eyes to roll out (it's not as gross as it sounds, but the whole scene is rather creepy). Apart from a few brief moments like this, the film is pretty upbeat. Other objectionable content is a few bits of crude humor (including Boog throwing up onto a window), and 1 instance of the word "cr*p."
The animation in Open Season is really beautiful. The animators take the stylized cartoony approach instead of going for realism, and it really adds to the fun of the film. Bearing more of a resemblance to Monsters, Inc. than something like The Wild, the nature scenes are detailed and the animal fur, lifelike. I thought it all fit the mood of the film quite wonderfully.
Overall, I enjoyed Open Season. While it suffers a bit from unoriginality at times, as well as a bit too heavy-handed of an anti-hunter message, it's a fun outing. Often funny, often enjoyable, and even touching, Open Season is one of this year's better animated offerings.
-
John DiBiase
,
(reviewed: 10/2/06)
Parental Guide: Content Summary

Sex/Nudity
: Boog says they could use the squirrels' nuts (meaning their acorns), and Elliot comments, "yeah and we could use your acorns too!" as if Boog was originally referring to the bravery of squirrels and not their acorns; Elliot carries Boog's bear for him, strapped around his waist (looking almost like a thong or bikini), and then offers a cookie from inside of it to Boog, who declines because of the placement of the stuffed toy; The animals steal bras and panties from some campers to use as slingshots during a rebellion against the hunters.

Vulgarity/Language
: 1 "cr*pping"

Alcohol/Drugs
: Boog acts drunk while intoxicated only by an abundance of sugar

Blood/Gore
: We see Boog behind a garage door window vomit onto the window. Food, cereal, etc is seen in the vomit; While Boog chases Elliot backstage of his performance theater, the audience sees the silhouette of the chase behind the curtain. But when Elliot is tangled in a rope and Boog is clawing at it to get to him, it appears he's mauling Elliot to the audience. When a paint can sprays onto the curtain, the audience thinks it's the deer's blood and runs away; We see busts of dead animals mounted on Shaw's wall. Boog accidentally knocks the mounting of a bunny over and it's head pops off and eyeballs roll out (not gory, just maybe unsettling for the little ones)

Violence
: All cartoon-related: slapstick involving hitting and such, hunting violence (Shaw carries a rifle around and fires it at animals); we learn that Shaw had hit Elliot with his truck when Elliot wasn't even on the road, causing Elliot to lose an antler; the squirrels throw acorns at people; the animals use force against the hunters, even by blowing up their trucks; Elliot is beaten up by deer bigger than him; and other assorted cartoon violence...
Disclaimer: All reviews are based solely on the opinions of the reviewer. Most reviews are rated on how the reviewer enjoyed the film overall, not exclusively on content. However, if the content really affects the reviewer's opinion and experience of the film, it will definitely affect the reviewer's overall rating.
To find out why we don't typically review R-rated movies,
click here