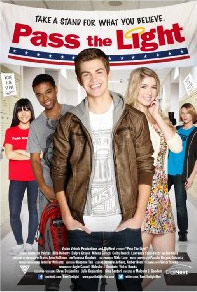 Pass The Light


Director:
Malcolm Goodwin
Starring:
Cameron Palatas, Dalpre Grayer, Alexandria DeBerry, Jon Gries, Milena Govich, Colby French
Running Time:
1 hour, 52 minutes
Theatrical Release Date:
February 6, 2015
Official Site
Christian Film Database Page
Plot Summary
Pass The Light follows a 17 year old H.S student name Steve Bellafiore (Cameron Palatas) who runs for Congress because he is disturbed by the message of hatred and intolerance espoused by the popular candidate Franklin Baumann (Jon Gries). Steve and his friends start a campaign called Pass The Light in order to unite the community and spread the message of tolerance and love. (from PassTheLightMovie.tumblr.com)
Film Review
It's not an easy task to convey a Christian message honestly and sincerely in a film setting. Condensing the gospel message into one two-hour shot in the form of entertainment has to be difficult. Little indie film Pass The Light hones in on a small town in Illinois and a Christian school there called Northfield Christian Academy where a shy teenage boy named Steve Bellafiore struggles to find his place among the crowd. He's got a crush on the "hottest girl in school" and mostly just keeps the bench warm for the school's football team. His strong Christian faith has the more image-obsessed jocks calling him "Little Tebow," and his home life isn't that much better as his parents struggle with his dad being out of a job. While Steve hopes for his life to turn around, a local political figure named Franklin Baumann is making the rounds, campaigning for congress while promoting a message of intolerance toward sinful acts in the community. Baumann's platform calls for the people to fight against immorality, including homosexuality and sexual perversion, and for them to be cast out. Steve finally gets sick and tired of the negative message Franklin is promoting and decides to take matters into his own hands, and begins spreading a positive message of love through Christ instead.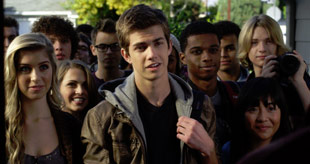 Pass The Light is pretty idealistic, but it's a feel-good kind of story with a thought-provoking platform. We have two intriguing viewpoints and social commentaries -- one in Franklin who condemns the behaviors that God pointed out in scripture as being wrong, and another in Steve pointing out that we all fall short and that God has love for us regardless. He makes it his mission to meet people where they're at, and it's in that reaching-out that he starts to change his school and then other schools that catch on to the movement. It's a nice notion to think that spreading simple acts of kindness, and a teenager running for congress, can have such an impact, so you definitely have to suspend your disbelief to get to the point and message of the story. In fact, the idealism of Pass The Light has the heart of a Frank Capra film -- like Mr. Smith Goes To Washington or It's a Wonderful Life. It's the idea that one person can make such a tremendous impact on so many lives. The story does kind of end up having characters seemingly do things that are a bit uncharacteristic -- and Steve seems to be able to come up with the answer for pretty much everything to fix just about any problem he faces, and even win the girl of his dreams in the process. (Heck, he even gets that Rudy moment he was hoping for.) Where some stories tend to rely too much on dramatic happenstance just to add coincidental or convenient tragedy to shake up the story, it almost feels like the complete opposite here -- and Steve can do no wrong. The events in the finale are almost too warm fuzzy and good to be true. But one of the saving graces for this story for me, however, is having seen a video online recently (this one) about a student who used to be bullied but then decided to start holding the doors open for people every morning at school. It ended up turning his life around and greatly impacting the students in the school -- to the point where he even became a public speaker. It's real life stories like that that make fictional tales like this feel a little more accessible.
The film gets off to a bit of a rocky start where the viewer may wonder where things are headed, as the setup of the story feels a little aimless. Aspects of it start to feel like "just another forceful Christian movie," but as the plot develops and the story reveals itself, the way it had been set up starts to make a bit more sense. The acting in the film is nothing extraordinary, but Jon Gries' performance as Franklin Baumann may be the most convincing of the bunch (Gries may be most recognizable as Uncle Rico from Napoleon Dynamite, and also has appeared in the Taken films). Cameron Palatas, who plays Steve, is a decent lead for the film, while his buddy Willy, played by Dalpre Grayer, feels a bit like the stereotypical comic relief best friend, but proves to be more than that as the story unfolds. Steve's parents, played by Milena Govich and Colby French, are okay, but they're far more secondary to the story, and are presented a little more clueless and helpless than their teenage son at times.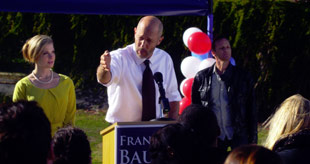 Content-wise, the film isn't officially rated by the MPAA, but it's quite tame and probably would have been rated PG for thematic elements. It openly addresses the hot topics of homosexuality and sexual immorality--even involving teens--and it's something you'll want to be ready to discuss with your kids. But it does offer plenty to discuss and think on, so it certainly has its merits there. One scene has a teenage girl confessing to a boy that she'd slept with another guy, but it's handled without getting explicit in detail. There's no profanity or violence (beyond a little rough football tackling) either. While Steve and Franklin have strong opposing views, with Steve offering a more loving approach to the Christian faith, he admits, when it counts, that he doesn't have all the answers. But it's nice to finally see a Christian film that doesn't try to be edgy just to be cool and doesn't slap the viewer in the face with a Bible either, but is willing to stand up and point out that the way many believers go about doing things is not only not working, but there's got to be a better approach. And the way Pass The Light conveys this message of love is through love too.
Pass The Light, while wrapping up everything a bit too neatly in a bow for some viewers, is a feel-good family film that helps rethink the way believers evangelize or show their faith. It's far from a perfect movie, and the acting and script probably could have been all-around tighter, but you could surely do a lot worse in choosing faith-based entertainment. I doubt it'll be one of the best films you'll see all year, but as far as Christian filmmaking goes, it's at the very least a cut above the rest and a step in the right direction.
-
John DiBiase
(reviewed: 2/5/15)
Parental Guide: Content Summary

Sex/Nudity
: The word "tramp" is spray-painted across Jackie's locker; Franklin's politicial platform frequently mentions "homosexuality and sexual immorality" as things that can't be tolerated and must be fought against. It's often spoken to large audiences or people watching TV; When reading off of a paper what she liked about her husband, Anne says to him (Pete), "I like his arms and his butt." When he laughs at that, she insists "But I do!"; Jackie confesses to Steve that the "tramp" incident was because she slept with Wes and they thought she was pregnant. He then lied about it so it looked like she cheated on him (so people wouldn't know he slept with her) and they ridiculed her for it. She ended up not being pregnant; A man gets disgusted at Franklin's anti-gay rants on TV and storms out of the room. Another man goes to talk to him and then caresses his arm affectionately but in a comforting manner. Steve then approaches one of them later to say he figured out that they're gay and the man admits it.

Vulgarity/Language
: None.

Alcohol/Drugs
: None.

Blood/Gore
: None.

Violence
: There's some football practice violence with Steve receiving rough tackles and such in a couple scenes; During an argument, Steve's dad raises his hand to Steve but doesn't hit him. The fact he does it upsets his wife and then himself (he feels bad about it).
Disclaimer: All reviews are based solely on the opinions of the reviewer. Most reviews are rated on how the reviewer enjoyed the film overall, not exclusively on content. However, if the content really affects the reviewer's opinion and experience of the film, it will definitely affect the reviewer's overall rating.
To find out why we don't typically review R-rated movies,
click here