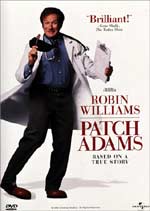 Patch Adams


- for some strong language and crude humor.
Directors:
Tom Shadyac
Starring:
Robin Williams, Monica Potter
Running Time:
1 hour, 55 minutes
Plot Summary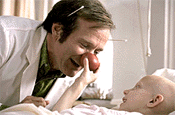 Hunter Adams (Robin Williams) is a middle-aged man who one day decides to commit himself to an insane asylum for trying to commit suicide. It's there where he is given the nickname "Patch" & discovers his desire to help people through laughter, understanding, and personal connection. 2 years later, after leaving the institution, he enrolls into medical school and quickly makes friends with another student, Truman (Daniel London), and shares his dream with him. Patch soon recruits the stiff, serious Carin (Monica Potter), whom he falls in love with. In school, as Patch wants to help the patients via humor, Dean Walcott (Bob Gunton) wants to force Patch to follow the rules, even if it means kicking him out of school. As the film progresses, Patch must decide if he wants to continue his efforts and dream while Dean Walcott fights to have him thrown out of school.
Film Review
Patch Adams is funny, touching, sad, and controversial. It includes serious doses of crude humor, while not as heavy-handed as most Jim Carrey films and other crude humor comedies. The film is best comparable to 1997's Liar Liar, which is also directed by Shadyac. Although Liar Liar was a funnier movie and had a stronger moral lesson learned at the end, Patch Adams hits a Godly nerve in a scene that may leave Christians feeling slapped in the face.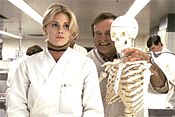 In one scene where Patch is emotionally devastated after a *big loss (see "Violence" at the bottom of the page), he goes to a cliff where he confronts God. As he talks to God, he scoffs at him, angered, and puts Him down, saying how He created man only to suffer through life and then die. Patch complains to God that on the seventh day of Creation, when He rested, that He should have used that day for compassion. Then, Patch looks down off the cliff and says, "I could do it," meaning suicide, "But You're not worth it." When Patch turns around and walks away from the cliff, a butterfly (a symbol relating to the personal loss that brought Patch to feeling the anger towards God that he did) is sitting on his medical bag. As he looks at it, it flutters up to him, lands on his shirt, then he takes it on his finger and it flies away. It's then that Patch realizes God answered him back and Patch regains the passion he once had before he lost a loved one.
Although the butterfly seemed to bring about and symbolize an answer from God, the impact of Patch's anger towards God is quite severe. It's a rough moment and although God's answers often seem like soft little replies, it still felt like an overtly heavy moment for a film mainly focused on making people laugh. Direct Tom Shadyac has made it known he is a Christian, so while it may be surprising to even have a harsh moment in a film like that from one made by a believer like Shadyac, it also explains why the situation was handled as delicately as it was in the end (with the butterfly).
As far as the rest of the film's material, the language is not too great. No "f" words, but a phrase that would normally contain it is used, but goes "unfinished." There are 6 "s" words, and a large amount of the slang term "pr*ck," as well as a lot of sexual innuendo that is not suitable for young people.
Overall, I thought the movie was very good. Although there is quite a bit of objectionable material (see below), I couldn't give it any less than 3 stars (which takes into account the content).
-
John DiBiase
,
(reviewed: 1/10/99)
Parental Guide: Content Summary

Sex/Nudity: A lot of innuendo. Most pertaining to men. In one scene, Patch has constructed giant female legs that are put in the entrance of the hospital auditorium as a joke for visiting gynecologists. Some innuendo follows. As far as nudity: a mental patient's bare butt is seen when he receives an injection; Patch's bare backside and butt are seen a few times when he's wearing a gown with nothing on underneath.


Vulgarity/Language: 6 "s" words, several uses of "pr*ck," "d*ck," & "d*ckhead," 6 "a" words, 1 "a-h*le," 5 "d*mn," 5 "h*ll," 2 "cr*p," 1 "J-sus Chr-st," 3 "G-d," 1 "For G-d's sake"


Alcohol/Drugs: Possibly some drinks at a convention.


Blood/Gore: A woman's leg has marks on it and she also has a black toe, all as a result of diabetes. A person's arm has some slightly bloody cuts on it.


Violence: *we hear that a person (main character) was killed by a man with a shotgun, who then killed himself. Although seemingly minor (because it's unseen & only mentioned), it has a big impact on the characters.

Disclaimer: All reviews are based solely on the opinions of the reviewer. Most reviews are rated on how the reviewer enjoyed the film overall, not exclusively on content. However, if the content really affects the reviewer's opinion and experience of the film, it will definitely affect the reviewer's overall rating.

To find out why we don't typically review R-rated movies, click here