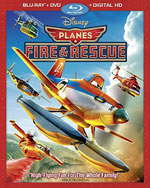 Planes: Fire & Rescue


- for action and some peril.
Director:
Roberts Gannaway
Starring:
voices of Dane Cook, Ed Harris, Julie Bowen, Brad Garrett, Stacy Keach, Teri Hatcher, John Michael Higgins, Patrick Warburton, Curtis Armstrong, Wes Studi, Cedric the Entertainer, Hal Holbrook, Regina King
Running Time:
1 hour, 23 minutes
Theatrical Release Date:
July 18, 2014
Official Site
Blu-Ray Release Date:
November 4, 2014 (
Amazon.com
)
Plot Summary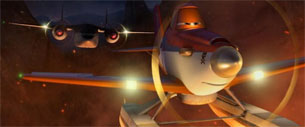 When world-famous air racer Dusty learns that his engine is damaged and he may never race again, he must shift gears and is launched into the world of aerial firefighting. Dusty joins forces with veteran fire and rescue helicopter Blade Ranger and his team, a bunch of all-terrain vehicles known as The Smokejumpers. Together, the fearless team battles a massive wildfire, and Dusty learns what it takes to become a true hero. (from IMDB.com)
Film Review
Less than a year after the release of Planes, an expansion of the Cars universe established by Pixar, Disney has already released a follow-up, Planes: Fire & Rescue. This time, instead of a cropdusting plane dreaming big of becoming a successful racing plane, the same plane joins the fire and rescue patrol to help extinguish forest fires. The basic idea sounds contived beyond belief, but I was surprised at how the story adjusts to make it all "work."
Planes: Fire & Rescue opens some months or so after the triumphant finish in the first film. Since the events of Planes, Dusty Crophopper has become a world famous racer but he hasn't forgotten his smalltown roots, continuing to reside at Propwash Junction. However, while practicing flying for his races one day, his gear box grinds a bit too hard, chipping off a piece inside and endangering his life. When no one can find a replacement part, Dusty is restricted to flying at a certain speed and height so as not to crash (which is also the word the film ultimately substitutes for "die"). While practicing alone one night, he accidentally smashes into the town's fuel station, starting a fire. When they are unable to properly put it out, an inspector threatens to shut down the town if it is not properly certified for fire safety. Dusty, feeling responsible for the accident, volunteers to become certified as a fire & rescue plane. He's then outfitted with pontoons and begins to shadow an official fire & rescue team.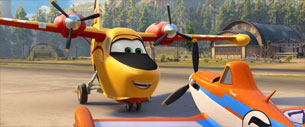 From this point on, the film is pretty much a mixed bag of slow scenes and action-packed ones, with an unreasonable amount of forest fires springing up for the sake of the story (you can pretty much think of how insanely often tornadoes popped up in Twister and just substitute fires here instead). For the most part, Planes: Fire & Rescue should really work on paper as an entertaining film, but the biggest problems come when dialog-heavy scenes take the film to a screeching halt, draining any kind of life or energy out of the movie. It had my 3-and-a-half-year-old squirming in his seat for a third of the movie (But when asked after the movie was over if he liked it, he said "yes"). It wasn't until the firey finale that he sat glued in his seat. And while I enjoy good dramatic or character-building scenes as much as the next guy, for a movie like this one, it was usually just boring. The pacing was off, the joke delivery wasn't timed quite right, and the script really only delivered a few good laughs. Where a usual Pixar film (this wasn't Pixar at all) feels paced just right even at "slow" parts, with music working to the pacing's benefit, things just didn't seem to work neatly enough here. Even the first Planes movie had better pacing.
What does work, however, are the action sequences and voice talents. There's an impressive voice cast assembled here, which includes Dane Cook reprising his role as the lead, Dusty, and Brad Garrett, Stacy Keach and Teri Hatcher all reprising their roles from the first movie as well. Joining the cast are Ed Harris (Apollo 13, Abyss), Julie Bowen (TV's LOST), Curtis Armstrong (Revenge of the Nerds), Wes Studi, Hal Holbrook, Regina King and still others. The fire scenes are fun, but the finale itself is pretty intense. The visuals were excellent and the plot was a little predictable, but it made for a fun finish. And one thing has to be said for Dusty - between both films, that plane has 9 lives. He narrowly escapes his demise a few times in both movies, and it seems a little harrowing for younger viewers who might think they'd actually kill off the lead like that in a Disney animated movie (Even if just for a moment. After Dusty was fixed and they're wrapping up the last moments of the movie, my so sat forward and exclaimed aloud "Where's Dusty?!" He was there, but the movie had really put the character's survival in question).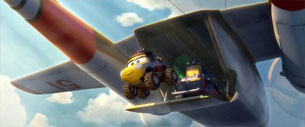 The content is mostly family-friendly. The only language are a few substitute sound-alike words like "Oh Chevy" and "I kicked Aston-Martin." And there's a weird scene at the beginning where an old truck talks about using Rusteze bumper ointment and showing the area to some other characters that react in disgust. We don't see what he shows them, so it's just meant to be funny. The main concern of the film is violence where we hear the story of a helicopter's friend who had "crashed" (died) and we see two vehicles hide in a cave to escape a raging fire. There's a brief shot of the paint on the side of the helicopter character start to burn and bubble. Two different scenes involve vehicles getting severely injured and crashing but later surviving by being fixed. And the finale is a forest fire that rages out of control and threatens the lives of a lot of the characters in the film.
Planes: Fire & Rescue certainly has its moments and is fun and entertaining at times, but other moments just crash and burn. It's a rollercoaster ride with some pretty fun thrills, but then it just coasts far too lifelessly at other times. If you enjoyed the first film, you'll probably still like Planes: Fire & Rescue, but if you're a little more of a cynical viewer, definitely pass on this one entirely.
-
John DiBiase
(reviewed: 7/15/14)
2D Blu-Ray Special Features Review
Planes: Fire & Rescue
is available in a 2D Blu-Ray/DVD 2-disc combo pack or as a single-disc DVD (and through the usual digital services). The 2D Blu-Ray disc has a few bonus features while the feature film looks crisp and vibrant in HD. The following extras are included:
Vitaminamulch: Air Spectacular (5:55) - This is a brand new little cartoon exclusive to this Blu-Ray set. In it, Chug and Dusty pose as "Vitaminamulch" daredevils "Vandemonium" and "Air Devil Jones" as entertainers at an air show. However, everything goes wrong due to a series of mishaps that ends in an explosion of Vitaminamulch. It's not a very good cartoon and it's pretty unfunny, but the younger Planes fans will probably enjoy it.
Welcome To Piston Peak (2:49) is a mock commercial for the main location in the film, Piston Peak.
"CHoPs" TV Promo (0:45) - This is the mock "Chips" TV promo commercial for the spoof "CHoPs" involving Blades as seen in the film.
Air Attack: Firefighters from the Sky (4:47) - The filmmakers did research for "wild land firefighters" when it came to preparing for this film. We see the real-life inspirations for some of the locations, "props," and vehicles seen in the film and we hear from some real-life firefighters about their experiences.
Deleted Scenes (4:32) - There are two deleted scenes and an intro: "Honkers" and "Dusty's Dream No More." You can watch them separately or "Play All" with "Filmmaker Intros." The first, "Honkers," is a previs animated sequence which is an extended version of the bar scene in the film with just some extra dialog. "Dusty's Dream No More" takes place right after "Honkers" and is shown in animated storyboard form where he's feeling sorry for himself back at his hangar. The next morning he goes out to test the limits of his damaged engine.
"Still I Fly" Music Video by Spencer Lee (1:31) is a short music video showing Spencer Lee recording vocals in the studio and singing to footage from the finished film.
Animated Shorts (3:30) - These are two character promos/shorts. The first is one dedicated to the spunky plane "Dipper" (which turns out to be a PlanesDate.com promo video) and the second is about the little tractors, "Smoke Jumpers," who leap out of the airplane. This introduces them (even sharing their names) and shows them putting together a campfire for roasting marshmallows.
-
John DiBiase
,
(reviewed: 11/2/14)
Parental Guide: Content Summary

Sex/Nudity
: A truck hits on a girl in a bar and she scoffs about him being a "pickup" truck; A truck complains to a friend about his girl leaving him for a hybrid (vehicle)

Vulgarity/Language
: 2 play on swear words: "Oh Chevy" and "I kicked Aston Martin"

Alcohol/Drugs
: We see vehicles having drinks and cocktails in a bar

Blood/Gore
: We see the paint on the side of a helicopter start to burn and bubble up due to the intense heat from a fire; We see the blades of a helicopter broken off after it crashes; A plane that crashes is all banged up but is fixed

Violence
: As Dusty is training (flying), we see a zoomed interior shot of his engine and metal grinding, chipping off a piece of his gear box. He then stalls out and almost crashes; While test flying alone at night, Dusty stalls and crashes into a gas station, starting a fire. Everyone rushes to put it out but the fire is too intense. They then work together to topple over the water tower to put it out; Dusty joins the fire and rescue team and goes on several missions with parajumper mini vehicles and other planes and helicopters who work to put out raging forest fires; We hear a story about how a helicopter died in an accident; Dusty insists he can do something that Blades warns him he's not ready for and Dusty ends up landing in a raging river. Blades tries to hoist him out with his winch but it gets stuck. He eventually saves Dusty but they get trapped in the middle of a fire. They then hide inside of a cave while the fire traps them in there (and Blades gets burned badly). After the fire stops, Blades tries to take off and crashes, smashing up his propellers and part of his frame; The climactic scene involves a huge fire consuming the forest that causes the inhabitants of a new lodge to flee, but they get trapped by the surrounding fire. The rescue team has to come to douse the surrounding fires so they can escape. Two RV's get trapped on a bridge, so Dusty and Blades rush to save them; Dusty pushes his engine and it burns out, causing him to crash badly. We're lead to believe for a moment he may have died, but we then see him waking up after having been fixed; And some other comedic and action violence.
Disclaimer: All reviews are based solely on the opinions of the reviewer. Most reviews are rated on how the reviewer enjoyed the film overall, not exclusively on content. However, if the content really affects the reviewer's opinion and experience of the film, it will definitely affect the reviewer's overall rating.
To find out why we don't typically review R-rated movies,
click here