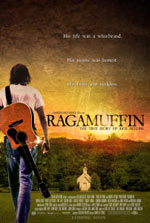 Ragamuffin: The True Story of Rich Mullins


- for thematic elements and smoking.
Director:
David Leo Schultz
Starring:
Michael Koch, David Leo Schultz, Wolfgang Bodison, Mitch McVicker, Cameron Goodman, Mel Fair
Running Time:
2 hours, 17 minutes
Theatrical Release Date:
Spring 2014
Official Site
Christian Film Database Page
Blu-Ray Release Date:
July 8, 2014 (
Amazon.com
)
Plot Summary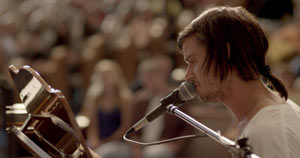 Ragamuffin is the story of beloved Christian songwriter and ragged philosopher Rich Mullins. It covers his early life on a farm in Indiana through his first strides as a professional musician, public figure and, at times, troubled soul who was just, by his own admittance, just an arrow pointing towards Heaven. The movie doesn't shy away from the unglamorous side of the man, and in doing so it reveals his honesty, and the need we all have for authenticity with each other.
Film Review
The movie biopic is a tricky thing. Unlike the biography, in which an interesting or inspiring character (be they C.S. Lewis, Billy Graham, Abraham Lincoln or Alexander The Great) can be revealed in more than a thousand pages and most folks wouldn't think much of it, the movie biopic must restrain itself to a two-hour plus running length or risk losing an audience. Thus, most biopics have to move swiftly through their character's life, hitting the high and low points in swift succession and including the key moments or artworks that made them worthy of the attention in the first place. Some moments must be left out unfortunately. But the goal is to tell "a" story, not "the entire" story. The late and beloved Christian songwriter and freelance saint Rich Mullins is a worthy subject of a biopic, and writer-director David Leo Shultz does a fine job at tackling the life and telling "a story" of Mullins in Ragamuffin.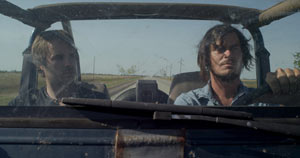 As with any biopic, the key ingredient will always be an actor who can inhabit the skin and mannerisms of the film's subject. And there is the added hurdle when it comes to portraying a musician of being able to convincingly play and sing like the film's subject. Jamie Foxx won an Oscar for his portrayal of Ray Charles in Ray and Joaquin Phoenix came close to winning one playing Johnny Cash in Walk The Line. Newcomer Michael Koch is just a note below those performances, but he ably channels Mullins' unique manners of speech and capably handles the music aspect, sounding like a cross between Mullins and singer-songwriter Jackson Brown. At moments, Koch channels Mullins' patterns of speech and inflections (particularly in the concert scenes, a fact I can testify to, having seen Mullins in concert a few times) so succinctly that longtime fans might get the occasional chills.
It's those longtime fans who present the unique challenge of Ragamuffin. In attempting to unfold the life of Mullins, who died in a car accident 1997, to a new audience, Schultz walks a tenuous line of presenting the complex life of Mullins in light of the songs he is most known for to this day.
And a complex life it was indeed. I've been a Rich Mullins fan since almost his first record (owned on cassette tape), and there are revelations about Mullins in Ragamuffin that surprised even this longtime fan. In choosing to reveal (with the full input and blessing of Mullins' family) that Mullins had a significant drinking problem at times in his life (including before gigs in Churches and youth retreats) and could we a world-class jerk to those around him, Ragamuffin makes the hard but necessary choice to reveal Mullins as the true ragamuffin of grace that he always talked about being. He wasn't just saying those things from the stage; he really needed God's grace to keep going every day.
This honest portrait of the artist, complete with the tortured relationship with his father (played with gruff excellence by Mel Fair), and early confusion about his faith and its role in relation to fame, money and a Christian Music industry that needs to have tough questions asked about it, give Ragamuffin an edge that is not found in many films that are marketed in the Evangelical Church world. But this edge is necessary if the film is going to be true to its subject, a man who lived on the ragged edge of grace, and was beloved for his unflinching honesty as much as for his fantastic songs.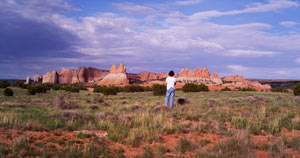 It's the songs that thrust the interesting life of Mullins into the spotlight, and Ragamuffin has its strongest moments in showing the artist composing some of his most beloved songs on the highways, in the truck stops and in the green rooms of America. "Elijah,",an early song in Mullins' career, is shown most often, and almost becomes a musical motif of sorts, fitting in prophetically with its composer, a man who was almost destined to go out early. Koch nails this song and others that were close to Mullins' heart. "Hold Me Jesus" is effectively performed in its entirety during a concert scene, and several versions of "Awesome God" are shown in development. Mullins fans, who no doubt have their favorite songs already deeply engrained in their lives ("Sometimes By Step" will always be the one I go back to, and is a song that I sing with my girls before bed each night) and there is simply not time enough in a film setting to feature every song in Mullins' catalog. The ones that do get featured are drawn out and used to great effect.
Towards the end of the film, Brennan Manning (author of The Ragamuffin Gospel, a book that gave Mullins the name of his band, his best album and this film) shows up (embodied mightily by actor Charles Lawlor) and gives the film (and in reality, Mullins' life) needed grounding. Manning's character gives a needed gravitas to a film that features mostly younger faces up until this point, and Lawlor's gruff baritone and delivery is a highlight of the film. Reluctantly hearing a tape of Manning preaching was a turning point in Mullins' life, and that it's also a needed turning point in this film as a wonderful bit of synchronicity. It's also convicting to hear about Mullins giving his fortune away to various good works (like a school on a Navaho reservation where he ultimately spent his last years working with a forgotten people group) and live simply.
Ragamuffin is not a perfect film, but it is a good one with some great moments, and is a labor of love from director Schultz (who also appears as Mullins' college roommate Sam and offers needed comic relief), who toured the country with an acting troupe called "The Color Green" as a young man and has named his film company after the Rich Mullins' song as well. Ragamuffin occupies a new area for films marketed towards the Church. It does not flinch from showing its protagonist's scars and all (with borderline cursing, smoking and heavy drinking), but in doing so, and balancing the fallen nature of Mullins (and all of us when we are honest) with the grace of an "awesome God." In doing so, it does that beloved worship standard justice.
-
Alex Caldwell
(reviewed: 3/3/14)
Parental Guide: Content Summary
Ragamuffin is a unique film for the Christian marketplace in that it does not shy away from the bad habits that Mullins knew that he had, smoking, drunkenness, mild cursing etc. It does not do anything to glamorize these things, but these activities (true to life according to his family and friends) humanize the man, and help to expose an industry (Christian Music) that goes to great lengths to portray a whitewashed image of its various celebrities. While content warnings are important, they sometimes obscure the fact that the Bible itself is not a "family friendly" book. It contains many R rated situations and indeed, three of its main writers (Moses, David, Paul) were killers, liars, drunkards, womanizers and short-tempered men.

Sex/Nudity
: None.

Vulgarity/Language
: Though unusual for a film that might be shown in Churches, this film contains the word "damn" (multiple times), "h*ll" a couple times and "cr*p." Many are said by Mullins' father in the context of blue collar life on the farm.

Alcohol/Drugs
: Mullins is seen drinking throughout the film, including his time in Bible College and on the road giving concerts. He is heavily drunk in a few key scenes, though these scenes give context to the childhood wounds that haunted him lifelong. Mullins also smokes almost constantly during the film

Blood/Gore
: None.

Violence
: We see a fatal car accident involving Rich's jeep; We see a father be rough with Rich as a boy a few times, grabbing his arm or face; A man shatters the glass of a phone booth; A man angrily throws a phone; A person slaps a cup of coffee out of another person's grasp
Disclaimer: All reviews are based solely on the opinions of the reviewer. Most reviews are rated on how the reviewer enjoyed the film overall, not exclusively on content. However, if the content really affects the reviewer's opinion and experience of the film, it will definitely affect the reviewer's overall rating.
To find out why we don't typically review R-rated movies,
click here