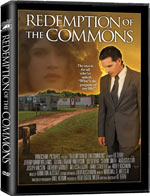 Redemption of the Commons


Director:
KT Terry
Starring:
Jeremy Marr Williams, Susan Loraine Anderson, Ed Silvera, Anthony Garner
Running Time:
1 hour, 30 minutes
Theatrical Release Date:
April 26, 2014
Official Site
Christian Film Database Page
DVD Release Date:
November 20, 2014 (
Amazon.com
)
Plot Summary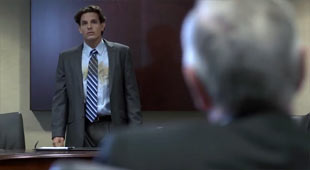 Victor seems to have it all together - good looks, his own branding company, and life in L.A. But appearances can be deceiving, because in reality, he's broke, living out of his van, $93,000 in debt and still looking for the ever-elusive purpose of his life. Pop, an elderly friend from the past, offers Victor his only choice - to come back home. Yet, home is a tattered trailer park in the Deep South, which is full of bad memories and broken relationships. Once home, Victor discovers that he must deal with his volatile past before he can move toward his promising future. Through the story's inspiring ending of reconciled relationships and realized dreams, we are reminded that no life is "common" - and that everyone has a God-given purpose. (from KT Terry)
Film Review
It can be a bit of a gamble when looking into indie films. Sure, the same problems with indie films can exist in bigger budget ventures, but with indie films, chances are you may end up watching something that looks like it was filmed in someone's backyard with a video camera they got when Circuit City still existed. But even when the budget is extremely low for a film, you can still discover an end product worth watching. Redemption of the Commons, while an odd film in its story and execution, is one of those low budget indie films with some merit to it.
Redemption of the Commons gets off to a bit of a rocky start. First of all, the film is exclusively about trailer park living. If you aren't familiar at all with the trailer park lifestyle or communities, a film like this one can be a little bizarre to experience. For one thing, it drastically compacts the story into a very small, very niche "world," and for "The Commons," it involves literally about four different small families in a tight-knit group in a very small, undetermined town in the "Deep South." The movie opens with a fire burning down one of the trailers with the central character, Victor, arriving too late to do anything about it, the community's leader "Pop" seemingly unusually calm about the tragedy, and a potentially responsible character lying drunk and passed out on the ground nearby. It then flashes forward to Victor in the midst of trying to make a branding business work in today's economy before he finds himself $93,000 in debt and crawling back to the trailer park with no other options for his life. It's a bit of a Prodigal Son story, but the story oddly condemns Victor's attempt at trying to make a go at a career in marketing. When Pop welcomes Victor back into The Commons (the even throw him a welcoming party), the Prodigal is met with a bittersweet welcome by some of them. We soon learn that Victor pretty much "abandoned" The Commons, leaving his fiancée behind to care for her handicapped brother, but little is explained as to why it was so wrong for him to try to make a life outside The Commons, other than God supposedly having other plans for his life.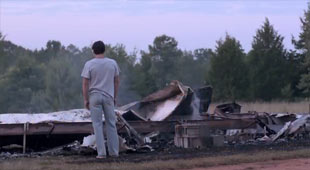 The message of following God's calling is an important one--one that I fully support and encourage and have always looked to for my own life--I just felt that the way it was expressed and conveyed here was a bit flimsy. The only thing that seemed wrong about Victor's leaving was leaving his fiancée, Hope, behind, while his older brother had his own family and the other members of the community were more than capable of fending for themselves. By making it seem wrong for him to pursue his interests on his own, it seems to try to drive home the message more so that he wrong to ever want to leave his broken down community. However, when he does fall flat on his face in his own pursuits and comes crawling back home, it's his presence that helps rejuvenate the lives of those in The Commons who had become a bit complacent or aimless in their lives--and that's also when he starts to discover God's true purpose for his life. The ending justifies his journey, but it just seems like the message it's portraying is a little uneven. To expound a little further: it wasn't really presented that Victor was directly going against God's will for his life knowingly; the way the film delivers Victor's pursuits seems to elevate the small community lifestyle while demonizing Victor's pursuits in marketing and business, while some may truly be called to do that kind of work (and it wasn't like Victor was doing anything dishonest while pursuing that dream of his either). Perhaps if it was conveyed a little clearer that his pursuits were less than honorable, it'd justify his lack of success in his pursuits a little more.
Otherwise, Redemption of the Commons spends the core of its story setting up a quirky resolution, which puts into use Victor's talents, and the talents of the other Commons residents, uniting them for a very unusual (and perhaps unlikely?) endeavor. But director KT Terry and the cast do a fair job to make it more charming, and you can't help but root for them in spite of everything. While no one delivers truly amazing performances, everyone present proves to be capable, with maybe the exception of "Pop," who feels dry in his line deliveries and a bit too stereotypical as a voice of advice and guidance for Victor (who appropriately fondly mocks him at one point as sounding like Yoda). The theme of redemption runs thick throughout the story, with Victor's brother Seamus being an alcoholic, married, father of one who eventually seeks much needed help before the film's finish. And while the finale may tie things up a little bit too neatly (they even hint at two secondary characters finding romance in each other, which seemed unnecessary), the film is otherwise a feel-good kind of encouraging drama that most of the family can enjoy.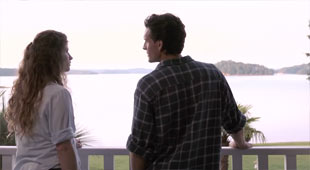 While the film is not rated by the MPAA, the content for Redemption of the Commons is on the dramatic side, falling mostly within the PG banner if it were to have been rated. As mentioned earlier, the film does open with a fire that apparently takes the lives of two people, but nothing gruesome is shown. Another character does pass away later in the film, and there's some heavier thematic material involving one of the characters being a severe alcoholic (and the effect it has on his marriage and young daughter). Language is very minor with 2 uses of "suck" and a couple exclamations of "God." Finally, the only sexuality is a passionate kiss between Victor and Hope.
If you can get past the low budget presentation (that also is reflected in the music of the film), you're likely to find plenty to glean from the story and characters of Redemption of the Commons. The faith-based, Christian message is strong but not delivered in an overbearing way, so Christians can take plenty from the movie while non-Christians can still potentially enjoy it. While it won't be one of the best films you'll see from 2014, it's certainly one of the more decent faith-based ventures. Fans of the genre will especially want to look into Redemption of the Commons.
-
John DiBiase
(reviewed: 1/14/15)
DVD Special Features Review
There are no special features on this DVD release. The DVD does, however, come with a very thick catalog inside featuring other films from this film company.
Parental Guide: Content Summary

Sex/Nudity
: None. Just a passionate kiss between Victor and Hope.

Vulgarity/Language
: 1 "Oh God," 1 "God," 1 "Oh my God," 2 "suck"

Alcohol/Drugs
: Seamus is a drunk. In the opening scene, Victor finds him passed out drunk with a bottle next to him; We see Seamus drunk again; Seamus pours orange juice into a glass and then pours vodka into it and drinks it; We see Seamus drinking beer; His wife finds Seamus sitting drunk inside of a barn; While in rehab, Seamus sneaks a drink out of his bag. He takes a sip, sees the photo of his daughter, and then spits it out into a nearby garbage can.

Blood/Gore
: None.

Violence
: The movie opens with a mobile home on fire, which apparently takes the life of two people; When Victor finds Seamus passed out outside the burning mobile home, he shakes him angrily; In a flashback, we see a kid throw a rock at a bird in a tree and then throw rocks at some other kids in a tree house. One kid then pins down the kid throwing rocks and punches him repeatedly; While drunk, Seamus lunges out of his recliner at Victor, who pushes him back into his seat; A man is found lying dead on the floor from a heart attack; His wife finds Seamus sitting drunk inside of a barn. She kicks him as she yells at him.
Disclaimer: All reviews are based solely on the opinions of the reviewer. Most reviews are rated on how the reviewer enjoyed the film overall, not exclusively on content. However, if the content really affects the reviewer's opinion and experience of the film, it will definitely affect the reviewer's overall rating.
To find out why we don't typically review R-rated movies,
click here