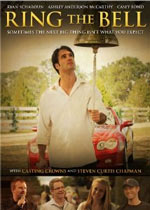 Ring The Bell


- mild thematic elements.
Director:
Thomas Weber
Starring:
Ryan Scharoun, Casey Bond, Ashley Anderson McCarthy, Steven Curtis Chapman, Matthew West, Casting Crowns
Running Time:
1 hour, 37 minutes
DVD Release Date:
April 9, 2013 (
Amazon.com
)
Official Site
Christian Film Database Page
Plot Summary
Ring The Bell shares the story of a slick, big city sports agent Rob Decker who seems to have it all. But on his latest mission to sign a high school baseball superstar, Rob becomes stranded in a small town where the simplicity of life-and the faith of the people-stand in stark contrast to his own fast-paced, win-at-all-costs mindset. Torn between these two worlds, will Rob have the courage to let faith transform his life? This heartwarming story of redemption is sure to entertain and inspire the whole family. (from Merge PR)
Film Review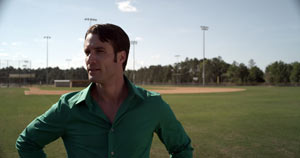 With a curious title like Ring The Bell, one might be confused about a film that stars famous baseball players, popular contemporary Christian music personalities, and is co-written by the founder of the band Sawyer Brown---not to mention that the cover image for the DVD features a guy staring thoughtfully up at a bell. But Ring The Bell turns out to be the ambitious small town drama about a wealthy and successful sports recruiter, named Rob Decker, who goes to a tiny town to try to hook a young talent with a bright future. But when he becomes stranded in the town due to car troubles, he finds that there's more to life than riches, fame and baseball.
From the start, Ring The Bell has that "Christian movie" feel. Rob is played by Ryan Scharoun who kind of plays a light version of a character you might imagine Matthew Fox playing. His character isn't really too far off from the over-confident salesman type that Nicholas Cage embodied in Family Man (albeit more convincingly). But Scharoun plays this kind of character better than most leads in a film like this, as actors in most Christian movies can unintentionally have that plastic, wooden and self-aware persona that many salesman don to try to win over their clients. And, ironically, Rob the salesman ends up meeting a small town community that has something else to pitch to him when he comes hoping to win over one of their own. While he hopes to have the high school baseball star come work for him and make a ton of money for himself as well, the small town community makes it clear to Rob that God has called them all to higher puurposes -- and they don't want what Rob is offering. But after several days of being in the slower-paced lifestyle, as opposed to his usual fast-paced city life, Rob's hard heart begins to soften and he starts to see what God is doing in these people's lives. The catalyst for this change in Rob is his attraction to the lovely and charming Daisy Cooke, played by Ashley Anderson McCarthy. Daisy heads up a home for orphaned boys with her brother, discipling them for a life following Christ, but it's also the home of the ball player Rob hopes to recruit. Daisy is a strong woman who isn't going to fall for Rob's schmoozing and it's partly that that seems to attract Rob.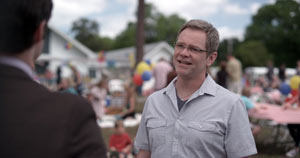 Unfortunately, while the intentions and heart behind Ring The Bell are clearly genuine, it's just a bit too contrived and predictable. For example, every character in the film appears to be a believer... except the main character Rob. The coworker he confronts in the beginning is a believer; Rob threatens to fire him when the man tells Rob that he can't recruit a player because of his family duties (and he drops God's name as being among the things he values). Rob's own assistant Claire also mentions her faith, while later we hear that Rob's mom is praying for him, and everyone in the small town is united by the local church. It's all a bit too neat and idealistic, which makes the film feel too unreal. On top of that, just about everyone sees Rob's flashy lifestyle and schmoozy behavior as superficial as it really is, causing just about everyone around Rob seem a little smug about their own lifestyle. It makes some of the characters who are meant to be endearing (like the bizarre Maggie) less appealing.
And since this is a Provident Film, the movie pushes Provident artist Casting Crowns as indiscreetly as possible. Rob walks by a theater that mentions a looming Casting Crowns concert prominently on its marquee, not once but three during the movie (and the camera focuses on the marquee), and then Rob attends said concert, which makes up over ten minutes of the film and feels pretty out of place in the movie. But, oddly enough, it's here where the film delivers a strong Gospel message via Mark Hall, but it's not the only time it does. When Rob tries to recruit Daisy's brother Scooter, the missionary tells Rob all about the work God has done for him and his family and gives the Gospel message there. Finally, as if the audience hasn't quite gotten it yet, they drive it home a third time when Daisy has a heart-to-heart with Rob later on. The problem isn't in the intent, but in the execution. The core audience for the movie will be already believing Christians, and it then makes for an encouraging and faith-affirming story, but it's likely to be seen as pretty heavyhanded for anyone who isn't a believer already. I've found that the most powerful spiritual stories have been the most subtle with its message -- not constantly bringing it up and trying to reinforce the message so blatantly.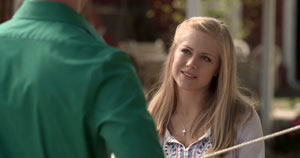 The baseball part of the story is interesting and will appeal to sports fans, but it feels like the baseball content was in shorter supply than the overlong Casting Crowns concert segment. Baseball legends and ESPN analysts John Kruk and Rick Sutcliffe (a former Cy Young Award winner) make short cameo appearances, and Daisy's brother Scooter is played by baseball player-turned-actor Casey Bond (Moneyball). But, oddly enough, the movie spends so much time discrediting the profession that Rob does in an attempt to prove to him that there's more to life, that it almost seems like it's an anti-sports movie hidden within a movie about baseball that is really a movie about pursuing God with our lives instead of leading the life of a career-oriented person. And to make the movie feel even more like a Christian community clique, there's a brief cameo by singer Matthew West who spends his entire scene talking into a telephone, while Steven Curtis Chapman turns in one of the more enjoyable performances, playing the pastor of the local church. He pretty much just had to play himself for the role, as most of his screen time just involved Steven talking to Rob, but I would have enjoyed seeing more from Steven here. Lastly, the movie gets its title from the act of the orphans ringing a bell that hangs from a tree when they make their decision to follow God. Obviously, you know what that inevitably means for Rob, but knowing what the title means just about sums up the entire goal and focus of the movie.
Content-wise, Ring The Bell is about as squeaky clean as possible. There's no sexual or sensual content, no language, and no violence of any kind (which, admittedly, is refreshing in and of itself). It's the perfect family-friendly movie, even if the younger ones might be more inclined to get bored quickly from the movie being so dialog heavy. But if anyone will enjoy the film most, it'll probably be fans of any of the artists featured in the film, Casting Crowns in particular.
You certainly could do a lot worse in choosing a film to watch than Ring The Bell, but its clean content and evangelical approach don't automatically make it a great movie. Mixed acting, a weak plot, and an idealistic view of life make Ring The Bell a benign but forgettable experience. It's safe for the whole family, but it's unlikely to be one you'll want to watch over and over.
-
John DiBiase
(reviewed: 4/9/13)
Parental Guide: Content Summary

Sex/Nudity
: None.

Vulgarity/Language
: None.

Alcohol/Drugs
: None.

Blood/Gore
: None.

Violence
: Rob borrows a local's bike and falls off of it in a comical way but is okay; There's talk of parents dying, leaving some children orphans, but it's only mentioned, not shown or focused on.
Disclaimer: All reviews are based solely on the opinions of the reviewer. Most reviews are rated on how the reviewer enjoyed the film overall, not exclusively on content. However, if the content really affects the reviewer's opinion and experience of the film, it will definitely affect the reviewer's overall rating.
To find out why we don't typically review R-rated movies,
click here