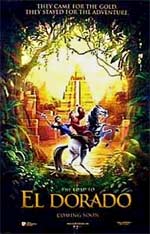 Road to Eldorado


- for mild thematic material and language.
Director:
Bibo Bergeron
Starring:
Voices of Kevin Kline, Kenneth Branagh, Rosie Perez
Running Time:
1 hour, 29 minutes
Plot Summary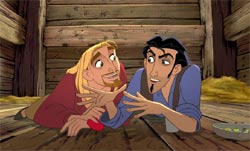 Miguel and Tulio are two thieves from Spain who win a map in a rigged bet and seek out to find the city of Eldorado. Once found, they are mistaken as gods in which they play along with intending to use their position to take gold back to Spain with them. However, they must escape the clutches of Cortes from Spain as well as the high priest of Eldorado, Tzekel-Kan, who suspects them to be mortal.
Film Review
In the words of comedian Jerry Seinfeld, I must ask... "What is the deal?!"
From the makers of Prince of Egypt, comes this tale of 2 thieves in search of a city of gold with intentions to prosper from their findings and encounter an adventure along the way. The movie was funny, entertaining, enjoyable, but... why'd they include the stuff they did to make it PG?
The two main characters are Miguel and Tulio, successfully voiced by Kenneth Branagh and Kevin Kline. However, much like last year's Iron Giant, Eldorado suffered from too much adult material at times-- and like Giant, they included minor swearing. And swearing has no place in an animated movie. Also, they show the bare butts of the guys twice briefly as they's running in the jungle, and we see two different instances where Tulio and Chel have way more than just and traditional innocent Disney kiss (while this film was done by DreamWorks).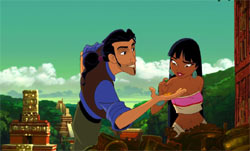 With that aside, I found the portrayl of the characters fantastic. I was taken in by how expressive and down-right entertaining they were. Although I must agree with some critics who have said that it was good but missed the "oomph" that the Disney features have, I have to say that this was just a great movie. Some other things to pick at, though, would be the audience and some of the other content. It's not a children's movie by any means, but not a movie for adults. So what is it? A "family" movie? Or just an alternative to the "super" crud that Hollywood dishes out. I'm not sure. As a guy approaching twenty and a sucker for art, I loved the movie. But I did find some of the material I mentioned above truly inappropriate for youngsters. But why put it in?
Also, the villain in the film uses a lot of magic and "evil forces" to wreak havoc, and this may be disturbing or offensive to some people, but understanding it's just a cartoon movie with a fantasy plot, I personally don't find it a dangerous thing. And, about Elton John's half-a-dozen songs in the movie, I must say... why? They didn't help, and I just looked forward to them being over with each one, and basically looked at each one as a sign that there is one-less song now on the list to be played. Elton is no Phil (Collins, for last year's Tarzan -- and I don't even like secular music!)
In summary, the movie was good. It isn't really a kids movie due to the minor sexually-implied material & language, but it was very entertaining, and a nice change from what Hollywood's been dishing out so far this year. Even with the objectionables in consideration I still have to give Eldorado a 3 out of 5.
-
John DiBiase
,
(reviewed: 4/1/00)
Parental Guide: Content Summary

Sex/Nudity
: We briefly see Miguel and Tulio's cartoon butts as they jump into a pool of water naked, and then again as they run after animals who have taken their closes. Chel wears revealing clothing throughout the movie. Chel seduces Tulio with a massage and then he gives her one, later we see Chel pop up from the bottom of the screen, followed by Tulio with messed hair, implying they were fooling around some. Later we see Chel and Tulio passionately kissing to which we see Altivo's jaw drop to what we can't see off screen.

Vulgarity/Language
: 1 "d*mn," 2 "h*ll," 1 "cr*p," 1 "Oh my G-d"; and "Holy ship" instead of the alternate profanity.

Alcohol/Drugs
: Some characters smoke cigars, a sailor drinks from a jug, and 1 other possible implication of using liquor.

Blood/Gore
: Miguel has a cut above his eye which drips cartoon blood at one point. Tzekel-Kan cuts his hand with a knife and smears blood on a wall. We then see the wound miraculously heal up.

Violence
: Various minor instances of punching and regular cartoon action violence, however, when a huge stone jaguar tries to kill Miguel and Tulio, he grabs a civilian who he tosses around and throws down. Then he exclaims "I'm ok!" before the creature steps on him. When the guys land on the island in the beginning, we see skeletons with knives through their skulls and such.
Disclaimer: All reviews are based solely on the opinions of the reviewer. Most reviews are rated on how the reviewer enjoyed the film overall, not exclusively on content. However, if the content really affects the reviewer's opinion and experience of the film, it will definitely affect the reviewer's overall rating.
To find out why we don't typically review R-rated movies,
click here