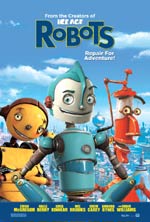 Robots


- for some brief language and suggestive humor.
Director:
Chris Wedge
Starring:
voices of Ewan McGregor, Robin Williams
Running Time:
1 hour, 30 minutes
Theatrical Release Date:
March 11, 2005
Official Site
Plot Summary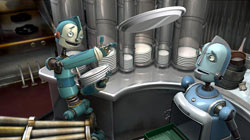 Acclaimed director Chris Wedge, who created the Academy Award® winning short film "Bunny" and the worldwide box-office smash ICE AGE, now brings his innovative filmmaking magic to Robots, taking the computer generated animated film genre to an exciting new level. For the first time ever, an animated feature presents a totally imagined world – a wondrously clanky universe populated solely by mechanical beings. And never has a cast of this caliber, encompassing five Oscar® winners, as well as Emmy® and Tony® honorees, been brought together for an animated feature. Ewan McGregor, Halle Berry, Greg Kinnear, Mel Brooks, Drew Carey, Jim Broadbent, Amanda Bynes, and Robin Williams voice the principal roles. What if we created a world inhabited entirely by robots? How would it run? What would it look like? How would the robots act? (from RobotsMovie.com)
Film Review
Most know that Pixar Animation Studios are the kings of the computer-generated animation feature films. However, in 2001, DreamWorks animation gained significant clout with the Academy Award winning Shrek and Fox Films turned heads with 2002's Ice Age. The box office success of Fox's debut in computer animation lead to the greenlight of a new project about a world of robots, simply titled Robots.
An all-star voice cast fuels this little story about Rodney Copperbottom (voiced by Ewan McGregor), the son of a dish washing robot who sets off for the great Robot City in search of a better, more successful life as an inventor. McGregor downplayed his Scottish accent for a more bland voice that only seemed to occasionally be clearly recognizable as his own. While this may be somewhat disappointing considering McGregor has a great voice personality, it fits Rodney's character perfectly as the underdog hero in the film. Robin Williams, who's most commonly known for his vulgarity-laden comedy, returns to voicing an animated character for the first time since his unforgettable 1992 role as the genie in Aladdin. Williams is fantastic here. While the script isn't as strong as it was for him in Aladdin, there is plenty of material present here to allow Williams to be his spastic self. The other vocal performances are decent but not especially memorable, including Halle Berry's mostly dry Cappy, Greg Kinnear's decent job as the villain Ratchet, and Mel Brook's Bigweld.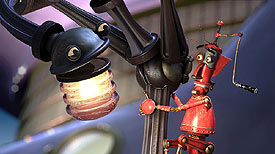 The charm of Robots, which has made films like Finding Nemo, A Bug's Life, and similar films in the genre so much fun, is the alternate and personified world that the filmmakers create with their subjects. For example, the city in Bug's Life and the underwater life in both films Finding Nemo and Shark Tale create this familiar and tongue-in-cheek lifestyle for fish and insects that is familiar to us but is, in actuality, pure fantasy. The Robot City in Robots follows this same approach to utterly brilliant results. In fact, so much is going on in each scene with so many references to other things that it would probably take several viewings to catch it all (much like the city in Monsters, Inc. as well). I'll spare spoiling any details, but those behind Robots paid attention to the slightest details. In fact, the way they explain childbirth is just fantastic. But the theme of the film is one of its winning qualities. Pursuing great things with our lives and chasing our dreams are themes Robots strongly supports. Also, while the villains of the film are pushing equality and beauty, the heroes are standing up for their individuality and being who we are (which, as Christians, we know we should accept who God has made us to be, pursuing greatness in Him and not conforming to the world's ways). It's a great message for today's youth and I was happy to see it.
However, Robots falls somewhat short in the longrun. Although lots of fun from start to finish, it doesn't seem to be able to hold up to the quality that a Pixar movie offers. Like the Shrek films, a lot of moments seem borrowed or inspired by other films or pop culture which makes the film fun, but gives it somewhat of a less original feel (although, Shrek pulls it off better). In Robots' case, the writing could have been stronger which would have given the film the needed zest to really carry it on to greatness.
As far as content goes, Robots is a little darker and rougher around the edges than Pixar's usual family fare. But while The Incredibles was wisely rated PG for its action violence (as opposed to the traditionally G rated animated films), Robots gets its PG rating from its dark and somewhat violent "chop shop" plot element and some mild adult humor and innuendo. While all of the edgier humor will indeed go over the kids heads and right on to the parents, none of it was especially vulgar. Most was subtle or ambiguous like the symbols on the bathroom doors for men and women being an "electrical plug" for men and a "wall outlet" for women (which is just seen in the background and not really focused upon) as well as a joke about being "oiled," a character with a large derriere, farts, and some very minor sensuality between Cappy and Ratchet. Perhaps one of Pixar's greatest strengths is the purity of their films and the family-friendliness of nearly every aspect. Perhaps DreamWorks and Fox just don't understand that?
For the most part, Robots is a fun family film. More clever than cheesey with a few rusty spots along the way, Robots is a well-assembled movie that kids and parents should enjoy alike.
-
John DiBiase
,
(reviewed: 3/13/05)
Parental Guide: Content Summary

Sex/Nudity
: Herb and his wife "assemble" Rodney from a box of parts with many jokes relating to child birth being made. Upon completing their child, Herb looks at the baby and an unseen piece on the floor that his wife points out wasn't used in the building of the baby. Herb asks if they wanted a boy and takes the piece and sticks it onto the baby (unseen); Rodney asks Fender when the last time he got oiled was (meaning mechanically) and Fender jokes that he can't say so around his sister; Cappy gives Ratchet a somewhat sensual massage; When accidentally ending up in the chop shop, Fender's legs and waist fall off and he quickly grabs a replacement which ends up being a woman's shirt and legs. Many jokes are made in reference (including a Britney Spears joke), but all is merely played for laughs (and not really a serious cross-dressing reference); Symbols on the bathroom doors for men and women are shown as an "electrical plug" for men and a "wall outlet" for women; Madame Gasket tells Ratchet to "grow some bolts" (in the way someone might tell another to "grow some b*lls"); Aunt Fanny's room opens up a wall where a circular bed releases and a Barry White song begins to play

Vulgarity/Language
: None. (There is, however, an incomplete "What the..." and a "Scrap" used in the way "cr*p" is)

Alcohol/Drugs
: There appears to be some drinking at a party (with someone ordering a "screwdriver" drink).

Blood/Gore
: None.

Violence
: Mostly cartoon related violence. Madame Gasket's chop shop may be rather dark for the younger ones. Also, a large fight with many robots breaks out near the end of the film.
Disclaimer: All reviews are based solely on the opinions of the reviewer. Most reviews are rated on how the reviewer enjoyed the film overall, not exclusively on content. However, if the content really affects the reviewer's opinion and experience of the film, it will definitely affect the reviewer's overall rating.
To find out why we don't typically review R-rated movies,
click here