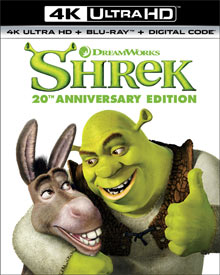 Shrek


- for mild language and some crude humor.
Director:
Andrew Adamson, Vicky Jenson
Starring:
voices of Mike Myers, Eddie Murphy, Cameron Diaz, Jon Lithgow
Running Time:
1 hour, 30 minutes
4K UHD Release Date:
May 11, 2021 (
Amazon.com
)
Plot Summary
An ornery ogre named Shrek is unwillingly paired up with an obnoxious donkey as he goes on a quest to save a princess at the request of a prince who in return offers Shrek's swamp - which is over-run with fairytale creatures - returned back to normal.
Film Review
I like cartoons. However, I'm not really big on cartoon movies. I often see them, and like them, but would hardly consider any of them my favorite. That changed with last year's The Emperor's New Groove. This year, some promising animated films are being laid out for the the viewer. This is kicked off with the zany and fun Shrek by DreamWorks, which, coincidentally, is head-up by a former Disney employee. So, naturally, it is questioned if Shrek is just a sort-of revenge effort on Disney on his part. But regardless of if it is or not, the end result is excellent.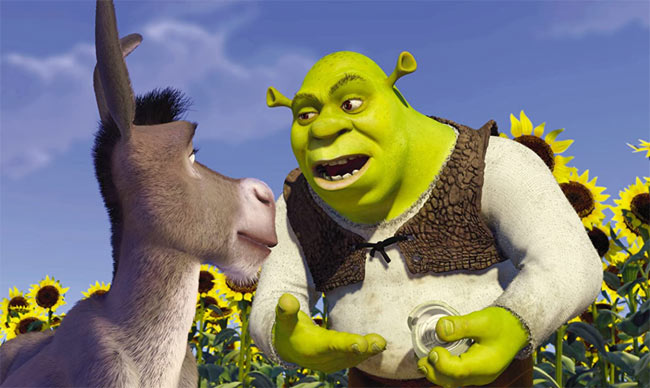 Speaking of Emperor's New Groove, the feel of that film is the best I can compare Shrek to. However, Shrek certainly isn't very "Disney." While Emperor's New Groove was off-the-wall, very random in jokes and thought, it still had a whole lot of heart and was very light-hearted and silly. Shrek is the same way, but is presented in a slightly less juvenile way. It's definitely a movie for adults and young ones alike. Yet, it may be even more so for the adults.
The animation her is excellent. The art is wonderful. It's crisp, it's clear, and joins the likes of Toy Story as having amazing art. You forget you're watching a cartoon halfway through the film. The characters are lovable and unforgettable and the jokes are clever and hilarious. Eddie Murphy was perfect as Donkey, as were the rest of the characters in their roles. I got a kick out of the jokes involving the Gingerbread Man, the Muffin Man, the Three Blind Mice, and Pinocchio. The format reminded me of the creative, hilarious "screwball" comedies of yesteryear.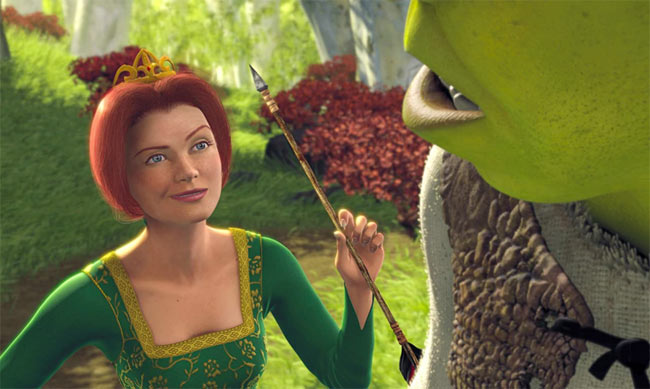 The content is mild, but some is unnecessary for a family film. Language includes a couple uses of "d*mn" and a couple uses of the "a" word, but each is either in direct reference to Donkey, or a play on words in reference to him. Sexual content is rather minor as well, but still present. While Donkey is sleeping, he's talking in his sleep and it sounds as though he may be having a somewhat naughty dream. Also a comment about Snow White could be taken as a double meaning. Violence is present but no real instances of blood or gore are. Some gross humor exists, including Shrek removing ear wax to use as a candle, an eyeball as an olive for a martini, Donkey peeing on a fire to put it out (seen from a distance), Shrek eating a dead rat, and several other instances. Shrek beats up a group of knights, but no one really dies or is mortally wounded (Except for perhaps the villain).
So all in all, I thought the Shrek was great. It was a lot of fun and I'd definitely see it again. By film's end, you come to really like Shrek, as he is first introduced as a mean, anti-social ugly ogre, but becomes more developed as the film progresses. Fun from beginning to end, Shrek is undoubtedly already one of the best movies of 2001.
-
John DiBiase
,
(reviewed: 5/22/01; edited 5/5/21)
4K UHD Special Features Review
Shrek is out on all digital outlets, DVD, Blu-Ray and is now also available in a 4K UHD/Blu-Ray combo pack, making its Ultra HD debut with a bonus Blu-Ray disc filled with extras previous released.
Shrek in 4K UHD - It seriously blows my mind to think it's already been 20 years since Shrek released. When I first saw the film, I was still relatively fresh out of college. Since then, three Shrek sequels have released, Universal Studios created an attraction for the franchise in Florida, and I started a family of my own. So how does Shrek hold up two decades later?

Rereading my thoughts written as a 21-year-old is amusing (if not a little embarrassing), as I was especially surprised to find myself saying I didn't care much for animated movies. Just six years earlier, Pixar made their debut with Toy Story, then they released a fantastic sequel in 1999, along with other great originals like A Bug's Life and Monster's Inc. But Shrek was the start of something new and truly special. DreamWorks Animation was just getting started, and Shrek led the way for its fantastic first sequel, Shrek 2, the How to Train Your Dragon trilogy, the Kung Fu Panda trilogy, The Croods, Madagascar, Megamind, Over the Hedge and many more. And with each movie, the animation technology just continued to improve. In two decades, there have been some truly fantastic animated films.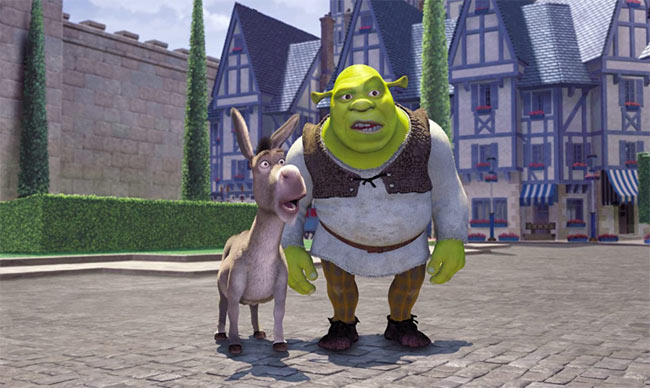 This takes me to revisiting Shrek. The movie itself is still pretty great, but, like with 1995's Toy Story (and even Toy Story 2 to some degree), the animation hasn't aged super well. It's still good, don't get me wrong, but I was definitely surprised at how wooden and stiff some of it seemed. Computer animation has really become so expressive through the years. If you watch something like How to Train Your Dragon: Hidden World and then this, it's blatantly obvious to see just how much computer animation has evolved. This 4K UHD transfer is still nice, though. Shrek has never looked quite this good. The color is punched up and vibrant, and the detail is pretty crisp all the way into the background. But it also highlights how primitive some of the detail actually is. It's still definitely far from bad or poor by any means, but it's especially obvious when watch their water and fire effects. Most of the humor holds up over time, but gags like spoofing The Matrix's "bullet-time" does not. Considering how most people can just grab the Shrek films in a Blu-Ray box set containing all four movies in HD, it seems odd that the studio chose to release only the first movie in 4K for now. But I suppose we may eventually see the sequels accompany it in a box set down the road.

All in all, if Shrek is one of your favorites, don't miss this release. The Blu-Ray discs collect some legacy special features that span the sequels as well, so it gives a more rounded representation of the characters and franchise as a whole. However, I found it puzzling as to why they included some bonus features on the 4K UHD disc, but they're barely in HD and seem more like standard definition if anything. Something new added to the discs would have certainly been nice.
Also, hopefully I just received a rare exception to review, but the 4K digital copy code sheet included in the pack we received had a faint smudge in place of the digital redemption code (and no semblance of a code of any kind). I've never seen this before, so hopefully no one purchasing it runs into this problem.
-
John DiBiase
,
(reviewed: 5/5/21)
A list of Shrek 4K UHD Combo Pack Bonus Features:


BONUS FEATURES ON 4K Ultra Hd, BLU-RAYTM and DVD:
TEN SHORT FILMS:

Shrek in the Swamp Karaoke Party
Far Far Away Idol
Puss in Boots: The Three Diablos
The Ghost of Lord Farquaad
Scared Shrekless
Thriller Night
The Pig Who Cried Werewolf
Shrek the Halls
Donkey's Caroling Christmas-tacular
Shrek's Yule Log

FIVE EPISODES FROM "THE ADVENTURES OF PUSS IN BOOTS" TV SERIES:

Episode 1: Hidden
Episode 2: Sphinx
Episode 3: Brothers
Episode 4: Duchess
Episode 5: Adventure

BONUS FEATURES ON 4K UHD & BLU-RAY™:
Shrek's Interactive Journey: I
Spotlight on Donkey
Secrets of Shrek
Deleted Scenes
Shrek in The Swamp Karaoke Dance Party
Music Videos
Commentary with Director Andrew Adamson and Vicky Jenson and Producer Aron Warner

BONUS FEATURES ON DVD:
Spotlight On Donkey
Secrets of Shrek
Deleted Scenes
Shrek in the Swamp Karaoke Dance Party
Music Videos
Commentary with Director Andrew Adamson and Vicky Jenson and Producer Aron Warner
Parental Guide: Content Summary

Sex/Nudity
: While spoofing
The Dating Game
, the narrator introduces three women, including Snow White whom the announcer states, "Although she lives with seven other men, she's not easy." As Donkey is talking in his sleep, he says "Yeah, baby - that's the way I like it." (we don't know what about)

Vulgarity/Language
: 3 "d*mn" (1 is in a song), 3 "a" words (1 as "jack*ss"), 1 "cr*p," 2 "Oh G-d," 1 "Oh my G-d"

Alcohol/Drugs
: Shrek drinks a martini. He also later drinks from a large keg of beer. Farquaad has a drink later on in the film.

Blood/Gore
: An arrow is sticking out of Shrek's butt but there is not blood or gore; Inside the dragon's lair, we briefly see the lower legs of a knight's armor-clad feet and the bones sticking out the top of the armor (around the knee area) where the dragon had apparently eaten it years earlier.

Violence
: various acts of slapstick violence (but nothing horribly violent); A dragon swallows a man whole.
Disclaimer: All reviews are based solely on the opinions of the reviewer. Most reviews are rated on how the reviewer enjoyed the film overall, not exclusively on content. However, if the content really affects the reviewer's opinion and experience of the film, it will definitely affect the reviewer's overall rating.
To find out why we don't typically review R-rated movies,
click here