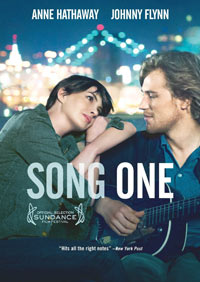 Song One


- for a scene of sexuality, and brief language.
Director:
Kate Barker-Froyland
Starring:
Anne Hathaway, Johnny Flynn, Mary Steenburgen, Ben Rosenfield
Running Time:
1 hour, 28 minutes
Theatrical Release Date:
January 23, 2015
Official Site
DVD Release Date:
March 24, 2015 (
Amazon.com
)
Plot Summary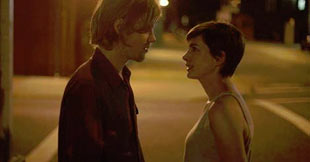 A story about how music can connect and transform people. Starring Anne Hathaway and Johnny Flynn, with original music by Jenny Lewis and Johnathan Rice. (from Facebook.com/SongOneMovie)
Film Review
The romance genre has spanned to include all kinds of different situations and scenarios. The mainstream, more blockbuster rom-com format definitely adheres to a specific formula (the main characters meet, fall in love, are driven apart, then usually get back together again), while the more "mature," or just the more indie, approach can vary a bit. Song One is a low budget independent drama that offers a little star power to populate what is otherwise a rather unremarkable and forgettable story.
Anyone not familiar with any of the premise for Song One may be surprised to first meet a budding teenage musician at the start of the film who we first see singing and strumming away on a guitar in a subway. We then see him suddenly get hit by a taxi while listening to headphones and totally not paying attention to where he was walking. From there, we meet his older sister Franny, played by Anne Hathaway, and his mother, played by Mary Steenburgen, who are in shock about the tragedy and reunite after some time apart to deal with young Henry lying in a coma in a hospital bed. We soon learn that Franny apparently had had a bit of an argument with Henry some six months earlier about his decision to drop out of school to pursue music, and so she struggles with the guilt that comes with having not spoken to her brother in that length of time. Meanwhile, Franny butts heads a little with her single mother, and the two try their best to be there for Henry and help him to climb out of the comatose state he's lost in. As part of the coping process, Franny gets a hold of Henry's journal and begins to trace his steps and walk in his shoes, visiting his favorite places and listening to his favorite music.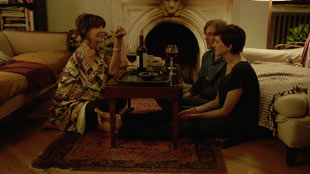 This journey of Franny's leads her to attend a concert for an indie musician that Henry is rather obssessed with, named James Forester -- who just happens to be in New York at the same time that this is happening. After the concert, she meets up with the singer/songwriter to tell him about Henry's accident and give the music star a demo of her brother's own original song. She mentions the hospital Henry is at and leaves the venue. Of course, the next day, James shows up at the hospital while Franny is visiting her sibling, and the two begin talking, which strikes up an unexpected relationship between the two. In spending time together, James' presence helps Franny cope with the stress of Henry's hopeless situation. She also learns that James is an introvert who had found unexpected success with his first album, launching him to stardom, but he's struggling with writing any new music at all. And he's feeling the pressure from his label and management (and fans) amidst his writer's block.
Without outlining the entire film here, that's kind of the gist of the story, and you realize that, while James will inevitably be returning to the road within a couple of days, the two are more like passing ships who are able to support each other for a short time before continuing on in the direction their life is already headed than in it for the long haul. This ultimately colors Song One with a sense of melancholy given its less than storybook ending, but writer/director Kate Barker-Froyland attempts to make up for it by allowing James and Franny to have a hot-and-heavy one-night stand that just seems to mar anything sweet or romantic about the story. The two then turn their emotional support into a quick physical fling, despite both knowing they may never see each other again. (I realize this is a matter of differing values between varying viewers, including this writer, but it still irks me.)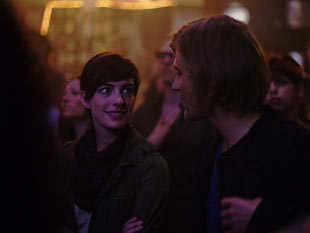 This isn't even taking into account that most of the events in the story are highly unlikely. Besides the fact that most "big" musicians wouldn't even have time to visit a fan in the hospital, they also probably wouldn't spend SO much time all alone (He rented a car while on a tour stop in NYC? Really?). The also wouldn't necessarily even have as much time in one spot as he does here in NYC. While a lot seemed unlikely, in all fairness, it might not exactly be impossible either. Still, the film feels a bit more like it was penned by someone daydreaming about having a romantic fling with her favorite singer than someone trying to develop a plausible and moving drama. The only thing that makes the film even remotely work is Hathaway's strong performance and the support of Steenburgen. The themes that arise due to Franny worrying she may never interact with her little brother again are sobering, too. She takes the opportunity, while walking in his shoes, to just appreciate life and New York's little highlights. Johnny Flynn, who plays James, is mostly awkward and dry, which works at times given that he's supposed to be introverted, but he's so bland and devoid of charm, you have to wonder what it is that Franny finds attractive about him other than his celebrity status.
The content is mostly tame, with some spots that are surprisingly rougher. For example, early on, Franny has an emotional outburst alone where she punches a wall and screams the "F" word, and then the movie is mostly benign (with sparse mild language), until the two leads disrobe and sleep together--with the scene being quick cuts of no explicit skin, but still featuring some passionate moaning and heavy breathing from Hathaway (it's a surprisingly sensual scene). It's a bit awkward, and furthers the feeling that this may be more of a fantasy of the writer/director than anything else.
Even music fans probably wouldn't really appreciate Song One, aside from some halfway decent but unremarkable songs being part of its soundtrack. The indie feel lends to the dramatic material well, but the overall end product feels like it's missing something. If anything, only diehard fans of Hathaway and Flynn would appreciate this film. Even then, though, you're probably better off looking into something else in their respective filmographies.
-
John DiBiase
(reviewed: 4/1/15)
DVD Special Features Review
The DVD release of the film is pretty decent for a non-HD transfer. Along with the feature film (which has no subtitle option), are the following bonus features:
Behind The Scenes: Recording of the Soundtrack (16:02) - This is the lone featurette that is barely even a featurette. It's more like a montage of B-roll footage from the recording studio as we see Johnny Flynn and Ben Rosenfield working on recording the film's original songs by Jenny Lewis and Jonathan Rice.
Deleted Scenes (4:16) - There are four deleted scenes. The first one, "Franny and James Walking," shows the two talking about him basically being a hermit with her teasing him about it. "Clint and James" is about James talking to his manager while drinking beer (Clint uses the "F" word audibly here). The two talk about James' tour being successful. "Backstage" has Franny standing around while James endures an awkward meet and greet with fans. "James Writing Silver Song" is a couple-seconds-long clip that shows James briefly humming while writing.
Parental Guide: Content Summary

Sex/Nudity
: A song James sings called "Little Yellow Dress" seems to have a line about wanting to get in a girl's little yellow dress (assumingly in a sexual fashion); We see James taking his shirt off and climbing on top of Franny in bed as he quickly tries to unbutton her shirt. We then see quick cuts of them in bed with some thrusting, he legs around him and her moaning and grunting with heavy breathing; Franny's mom Karen talks about having a lot of lovers in the 70s.

Vulgarity/Language
: 1 "F" word, 2 "J-sus," 4 "Oh my G-d" plus 1 more in a song; 1 "d*mn," 5 "G-d," 1 "h*ll," 1 "My G-d"

Alcohol/Drugs
: We see the family sitting around drinking wine, with Karen possibly being a little intoxicated.

Blood/Gore
: Henry has some abrasions on his face while laying in a hospital bed after the accident.

Violence
: We see Henry step off a sidewalk while wearing headphones and not really paying attention to traffic and the scene cuts as a taxi approaches, presumably striking him; We see lots of scenes showing Henry--a teenager--in a hospital bed with a breathing tube sticking out of his mouth; Franny punches a wall in anger.
Disclaimer: All reviews are based solely on the opinions of the reviewer. Most reviews are rated on how the reviewer enjoyed the film overall, not exclusively on content. However, if the content really affects the reviewer's opinion and experience of the film, it will definitely affect the reviewer's overall rating.
To find out why we don't typically review R-rated movies,
click here