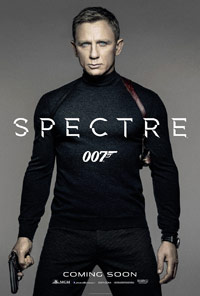 Spectre


- for intense sequences of action and violence, some disturbing images, sensuality and language.
Director:
Sam Mendes
Starring:
Daniel Craig, Christoph Waltz, Léa Seydoux, Ralph Fiennes, Ben Whishaw, Monica Bellucci, Naomie Harris, Dave Bautista, Andrew Scott
Running Time:
2 hours, 30 minutes
Theatrical Release Date:
November 6, 2015
Official Site
Plot Summary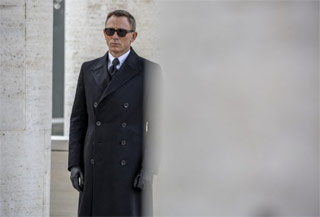 A cryptic message from the past sends James Bond on a rogue mission to Mexico City and eventually Rome, where he meets Lucia, the beautiful and forbidden widow of an infamous criminal. Bond infiltrates a secret meeting and uncovers the existence of the sinister organisation known as SPECTRE. Meanwhile back in London, Max Denbigh, the new head of the Centre of National Security, questions Bond's actions and challenges the relevance of MI6 led by M. Bond covertly enlists Moneypenny and Q to help him seek out Madeleine Swann, the daughter of his old nemesis Mr White, who may hold the clue to untangling the web of SPECTRE. As the daughter of the assassin, she understands Bond in a way most others cannot. As Bond ventures towards the heart of SPECTRE, he learns a chilling connection between himself and the enemy he seeks. (from IMDB.com)
Film Review
Four movies into the reboot of the James Bond franchise, it probably should come as no surprise to see things beginning to return to form. For example, any diehard fan of Bond since his roots should recognize the title of this film taking the same name as the evil organization that Dr. No and Blofeld were a part of since the very first film in 1962. One of the most appealing aspects of the film Casino Royale--to this reviewer anyway--was its attempt to ground things in reality a bit more, while still managing to capture at least the spirit of the original Bond films. Let's face it, while Pierce Brosnan was still Bond, the films were just growing more and more outlandish and over-the-top. Since Daniel Craig took over in 2006, it's been nice to see a more grounded approach, and with the 2008 follow-up, Quantum of Solace, I really enjoyed seeing a direct continuation of a Bond film for the first time. Now with Spectre, director Sam Mendes returns again after his 2013 entry, Skyfall, and this film aims to unite all four of Craig's entries as Bond, potentially wrapping up his tenure completely.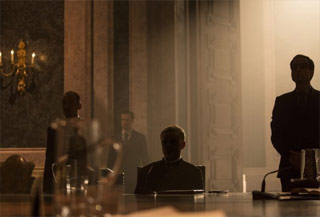 While I've been looking forward to Spectre, Daniel Craig's recent comments against playing the character a potential fifth time have covered this new film in a bit of a negative light. It's tough to not watch Spectre and wonder if Craig hated making it. After all, if you rewatch his previous three entries, you can tell he was all-in for Casino Royale, aiming to prove himself, while it almost seems like--at least in comparison and with his recent comments considered--he's rather "checked out" in Spectre. But that isn't to say he's bad in his fourth outing; quite the opposite. I just couldn't help but wonder if he wanted to be there half the time, even if it looked like he was indeed trying.
Regardless, I've had a blast seeing Craig play Bond. My first real introduction to the 007 character were the Brosnan films in the 90's, and sometime around the time of Skyfall's release, I'd set out to watch every single one of the films from start to finish. It was a daunting task, but enlightening to the history of the franchise. It's exciting to see how it all began and got to where it is now. Spectre picks up very, very soon after Skyfall left off, and shows the aftermath of the loss of M and the destruction of MI 6 (if you haven't watched Skyfall yet, sorry!). Unfortunately, the story follows Bond going rogue yet again, pursuing his own mission, which has become an all-too-regular theme for the most recent films. In fact, the plot of Spectre isn't entirely different from this year's Mission: Impossible - Rogue Nation, but it's different enough to not to give you deja vu. However, it doesn't help the situation that both films released this year. Familiar faces include Tanner (who was in three of Craig's Bond films), a returning villain from Casino and Quantum, and the Skyfall alumni Ralph Fiennes as the new M, Naomie Harris as Moneypenny and Ben Whishaw as Q. But with new villains and new women in James' life, Spectre continues to build on Craig's Bond's world.
As a Bond film--without taking its predecessors into consideration--it's a pretty solid movie. A lot of the action scenes are fun and the characters are good, albeit underused at times. But if you stack them up against other films -- like Casino Royale or Skyfall in just Craig's series -- you might find them a bit lacking. Still, I found myself really enjoying the Spectre ride, even if some of it paled by comparison. The biggest complaint some have had -- and I kind of have to agree -- is the filmmakers' earnest attempt at tying the four Craig films together. Without giving too much away, they try to tie in all the villains, which seems too forced (especially when the villains from Quantum are included), and then they make it really, really personal for James. Imagine how a lot of superhero origin stories have the hero sort of accidentally create or be somewhat responsible for this super villain they must fight and you've got the gist of Spectre. In the Connery-era Bond stories, James was just an agent and Spectre was a group of villains he had to stop; it wasn't a personal thing. So tying all four films together make Bond less of a superspy who's employed by MI6 and more of this oddly universally-centric kind of anomaly.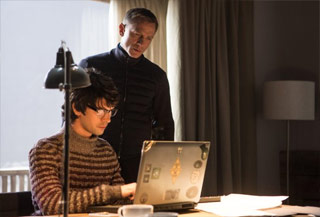 The content is edgy, as you might expect. There are couple sexual scenes, the oddest and most awkard of which being when Bond seduces a quasi-grieving widow (Monica Bellucci). We watch as our "hero" pretty much forces himself on her--calling her out as a phony in the process, but still...--and she concedes. It's a little steamy, but there's no real nudity or anything. Another scene shows him and another woman passionately making out as they get ready to spend the night together, but the scene ends after we get the idea and before much is shown. There's plenty of action violence, some of it bloody, with one scene showing a man pushing his thumbs into another man's eyes (with some blood) as he kills him, and an explosion rendering another man with a bloody gash across his eye for several scenes. There's also a torture sequence where tiny drills are inserted into a man's neck as he's strapped to a chair, screaming. Another scene shows a guy shoot himself in the head. It happens off screen, but then we see the aftermath of his head tilted back in the dark as we hear the sound of blood dripping on the floor. Later, a man walks in the room and finds buzzards sitting on the victim's face. Lastly, the climactic encounter leaves a man even more bloodied as well. There's also a little language, including a couple uses of the "S" word and a couple uses of blasphemy.
Spectre doesn't top Casino Royale or Skyfall, but in the realm of recent Bond films, it definitely surpasses Quantum of Solace. If you're a longtime fan of the franchise, you'll probably really enjoy all the nods to the overall series, as well as Craig's run, but those who take the time to ponder some of the odd and forced storytelling choices will likely find themselves grossly underwhelmed by this latest Bond mission.
-
John DiBiase
(reviewed: 11/8/15)
Parental Guide: Content Summary

Sex/Nudity
: A clothed woman lies on a bed with intentions to sleep with Bond but he leaves the room; Bond pushes Lucia up against a mirror and caresses her shoulders. He sensually kisses her and she starts to act receptive as he interrogates her. He then pulls her away from the mirror, unzips the back of her dress and starts to pull it down (we don't see anything). He then pushes her back up against the mirror. The scene ends and we then see him dressed after they slept together. We very briefly see her kneeling in bed in a sexy black corset; Madeleine tells James she won't give in to his advances; After a fight with a villain, Madeleine asks James, "What do we do now?" to which he grins at her. We then see them passionately kissing and beginning to disrobe alone in their room and the scene quickly ends; We see Madeleine in her slip, which reveals some cleavage.

Vulgarity/Language
: 3 "S" words, 3 "h*ll," 1 "J*sus," 1 "Chr*st," 1 written "a**h*le" in subtitles, and 1 "Good G-d"

Alcohol/Drugs
: We see Lucia pour a glass of wine and drink some. She appears to be a bit drunk already; Bond drinks in his apartment; Bond pours champagne for himself and Lucia but throws it on the ground; Bond and Madeleine briefly drink martinis; Bond orders a martini but is told the establishment doesn't serve alcohol; Madeleine sits on the floor drinking wine and appears drunk. Bond finds a bottle of alcohol hidden in the wall and drinks from it. Later we see him drinking beer from a bottle; Bond and Madeleine are offered champagne but Bond responds "Maybe later."

Blood/Gore
: A man Bond fights has blood on his hands and clothes (we see a close-up of the blood on his hands at one point); A man shoots himself in the head just off screen. We then hear the blood dripping onto the floor and see a puddle of it out of focus in the background briefly. We later see buzzards pecking at the dead man's face (in the shadows) and can somewhat make out the bloody entry wound on his neck as his head is tilted back in the dark; Bond has some blood on him after a fight; As a form of torture, a man endures a tiny drill going into his neck below his ear. He convulses with the pain and screams. We then see a tiny drop of blood on his face after the drill comes out and the drill drips with a little blood; M has some blood cuts on his face; A man has a graphic gash across one of their eyes after an explosion, with that eyeball appearing milky white; A man is injured in a helicopter crash and we see some blood on the street as they pull themselves across the asphalt. There's blood on their head and a serious leg wound which is shown out of focus (but is much clearer on a big screen like the IMAX). There appears to be bone showing in the leg wound but the camera never focuses on it.

Violence
: Lots of action violence, including all of the above mentioned in "Blood/Gore" (a fight in a helicopter with a couple guys being pushed out and falling to their death, a building explodes in a massive explosion, another building collapses in a city, a car chase ending with a car going in water, another building being raised to the ground by a massive explosion, etc)
Disclaimer: All reviews are based solely on the opinions of the reviewer. Most reviews are rated on how the reviewer enjoyed the film overall, not exclusively on content. However, if the content really affects the reviewer's opinion and experience of the film, it will definitely affect the reviewer's overall rating.
To find out why we don't typically review R-rated movies,
click here