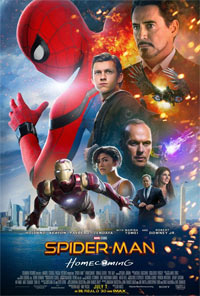 Spider-Man: Homecoming


- for sci-fi action violence, some language and brief suggestive comments.
Director:
Jon Watts
Starring:
Tom Holland, Robert Downey Jr., Michael Keaton, Jon Favreau, Marisa Tomei, Zendaya, Donald Glover, Jacob Batalon, Laura Harrier
Running Time:
2 hours, 13 minutes
Theatrical Release Date:
July 7, 2017
Official Site
Plot Summary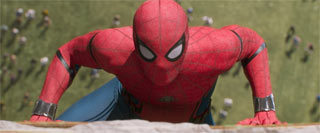 Peter Parker, with the help of his mentor Tony Stark, tries to balance his life as an ordinary high school student in New York City while fighting crime as his superhero alter ego Spider-Man when a new threat emerges. (from IMDB.com)
Film Review
With the introduction of Spider-Man into the Marvel Cinematic Universe (MCU) last year through the ambitious and emotional Captain America: Civil War, came the promise of not only a new Spider-Man, but a new standalone film. This summer brings the very first Spider-Man film in the MCU that also marks the first partnership between Sony and Marvel Studios. The end result is a fun throwback adventure that captures the spirit of 80s teen films -- like Ferris Bueller's Day off and Back to the Future -- in a smart and fun superhero movie.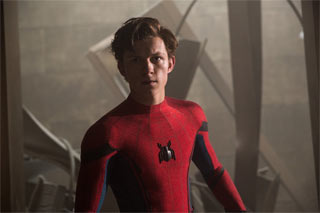 Every time a popular character is recast and a new entry into a film series is made, people feel the need to draw one comparison after another and feel the need to figure out which iteration is the "best" of the bunch. Tobey Maguire first brought Spider-Man to life on the big screen back in 2002, to much acclaim. The Sam Raimi directed film went on to spawn two sequels, with Spider-Man 2 largely considered to be the best of the trio (and to this day is often argued to be the best Spidey film altogether). 2007 saw the third and final film with Tobey as Peter Parker and Spider-Man, leaving the film series dormant until 2012 when Andrew Garfield made his debut as the Webbed Wonder. One lackluster sequel two years later and Sony was left unsure with what to do next with the hero. But with Captain America: Civil War's original comic book source story having involved Spider-Man, it seemed only natural for Marvel to make a deal with Sony to bring the character into their cinematic world. Spider-Man was recast yet again, even younger still, with Tom Holland, and now fans of the Marvel films can see what the world will be like with Spidey in the mix... and we're so glad he is!
Holland proved to be a wonderful Spider-Man in just the little bit he appeared in in Civil War. He had that youthfulness and wonder that you'd expect from a teenager who's only had the powers for a couple months, and Iron Man's Tony Stark tracked the kid down to enlist his help in a mentoring role to help bring Peter into the superhero world appropriately. In Holland's first solo outing as the web-slinging hero in Spider-Man: Homecoming, we follow Peter just a couple months after the events of Civil War as he tries to adjust to a normal life as a high school sophomore living in Queens. He's restless and eager to get a taste for the crime-fighting heroism he got a taste of in the Berlin brawl -- and understandably so. Stark, played once again by Robert Downey Jr, and his assistant Happy (Jon Favreau), serve as a distant presence that watch over Parker, not intruding on Peter's life (or screentime) too often. Homecoming does well to not use the Iron Man characters too much, and Tony's surrogate father type role feels natural to the story; there isn't a moment where Iron Man and Tony feel shoehorned into the plot. In fact, Spidey's integration into the MCU is so thoughtfully done that it just makes it all the more exciting to see how these movies tie into each other so well. For example, the film's central villain, Vulture, is a guy who was once on the New York clean-up crew after the events of the first Avengers film, and he turns to a life of stealing to make ends meet after he's abruptly let go as the government steps in. His team then make use of some unaccounted-for alien tech from the Chitauri to create the Vulture suit and other weapons to sell on the black market. It's one of those collateral-damage results--like alien tech littering a major city--from such a huge event that only seems natural and is obvious fodder for succeeding stories.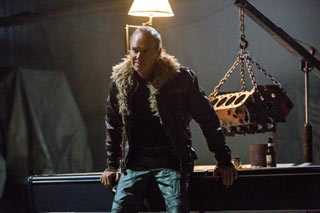 Holland's Spider-Man is perfect. I enjoyed Maguire's version of Parker and Spider-Man and also really liked Garfield's version--probably more so. Holland captures the youthful innocence of Parker, and even channels Michael J. Fox's Marty McFly at times beautifully. Marisa Tomei's Aunt May isn't given a whole lot to do this time around, unfortunately, but she's great in the few short moments she has. Jacob Batalon is good as Peter's dorky friend Ned, while child star Zendaya is a really bizarre choice for a new character named Michelle--who turns out to go by "MJ." She's got a kind of one-joke presence the whole movie as an outcast student who takes an odd interest in Parker, but otherwise carries a carefree, apathetic attitude throughout the entire film (and even flips Peter the bird randomly as a humorous moment during an otherwise serious sequence). Michael Keaton is brilliantly intimidating as Adrian Toomes. There a few moments where he feels a bit like a stereotypical, one-note bad guy, but Keaton brings it in spades in a few key scenes, including one brilliant encounter with Parker.
The content is decidedly PG-13 for this film. There is some action violence, although it is seldom brutal, save for one goon getting vaporized by Vulture. Language may be the biggest content issue, with the final line of the movie even being a shouted, albeit incomplete, "What the fu--?!" which, despite being a funny way to end the movie, is really unnecessary for a movie that could otherwise be a more family-oriented Marvel outing. There's still a mix of other language, including a few uses of the "S" word, and more frequent uses of "h*ll" and "a**." There's also an awkward scene where a teacher finds Ned using a school library computer to help Parker on-the-go and he uses the excuse that he's looking at porn (He's not). It's played for laughs, but it feels way more like a lowbrow quip you'd expect in a Michael Bay Transformers film (sadly) than a Marvel feature. Finally, there's the aforementioned scene where Michelle gives Peter the finger, and Peter's classmate Flash frequently mocks him by calling him "Penis Parker."
Marvel is on a roll. I know there's a big "DC versus Marvel" debate that is as childish as they come; I don't see why we can't like both -- much like Star Trek and Star Wars. But it's easy to see how well planned-out and constructed the Marvel movie series is--and I love it! They're not perfect movies by any means, but they're a whole lot of fun and I look forward to each one. One viewing may not be enough to decide if Spider-Man: Homecoming is the "best" Spidey film yet, or that Holland makes the best version of the character, but it's still a great film and, at the very least, one of the best Spider-Man outings to date. (Side note -- there is a mid-credits bonus scene and then one scene at the end of the credits. The mid-credits scene is important to this film's plot, but the last one is literally a joke that teases the audience about sitting through the credits, so if you can't stay till the very end, I wouldn't say it's worth it to.)
-
John DiBiase
(reviewed: 7/10/17)
Parental Guide: Content Summary

Sex/Nudity
: Tony tells Peter twice that he "screwed the pooch," meaning that he had messed up. The second time he makes that reference, he takes the dog analogy a little further; A teacher finds Ned using a school library computer to help Parker on-the-go and he uses the excuse that he's looking at porn (He's not); Flash makes fun of Peter, calling him "Penis Parker." At a party later, we hear people chanting "Penis Parker" in mockery of Peter; We see some girls sitting around playing a game of "F---, Marry, or Kill?" in regards to the Avengers' heroes. When one of them recites their list, they (literally) say "eff" for the profane word of who'd they prefer to sleep with.

Vulgarity/Language
: 1 incomplete "What the fu--?!"; Roughly: 4 "S" words, 5 "cr*p," 2 "b*stard," 11 "h*ll," 5 "d*mn," 5 "a" words, 1 "a--h*le," 13 uses of "G-d"; Michelle gives Pete the middle finger

Alcohol/Drugs
: Aunt May has a bottle of beer at a restaurant with Peter; Peter is offered a drink but he declines because he is too young (It proves to have been a test of hist character)

Blood/Gore
: A man is disintegrated and turned to ash by a weapon; There is a little blood on Peter when a building collapses on him.

Violence
: Lots of action violence; A man is vaporized by a weapon; A man threatens a kid with a gun; A stone glows and explodes while on an elevator, causing the elevator to fall; Peter frequently falls and gets hurt, but recovers quickly; A ferry boat is cut in two and people fall into the water. Peter struggles to keep the ship from getting torn apart, until Iron Man shows up to help; Peter pursue Vulture who causes him to fall into a lake wrapped in a parachute. He almost drowns, but Iron Man rescues him; There's a pretty substantial fight between Vulture and Spider-Man that almost kills Peter, and other comic book violence.
Disclaimer: All reviews are based solely on the opinions of the reviewer. Most reviews are rated on how the reviewer enjoyed the film overall, not exclusively on content. However, if the content really affects the reviewer's opinion and experience of the film, it will definitely affect the reviewer's overall rating.
To find out why we don't typically review R-rated movies,
click here