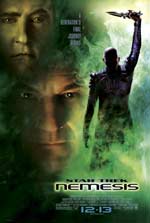 Star Trek: Nemesis


- for sci-fi action violence and peril and a scene of sexual content.
Director:
Stuart Baird
Starring:
Patrick Stewart, Brent Spiner, Tom Hardy
Running Time:
1 hour, 57 minutes
Official Site
Plot Summary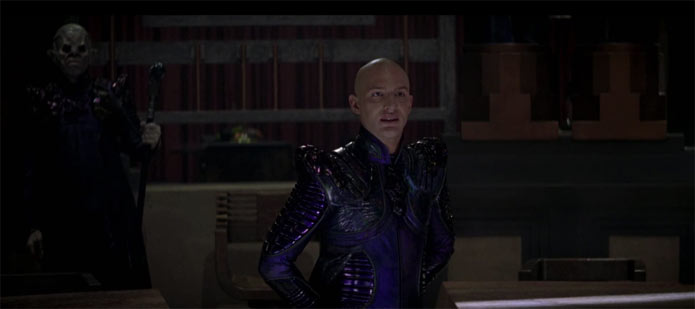 In Star Trek: Nemesis, Captain Jean-Luc Picard (Patrick Stewart) and the Enterprise crew find themselves on a diplomatic mission to initiate peace with the Romulans. But upon arrival on the alien planet, the crew is faced with a threat that could lead to Earth's destruction, and Picard meets his most dangerous adversary yet, a surprisingly personal nemesis...
Film Review
Confession time. Well, this isn't entirely news if you've already read my Galaxy Quest review, but for those who haven't, it's time to lay it out on the table. Many moons ago when I was in middle school, I found great pleasure in watching Star Trek: The Next Generation. Once the follow-up series Star Trek: Deep Space Nine began, I started following that as well. After awhile, however, my tastes changed and anything Star Trek was more or less a part of my past. But as each movie involving the Generation characters released, I remained interested enough to see them. Now, for those who know me, I have a fiance' named Amy who I often see the movie reviewed here with. She has grown up completely unfamiliar with Star Trek, but when we caught the previews for Nemesis, we both agreed it looked worth checking out. In the end, we were very surprised and very impressed with what we saw.
The TV show was an acquired taste with constant large and impossibly complex technological terms constantly being bounced back and forth between crew members, almost always making any bizarre and improbable situation explainable. In the same way, a lot of the plots involved some ridiculous premises but the crew and characters were great and well-developed. So when Star Trek: Generations debuted the Next Generation crew to the films in 1994, the crew made a pretty good transition to the big screen. The cinematic look was darker and gave the look a bigger and more theatrical feel to it. This was also the case with the surprisingly good First Contact in 1996. In 1998, the third film involving these characters was released, Insurrection, but merely suffered from feeling too much like an extended television episode with not much rememberable about it. However, with this year's Nemesis, the movie feels even less like the traditional TV show and more like a big screen production. This especially rings true during the final battle between starships. (It may also have you thinking, "Man, I can't imagine Picard doing that on the show!" -- but that's the coolest part about it) Picard's "nemesis,"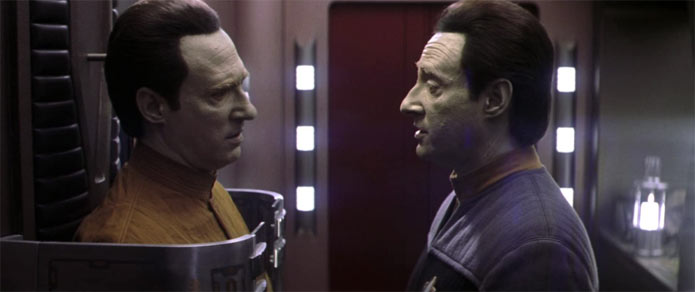 Shinzon was probably his most suitable and interesting adversary to date. In case you don't know ahead of time (from other reviews or previews), I rather not give away why so you can find out in the movie. But this time around, Picard seems gutsier in his older age and at times the film really tries to go "all-out" and thankfully, it often succeeds. Data plays a big part in the story as usual while surprisingly a lot of characters fall to the background more than usual like Worf, and in some ways Riker.
The film is pretty fast-paced in it's plot development while taking the time to linger in necessary parts to further develop some moments. Action and suspense is not absent nor scarce here which makes room for some typical Star Trek violence with starship battles and phaser fights. There is a scene of sexual material which is not common for Trek but it's brief and non-graphic (see details below). Violence is frequent but often not graphic (with the exception of a scene where Shinzon purposefully cuts his hand and a group of Romulans dry up and die like something you'd see from The Mummy). Language is near non-existent with just a couple minor words.
What made me like Nemesis over past films or even most episodes, was its successful transition the the feel of a big screen film. The characters still had the drive they did on the series, even as they're aging considerably, it's great to see them back in the saddle for potentially their last voyage on screen. Shinzon was excellently portrayed by Tom Hardy and offered a memorable angle to the film. The action sequences were entertaining and exciting and helped bring Trek up to par with the seasonal competition. A must-see for Trek fanatics, and enjoyable one for former watchers like me, and a decent adventure for the newcomers, Nemesis makes Star Trek's 10th theatrical offering one of the best.
- John DiBiase (reviewed: 12/14/02)
Parental Guide: Content Summary

Sex/Nudity
: After Riker and Troi have been married, we see them passionately kissing in bed with him on top and her caressing his bare back. We then see him turn into Shinzon to which Troi tries pushing him away and then he becomes the Viceroy and she screams and the encounter ends there. (They were just visions caused by her telepathic abilities)

Vulgarity/Language
: 1 "d*mn," 2 "h*ll"

Alcohol/Drugs
: Worf gets sick from drinking some Romulan ale. Some characters share wine a couple times during the movie.

Blood/Gore
: A room full of Romulans are exposed to a radiation that grossly burns/dries up their faces rather rapidly (a la
The Mummy
). They then fall to the ground and break apart as dirt or stone statues. In another shot, we see Shinzon take a blade and run it across his hand to make a big bloody cut. He gives the bloody knife to the Enterprise crew and we later see some blood on the knife and as it's being tested. A man is cut by a knife and we only see some slight blood on his jacket later on. Shinzon has a condition that makes his veins appear in his skin and later begin to surface (nothing especially graphic, but may be gross to some viewers). Another man is impaled with a pole who then pulls it through him to get closer to someone (not gory, but the idea may be unsettling to some).

Violence
: Lots of phaser rifle shooting (resulting in non-graphic deaths), ship battles resulting in the destruction of some of them and a lot of their crews being tossed around.
Disclaimer: All reviews are based solely on the opinions of the reviewer. Most reviews are rated on how the reviewer enjoyed the film overall, not exclusively on content. However, if the content really affects the reviewer's opinion and experience of the film, it will definitely affect the reviewer's overall rating.
To find out why we don't typically review R-rated movies,
click here