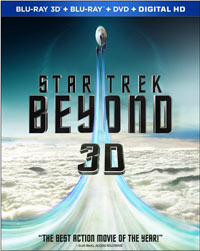 Star Trek Beyond (3D)


- for sequences of sci-fi action and violence.
Director:
Justin Lin
Starring:
Chris Pine, Idris Elba, Zachary Quinto, Karl Urban, Zoe Saldana, Simon Pegg, John Cho, Anton Yelchin, Sofia Boutella
Running Time:
2 hours, 2 minutes
Theatrical Release Date:
July 22, 2016
Official Site
Blu-Ray Release Date:
November 1, 2016 (
Amazon.com
)
Plot Summary
The USS Enterprise crew explores the furthest reaches of uncharted space, where they encounter a new ruthless enemy who puts them and everything the Federation stands for to the test. (from IMDB.com)
Film Review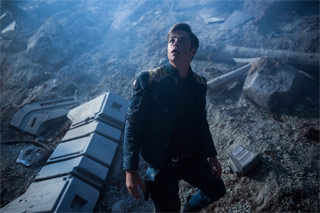 It's kind of hard to believe it's already been seven years since a newer, younger Star Trek cast had been introduced. With J.J. Abrams' soft reboot of Star Trek in 2009, fans were greeted with a continuation of the Star Trek franchise that simultaneously hit the reset button. Due to a time travel aspect involving an aging Spock -- still played by Leonard Nimoy -- a villain with a bone to pick with the beloved Vulcan had traveled back in time to seek revenge, and greatly altered the timeline. In destroying the U.S.S. Kelvin, piloted by Capt. James Kirk's father, he perished, changing Jim's future and shifting the timeline around. This allowed for everything we've come to know about Star Trek to still exist, while creating new stories in the process. Some see it as a cop-out or a cheap way of allowing a new cast and new stories to be told, but it seemed like a really smart way to handle rebooting the series without ignoring the past (*cough* like the blasphemous Ghostbusters reboot has done). 2013 saw the first sequel with the new cast, a whopping four years later, as the story in Star Trek: Into Darkness retold aspects of the original second Star Trek film, Wrath of Khan, but took things in a different direction. Now, three more years later, we have Star Trek Beyond, an all-new story that swaps Abrams out of the director's chair for frequent Fast & Furious franchise director, Justin Lin. It's safe to say it's a much different take on the franchise, but a decent successor for the new series of films.
Beyond takes place about three years into the crew of the Enterprise's 5-year mission into deep space. Capt. Kirk is growing restless with the routine of being in space and we soon learn he's been considering a desk job as an Admiral of Starfleet. They rendezvous at a space station to see some family and get a break from the ship when they're called away on a mission. However, they end up smack-dab in the middle of what appears to be a trap, and a swarm of small ships tear through the Enterprise... All of that knowledge was revealed in the commercials, but that's the basic start to the story. (There's certainly more to it, but I don't want to give too much away.)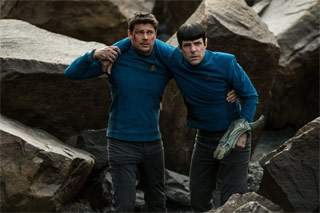 With Star Trek evolving like so many time-tested properties and franchises these days, it's a little difficult to see it start to devolve a bit into just another sci-fi action film. Some have compare Beyond to Marvel's Guardians of the Galaxy--but not as fun, but I wouldn't say that's a fair comparison. Guardians IS a better film, but Star Trek was never even remotely like the kind of film Guardians of the Galaxy is. Star Trek was always more cerebral and technical -- and about social politics as well as science. A great example of mixing a little action with just a really strong story that is more a social commentary than strictly visual entertainment is the 1991 entry, Star Trek: The Undiscovered Country. In it, the aging Enterprise crew embark on one final mission together, shepherding peace with the Klingon race, against the better judgement and prejudices of some of the crew. It's a great film and a great mix of the best of what Star Trek has to offer. Star Trek Beyond lives up to its title to go far beyond what you would and should expect from Star Trek. It's possibly good and more appealing for a wider audience, but for Star Trek purists, it's likely not.
First of all, the good. Believe it or not, the character moments of the film--not the action scenes--are the best parts of the film. There are some really great moments of just the characters interacting that really elevate the film above mediocrity. For example, Spock and Bones get a lot of scenes together this time around and they're some of the best. Also, with the recent tragic loss of Anton Yelchin, who plays Chekov (and quite wonderfully), it's tough to watch his scenes knowing he's no longer with us. He's got some great scenes with Kirk and it's bittersweet to say the least. Idris Elba does a fine job as the villain, Krall (even though he's unrecognizable, buried under all of the make-up). Finally, there's a touching nod to Leonard Nimoy's Spock that's worked into the plot, and it even opens the door to have some serious homage paid to the original crew. It's a really lovely moment. But the bad? There's just too much going on at times. Some of the action scenes feel like they're in the wrong movie. Whether it's a large piece of a crashed ship flipping while characters run away from it or a main character riding around on a motorcycle to provide distraction, it often borders on silly. Then again, by the time a ship blasts Beastie Boys' "Sabotage" during an action scene, it really kind of comes as no surprise given all we've been watching thus far. The meatier character scenes do balance out the action and help it from not becoming just a heaping mess.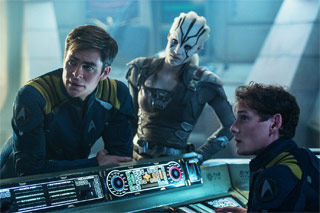 The content is action packed with it seldom being gory or bloody. A main character gets wounded at one point, with shrapnel sticking out of their side, but the camera shies away from focusing on it closely. The main villain also sucks the energy out of people to give himself strength, so we see some burned or shrivelled victims. There is quite a bit of language, but most of it is "d*mn" and "h*ll." Bones seems like he starts to say the "F" word just as he's beamed away at one point, and there are a couple uses of the "S" word. There isn't much sexual content (just a couple subtle references, which is a first for the rebooted series -- and they wrote in that a main member of the Entertprise crew is gay), so the only real content issue for some will be the violence. It can be intense at times, but it's never quite as rough as, say, Harrison crushing a man's skull off camera in Into Darkness.
Overall, Star Trek Beyond was really enjoyable, but very, very flawed. Time will tell with repeat viewings how it holds up under the weight of its own shortcomings, but there's also just the fact we get to see this team together again that makes Beyond a worthwhile effort. Still, I do hope a new director gets things back on track a little better with the next entry.
-
John DiBiase
(reviewed: 7/29/16)
3D Blu-Ray Special Features Review
Star Trek Beyond
is available on 3-disc Blu-Ray 3D, Blu-Ray, DVD and Ultraviolet/iTunes digital copy combo pack, a 2-disc Blu-Ray / DVD combo pack with an Ultraviolet/iTunes digital copy, a single disc DVD, and in a 4K Ultra HD/Blu-Ray 2-disc combo pack. Amazon is also offering a gift set that has the 4K, 3D, and 2D Blu-Ray with a model ship of the USS Franklin.
Star Trek Beyond 3D: I did not see the movie in 3D in the theaters, so seeing it at home in 3D was my first time. 3D can be hit and miss, and I understand people's complaints that it's gimmicky, but even when it's not doing much for the visuals or depth, the little added depth is a nice effect. Star Trek Beyond isn't the best 3D you'll see at home, but it is pretty good -- especially with some of Lin's unique camera angles and such. If you're a fan of Star Trek and have 3D capabilities at home, I recommend this one.
The 2D Blu-Ray disc has a few bonus features, while the feature film looks really excellent in HD. The following extras are included on the 2D Blu-Ray disc:
Deleted Scenes (1:02) There are only two deleted scenes and together they total just 1 minute. I'm rather surprised there wasn't anything more to include. The first brief moment shows Kirk and Scotty in the terminal, talking about getting a drink in Yorktown. Lastly, we briefly see Scotty grab what he calls a "bib and tucker" on the Franklin for Spock to change into after he's been injured.
Beyond the Darkness (10:08) - J.J. Abrams, who directed the first two entries in the Star Trek reboot, talks about passing the torch to Justin Lin. They talk about the writers assembling to take on the challenge, as well as trying to make a classic story that felt like the original series. They also address the controversial decision of making Sulu a gay character, all in the attempt to be "inclusive." They also talk about introducing the new alien girl, Jayla, as part of the Enterprise crew.
Enterprise Takedown (4:31) - Here they talk about the destruction of the Enterprise and how the ship is a character in the series. They talk about wanting to take it away early on to see the impact that would have on the crew.
Divided and Conquered (8:17) - With the dismissal of the Enterprise and the scattering of the crew, this talks about how they separated everyone early on to focus on their individual friendships, and pairing them off uniquely. (1 "S" word)
A Warped Sense of Revenge (5:15) focuses on the villain, Krall, and they talk about his origin, while we also hear actor Idris Elba talk about him, too.
Trekking in the Desert (3:06) reveals that most of the Yorktown scenes were filmed in Dubai because of its modern architecture, and then enhanced with digital effects.
Exploring Strange New Worlds (6:02) is about the alien world featured in the film and how the film crew created a lot of real, physical sets in an effort to bring it to life. They show behind the scenes of the blue planet sets built in a real quarry. They also talk about building the Enterprise ship's hallways on revolving sets, as well as many of The Franklin's interiors.
New Life, New Civilizations (8:04) talks about creating all different kinds of unique aliens for the film, especially when they're in Yorktown. The filmmakers tried to create 50 different species because of Star Trek's 50th anniversary. We also see some behind the scenes footage of them applying the makeup prosthetics.
To Live Long and Prosper (7:51) shows clips from many of the original Star Trek movies leading into them talking about the series' legacy over 50 years. Beyond celebrates what was great about the original Trek. The actors and crew address the hope and insight of the series, and the impact it had on them growing up.
For Leonard and Anton (5:04) honors Leonard Nimoy's legacy as Spock, with a very brief homage to Anton Yelchin who died tragically this year in a freak car accident outside his home. (Oddly, the short tribute ends with long, slow credits for it.)
Gag Reel (5:13) - The included gag reel just proves how much fun everyone had together on set. It's really wonderful, showing lots of laughing and blunders on camera. (1 partially bleeped "motherf---" and 1 "S" word)
- John DiBiase, (reviewed: 10/30/16)
Parental Guide: Content Summary

Sex/Nudity
: We see a shirtless Chekov getting thrown out of a woman's quarters; we discover that Sulu has a daughter and a husband; A character makes a comment to Spock that he had thought he should be out "making little Vulcans."

Vulgarity/Language
: 1 incomplete "F" word, 2 "S" words, 18 "d*mn," 12 "h*ll," 4 "G-d," 1 "cr*p," 2 "b*stard," 1 "a" word

Alcohol/Drugs
: There is some drinking at a celebration; Bones and Kirk drink while talking.

Blood/Gore
: The villain sucks the energy out of several characters and we sometimes see their shriveled corpses (kind of like from
The Mummy
); A man has glood on the side of his head after a crash while another man has a piece of metal sticking out of his side with some alien blood soaked on his shirt; Two men fight in the finale and they have some blood on their faces; A man is dissolved in space; And we see some more shrivelled/burned victims from the villain who sucks energy from his victims.

Violence
: A lot of action violence. The opening scene features a lot of small little aliens jumping on and attacking Kirk (played for laughs); The Enterprise is decimated by a swarm of little ships; There are many explosions and space battles; Aliens infiltrate the Enterprise and shoot people on board; The main villain sucks the energy from his victims, killing them; Two men fight in zero gravity; A ship crash-lands on a space station; And lots of other sci-fi violence.
Disclaimer: All reviews are based solely on the opinions of the reviewer. Most reviews are rated on how the reviewer enjoyed the film overall, not exclusively on content. However, if the content really affects the reviewer's opinion and experience of the film, it will definitely affect the reviewer's overall rating.
To find out why we don't typically review R-rated movies,
click here