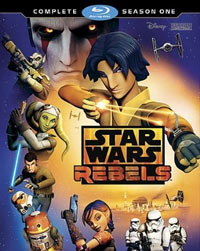 Star Wars: Rebels - Season 1

Starring:
voices of Freddie Prinze Jr., Vanessa Marshall, Taylor Gray, Steve Blum, Tiya Sircar, Jason Isaacs, Billy Dee Williams, James Earl Jones, Frank Oz
Running Time:
2 discs: 331 minutes
Blu-Ray Release Date:
September 1, 2015 (
Amazon.com
)
Plot Summary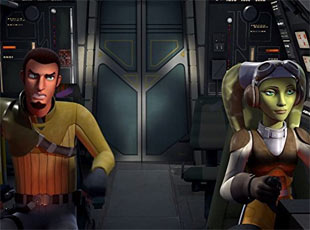 In the first groundbreaking season of Star Wars Rebels, young hero Ezra Bridger joins the clever but motley crew of the starship Ghost in their resistance against the Empire. As the series begins, Imperial forces have occupied a remote planet, ruling with an iron fist and ruining the lives of its people. Ezra and his new rebel friends -- Hera, Kanan, Sabine, Zeb and Chopper -- embark on daring adventures in their fight against oppression across the galaxy, receiving help from familiar heroes such as Lando Calrissian, Ahsoka Tano, and Jedi Master Yoda. Pursued relentlessly by the Imperials and a Jedi hunter called the Inquisitor, this tenacious ragtag band of rebels will find itself in the crosshairs of none other than Darth Vader when season one closes in a shocking two-part finale. (from Click Communications)
Season Review
Ever since Disney acquired the entire Star Wars franchise from George Lucas, there's been a lot of concern from diehard fans. I myself have tried to remain positive and hopeful. After all, Disney and Lucasfilm have had a relationship for decades, which includes attractions at the Disney theme parks. But as we draw closer to a brand new theatrical saga entry this December -- the first in a decade -- we also get closer to what seems to be "phase one" in a series of new theatrical Star Wars entries that threatens to oversaturate audiences and overwhelm them with what could be too much Star Wars. Still, I tend to feel that, if the quality is good, what self-respecting fan wouldn't want more Star Wars?!
Another thing that Disney's acquisition of Star Wars brought about was the sudden demise of the Clone Wars TV show and the resultant birth of Star Wars: Rebels (Something the producer addresses in the behind-the-scenes of Rebels, saying they couldn't imagine continuing the show without George). While Clone Wars took place after the events of Star Wars - Episode II: Attack of the Clones and before Episode III: Revenge of the Sith, Rebels takes place between Sith and Episode IV: A New Hope (15 years after the events of Revenge of the Sith and roughly 5 before A New Hope, to be exact), attempting to bridge a very, very wide gap between the prequel trilogy and the original trilogy. What's exciting about that is there seems to be a rich and fertile ground for exploring how the Empire rose and how the Rebel Alliance came together. The main concern I had with Rebels, however, was the blatantly "Disney" look of the characters, and how the show seemed far more colorful--and maybe even "cuter"--than what one would expect from Star Wars. But, thankfully, after just observing the pilot, I was happy to have my fears relieved.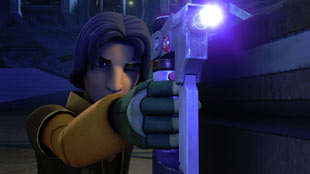 One of my least favorite aspects of the Clone Wars show was Anakin's obnoxious young padawan, Ahsoka Tanu. Thankfully, the show's many seasons allowed for Ahsoka to mature, and she was actually rather likeable by the time the show met its end. After hearing that Freddie Prinze Jr. would be voicing a new character named Kanan, I'd assumed that character would be the central focus of Rebels. I was surprised to learn that the main character is actually a 15-year-old boy named Ezra Bridger who they quickly discover has some Force abilities. Kanan then agrees to take Ezra under his wing to teach him the ways of The Force, and the show takes on aspects of not only both trilogies but the Clone Wars show as well. I found myself absolutely thrilled to hear many cues from John Williams' original score (something that was sorely absent from Clone Wars), as well as see original trilogy staples like TIE fighters and Storm Troopers. While Rebels isn't exactly perfect, it's surprisingly awesome in its faithfulness to all entries of the franchise. I mean, they even got James Earl Jones to reprise his role as Darth Vader a little bit! How amazing is that?
After having watched all of Rebels Season One for the first time (and over a couple days) on Blu-Ray, I have to admit I'm a fan. The attention to detail and faithfulness to the franchise is not only admirable, but thrilling (and the behind-the-scenes chats about the stories does help). The second disc of the Blu-Ray even gives us a sneak peek at Season Two, and it's glorious; from Darth Vader taking a central villainous role to the introduction of additional rebel sects, it's all heating up and continuing to lay the groundwork for what eventually leads into Episode IV: A New Hope. If you've kept an ear to the ground at all, you'll know that the big reveal at the end of this season (there's a spoiler ahead here; ye've been warned), is that one of the rebel leaders is none other than Ahsoka -- from Clone Wars -- all grown up and clearly alive and well. With her having left the Jedi Order at the end of the Clone Wars, it obviously allowed for her to survive Order 66, the order that was given to slay all the Jedi (Episode III). The mere thought alone that an adult Ahsoka will inevitably come face-to-face once again with Anakin, but for the first time now as Vader, is exciting. I'm eager to see where this all leads. It was also really fun to watch Ezra's journey learning the ways of The Force, and to see how it differed from Anakin's and Luke's. And some key guest role reprisals, from Frank Oz as Yoda (who voiced him in the films) to Billy Dee Williams as Lando, is a great deal of fun too. The enthusiasm this production team has for the series and franchise is infectious.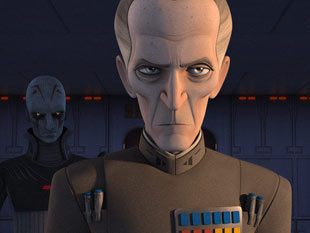 The content of the show is a bit tamer than Clone Wars, but far edgier than the shows I grew up with as a kid (like any of the Disney Afternoon cartoons or Transformers and G.I. Joe). Storm Troopers get blown up and thrown around like rag dolls, TIE fighters (and their pilots) are frequently blown to bits, and in the episode "Call To Action," The Inquisior beheads two seated Imperial officers from behind. It's off-camera, but it feels like a gruesome action, especially for a show rather aimed at young viewers (as well as their Star Wars-raised parents). Also, some of the attitudes of the characters might not be the best influences for the younger, more easily impressionable. A lot of the main characters bust on each other and shove or punch each other in a playful manner, while the alien Zeb is pretty grumpy and Ezra struggles with an attitude problem. In one episode, Ezra blames on old family friend for not having been there for him when he'd needed him most, and angrily tells him he'll never forgive him. However, it actually becomes a pivotal moment in the episode when Ezra changes his mind and decides to forgive him, letting go of his resentment. For the most part, though, if you're okay with your kids watching the original films--and they handle them okay--they should be okay with this season of Rebels.
Overall, I was really impressed with Star Wars: Rebels. While some of the animation (mainly for the characters) could use a little more detail or expression, I thought the show was topnotch. It's faithful to the original trilogy and franchise as a whole, and should appease the most diehard fans. I'm totally hooked for Season Two!
-
John DiBiase
(reviewed: 9/2/15)
Blu-Ray Special Features Review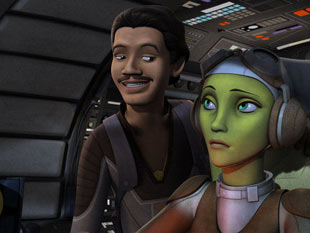 Rebels: Season 1 is available in a 3-disc DVD set, a 2-disc Blu-Ray set or from your usual digital video providers. In addition to 15 episodes are the following bonus features:
Rebels Recon - There are short behind-the-scenes recaps of each episode that had been originally feaured online. They're split up on disc one (36:10) and disc two (45:02) for the respective episodes on those discs, and are hosted by Lucasfilm's Andi Gutirrez. They're fun and informative, and well worth watching. Each one features voice cast and/or crew interviews, questions asked by fans via Twitter being answered by writers, and more. Questions not answered in the show get answered really well here. I highly recommend these.
Star Wars: The Force Awakens Trailer - Oh yes! Under "Sneak Peeks" is the latest Star Wars - Episode VII: The Force Awakens teaser trailer (the second one). It's amazing and I still get goosebumps each time I watch it. Now you can own it in glorious HD!
Rebels Infiltrate Star Wars Celebrations (4:03) - The rest of the special features are all packed onto disc two with the rest of the episodes. This little featurete focuses on Rebels' presence at "Star Wars Celebration" convention from earlier this year. It's too short, but it does give a little insight into the event and the love the fans have for Rebels. I would have loved to see more from the Rebels panel.
Star Wars: Rebels The Ultimate Guide (22:05) - This is a 22-minute recap of the entire first season, with Kanan serving as the narrator. This is great to give someone a Cliff's Notes style summary of all of the season's events. Honestly, this would make more sense to include on Season Two's disc set to recap the previous show happenings, but it's still a neat idea.
Rebels Season 2: A Look Ahead (7:06) - The show's executive producer shares some little ideas and concept art for what we can expect in the next season, and then we're treated to a special trailer of footage from the next season... and it looks awesome!
The Machine in The Ghost (3:02) - The last four featurettes are actually short 3-minute stories about the characters in the show before the events of the pilot episode. The first one shows Kanan and Hera aboard The Ghost during a dog fight with TIE fighters while they order Chopper to deliver messages back and forth to each other.
Art Attack (3:02) - Sabine sprays a TIE fighter with paint and then blows up a bunch of them, tossing Storm Troopers to the ground.
Entanglement (3:02) - While on an unspecified mission where he's supposed to meet Kanan in an alley, Zeb finds himself in the wrong alley where he encounters Storm Troopers--and fights them.
Property of Ezra Bridger (3:02) - While back on his planet before meeting the rebels, Ezra watches as two TIE fighters crash outside his home and he meets the Imperial pilot of one of them, and steals some of his tech.
Disclaimer: All reviews are based solely on the opinions of the reviewer. Most reviews are rated on how the reviewer enjoyed the film overall, not exclusively on content. However, if the content really affects the reviewer's opinion and experience of the film, it will definitely affect the reviewer's overall rating.
To find out why we don't typically review R-rated movies,
click here