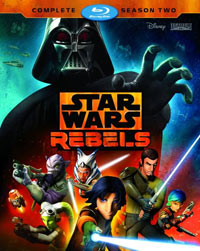 Star Wars: Rebels - Season 2

Starring:
voices of Freddie Prinze Jr., Vanessa Marshall, Taylor Gray, Steve Blum, Tiya Sircar, Keone Young, Ashley Eckstein, David Oyelowo, Sarah Michelle Gellar, Dee Bradley Baker, James Earl Jones, Frank Oz
Running Time:
3 discs: 484 minutes
Blu-Ray Release Date:
August 30, 2016 (
Amazon.com
)
Plot Summary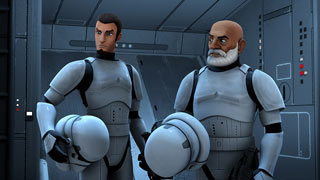 The epic battle to defeat the evil Empire continues in STAR WARS REBELS: COMPLETE SEASON TWO! As Ezra continues his journey to become a Jedi under Kanan's guidance, the crew of the Ghost bands together with a secret rebel cell and ex soldiers from the Clone Wars to join a fledgling alliance to restore peace and freedom to the galaxy. But the dark side looms large as Darth Vader dispatches new Inquisitors, setting the stage for a climactic showdown in which terrible truths will be revealed and the lives of our heroes will be changed forever. (from Disney)
Season Review
After 6-ish seasons of The Clone Wars, and the purchase of Star Wars by Disney, the animated series was halted, making way for a new series in Rebels. Rebels Season 1 was kind of a mixed bag, but it was overall quite good, capturing the spirit of both The Clone Wars show and what makes Star Wars such a beloved franchise. We were introduced to all new characters, while given a glimpse once again at Darth Vader. The series takes place many years after the events of the film Star Wars Episode III: Revenge of the Sith (AKA the final prequel film), but also several years before Star Wars Episode IV: A New Hope (AKA the original 1977 film). And since we're introduced to a whole new band of characters (unlike in The Clone Wars), we don't know the fate of them, so the tension is amped up a bit, especially in Season 2 with its shocking finale.
I enjoyed Season 1 of Rebels quite a bit, but I understood some complaints about the Disney-fication of the animation and some of the new characters, but with some of the brains behind The Clone Wars TV series pulling the strings for Rebels, the stories proved themselves to be worthy of the Star Wars name. However, Season 2 definitely changes things up. It's overall darker and the stakes are higher, but the talent behind the series still keeps things entertaining and lighter at times along the way. This season opens with the return of a more mature and grown up Ahsoka Tanu, and the threat of their unknown adversary, Darth Vader. The focus isn't taken off of our new heroes, though, as both Ahsoka and Vader are used more sparingly. We also see the return of the clone Captain Rex, who is now old and retired but able to assist the rebels as they band together. It's cool to see how the series slowly shows how the rebels began to form as a collective, and it's allowed for some familiar faces to make it to the show, including a really young Princess Leia Organa in one episode.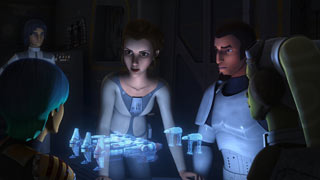 Honestly, if you didn't like The Clone Wars show, it's possible Rebels won't be much more up your alley. The feel of the shows are quite similar, and the voice acting sometimes feels too melodramatic for its own good. Also, there were a crisp 14 episodes in Season 1, but there are 20 in Season 2 (two of those being 2-part event episodes in this season, making it 22 episodes here), so there's more room for "filler" episodes that don't move the story forward all that much. Because of that, Season 2 felt like it dragged in a couple spots, especially with episodes like "Legends of the Lasat" (which is easily the most boring of this Season's offerings), where we learn about Zeb's kind; "The Call," in which we learn that hyperspeed was derived from space whales (?!); and "The Forgotten Droid," in which Chopper is accidentally left on a planet and it centers around him meeting a new droid friend there. Granted, the latter does introduce a new character, but the episode feels very much like an aside than something that really propels the season arc forward--especially when you know everything's about to come to a head. At the same time, there are some truly fantastic episodes here, too. The season opener, where Kanan and Ezra meet Vader and Ahsoka realizes who's under the mask, should make any Star Wars fan giddy; "Wings of the Master" reveals the origin of the B-Wing and it's pretty awesome; "Stealth Strike" forces Kanan to confront his prejudice over Captain Rex due to Order 66 (which is such a great plot idea); "Shroud of Darkness" brings them back to a Jedi Temple where some familiar faces (and voices) return; and it's just great fun to have Princess Leia make a cameo appearance in "A Princess on Lothal." But really, the finale, "Twilight of the Apprentice," is the huge payoff. There are so many fantastic moments in this two-part episode that by the time the episode (and season) wrap up, you're likely to find yourself just staring in amazement at the screen. Not only does Vader have some serious moments in the episode, but we get to see what happens when Ahsoka and Vader meet - and duel. It all ends in a pretty epic fashion (and I don't use that word lightly here), with an ambiguous ending that will leave fans excited and anxious for answers at the same time. The finale alone made me pumped about the series as a whole.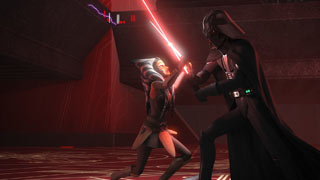 For those wondering about content, it's violent at times, but never graphic. I'd say it's about on par with The Clone Wars show. Characters died in that show and they do here as well, albeit infrequently. The season finale gets pretty violent at times, with characters being impaled with lightsabers off screen and another character getting wounded in the face pretty severely (but the detailed wound isn't shown). Other characters are thrown or fall to their deaths. There's also some mysticism with the power of the Force. It's shown as fantasy and not in such a dark way, as often seen on The Clone Wars, but those especially sensitive to stuff like that may want to steer clear. Parents may also want to be careful with some of the good characters having rebellious (no pun intended) attitudes and some name-calling. In the end, good is good and bad is bad, but there are hints to Ezra's journey being strangely similar to Anakin's in the sense that he gets tempted by the Dark Side (at least, mostly in the series going forward with Season 3). Granted, we all struggle with the sin nature we're born into, so many of us can relate to that push and pull, but we also do like to see our heroes prevail and make the right choices. Kanan is a pretty solid hero, as is the others in the main rebel clique, but we'll have to see where Ezra goes from here.
I've loved Star Wars since seeing the originals as just a little kid in the 80s. It's exciting to see Disney taking care to continue the legacy of the series with quality. If you've been worried about it, fear no longer. With the success of The Force Awakens and now Rebels, Star Wars appears to be in good hands.
-
John DiBiase
(reviewed: 8/24/16)
Blu-Ray Special Features Review
Rebels: Season 2 is available in a 4-disc DVD set, a 3-disc Blu-Ray set or from your usual digital video providers. In addition to 22 episodes are the following bonus features:
Rebels Recon - There are short behind-the-scenes recaps of each episode that had been originally feaured online. They're split up on disc one (43:31), disc two (49:09) and disc three (37:27) for the respective episodes on those discs, and are hosted by StarWars.com's Andi Gutirrez. They're fun and informative, and well worth watching. Each one features voice cast and/or crew interviews, questions asked by fans via Twitter being answered by writers, and more. Questions not answered in the show get answered really well here. For example, there's great trivia about the early AT-AT's, what happened to a couple of the popular clones from Clone Wars, how roomy the TIE fighter cockpit is, naming the B-Wing, voicing Princess Leia, and the epic season finale.
Connecting the Galaxy: Rebels Season 2 (3:30) is all about Easter eggs in the show that reference the Star Wars universe, including Ezra finding an ancient lightsaber with a hilt -- like Kylo Ren's!
From Apprentice to Adversary: Vader vs Ahsoka (6:08) - The showrunners and producers (and voice of Ahsoka) talk about the epic confrontation between Anakin and his apprentice in the season finale, and how it's been a long time coming since The Clone Wars show was conceived. Promises are made about what we can expect in the future to answer our questions about Ahsoka's fate as well...
Disclaimer: All reviews are based solely on the opinions of the reviewer. Most reviews are rated on how the reviewer enjoyed the film overall, not exclusively on content. However, if the content really affects the reviewer's opinion and experience of the film, it will definitely affect the reviewer's overall rating.
To find out why we don't typically review R-rated movies,
click here