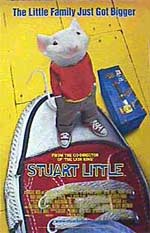 Stuart Little


- for brief language.
Director:
Rob Minkoff
Starring:
Geena Davis, Hugh Laurie, voices of Michael J. Fox
Running Time:
1 hour, 24 minutes
Plot Summary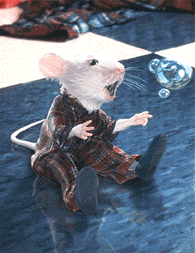 The Little family visit an orphanage to adopt a child, preferably a brother for their son George. But when they are overwhelmed by the children to choose from, a little mouse, Stuart (voice by Michael J. Fox), introduces himself and wins the couple over. Stuart then finds trouble in the new loving home as the family cat Snowbell (voice by Nathan Lane) doesn't like him, George is disappointed he's not a "real" brother, and Stuart finds the need to find his true parents.
Film Review
I wasn't sure what to expect from this new family movie that combines computer animation with live action. From the start, I must admit the fact that Stuart is this beyond adorable little mouse and that Michael J. Fox does his voice made me want to see the film (c'mon people, who didn't like him in the Back to the Future movies?!) But maybe it's being an artist that creates a soft spot for the "childish" animation? I have no idea. But part of me had to see this movie.
After I read some surprisingly good reviews, it made me want to see it more. But I was still shocked I was willing to shell out the $6.75 (plus popcorn) to see it. However, from start to finish, Stuart Little is a near flawless family film.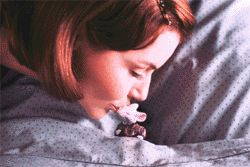 I say "near flawless" because of one issue. Language. Like, this should be a G-rated film. But why isn't it? Because they decided to have the alley cats spit out 2 "d*mns" and 2 "h*lls!" C'mon now... Should cats in a kids movie curse? Um... no.
Aside from the minor, yet still very unnecessary swearing, Stuart Little scores as one of the best family movies of the year. The film puts an emphasis on family, unlike most modern films, and approaches humor in a way that older films used to- simple, non-crude, clean humor. While the movie could have been another Mouse Hunt, thankfully the producers stayed away from that and focused on how Stuart tried to fit in with another family completely out of his species. Another round of applause given to the filmmakers for not letting the film get corny, but instead accurately pulls at your heart strings when need be in a way that's realistic (like with Stuart feeling unloved and unable to fit in).
All-around acting for the film was great. The voice choices were perfect too. It's nice to see, or in this case hear, Fox in another theatrical roll since his more recent struggle with Parkinson's disease. He does a very good job at bringing feeling to Stuart's character. And the way the animators rendered Stuart is amazing. The expressions were perfect and he was down-right adorable. I think even the "toughest" of audience members would have to admit his cuteness (and probably mice-haters alike).
In summary, the movie was wonderful, and my only complaint is the language. It's a good family movie and I recommend it. Yet, still, if you have any questions or comments about the film before you see it, feel free to contact me.
-
John DiBiase
,
(reviewed: 12/21/99)
Parental Guide: Content Summary

Sex/Nudity
: None.

Vulgarity/Language
: 2 "d*mn," 1 "h*ll," 1 "G-d"

Alcohol/Drugs
: None.

Blood/Gore
: None.

Violence
: Few cat/mouse chase scenes. Not much.
Disclaimer: All reviews are based solely on the opinions of the reviewer. Most reviews are rated on how the reviewer enjoyed the film overall, not exclusively on content. However, if the content really affects the reviewer's opinion and experience of the film, it will definitely affect the reviewer's overall rating.
To find out why we don't typically review R-rated movies,
click here