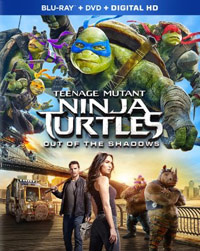 Teenage Mutant Ninja Turtles: Out of Shadows 3D


- for sci-fi action violence.
Director:
Dave Green
Starring:
Megan Fox, Stephen Amell, Will Arnett, Laura Linney, Brian Tee, voices of Brad Garrett and Tony Shalhoub
Running Time:
1 hour, 59 minutes
Theatrical Release Date:
June 3, 2016
Official Site
Blu-Ray Release Date:
September 20, 2016 (
Amazon.com
)
Plot Summary
Raphael, Leonardo, Donatello, and Michelangelo are back to battle bigger, badder villains, alongside April O'Neil and a newcomer: the hockey-masked vigilante Casey Jones. After supervillain Shredder escapes custody, he joins forces with two dimwitted henchmen, Bebop and Rocksteady, to unleash a diabolical plan to take over the world. As the Turtles prepare to take on Shredder and his new crew, they find themselves facing an even greater threat with similar intentions: the notorious Krang. Hailed as "fun from start to finish" (Brian Medina, Movie Pilot),TEENAGE MUTANT NINJA TURTLES: OUT OF THE SHADOWS stars Megan Fox, Will Arnett, Laura Linney, Stephen Amell, and Tyler Perry in the live action film that is fun for the whole family. (from Paramount Home Media Distribution)
Film Review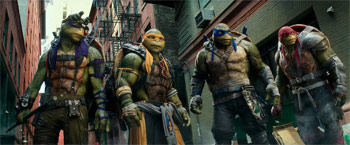 You could tell that the 2014 CGI-driven live action reboot of Teenage Mutant Ninja Turtles was a labor of love, but it was undeniable that the film lacked greatly. Less than 2 years later, we have the franchise's first sequel, which ups the ante while attempting to correct some problems (and making all new ones) the second time around. The end result is yet another entertaining but messy blockbuster.
One of the biggest problems Teenage Mutant Ninja Turtles had going for it in 2014 was its strong focus on the film's human characters, a mistake that the Transformers films continue to make. And the biggest problem with that in Turtles is that the human characters weren't all that interesting. Megan Fox's weak performance as an overly-sexualized version of reporter April O'Neil (then again, who puts Megan Fox in a movie just for her acting?) made her scenes, with a weak script, even tougher to endure. However, for Teenage Mutant Ninja Turtles: Out of the Shadows, the filmmakers shift the focus more so onto the Turtles, sidelining April and her camera wielding sidekick, Verne. In fact, Verne, Will Arnett's character, is written out of a great deal of the story as we quickly discover that he has taken credit for saving the world in the first film, something clearly the Turtles had done. So, at first, it appears Verne has turned on his friends, but we soon learn that it was an agreement made with the Turtles to help keep their anonymity. Out of Shadows takes this shifted focus off of April and Verne to accomplish three things. First, we're introduced to a new character, a cop named Casey Jones who reluctantly takes on the role of vigilante to help the Turtles and April. Casey is played by Stephen Amell, who's most notable for his role on TV as the vigilante hero, Green Arrow. So, really, it's not much of a stretch for Amell. However, Amell is far less dark and brooding here, so it's refreshing to see him play a lighter, more animated role. Secondly, the villains are given a bigger spotlight -- and there are so many more of them, too. The first film spent a lot of time building a backstory for the Turtles and April's relationship with them, as well as providing flashbacks, and there's none of that here. Shredder is back, after miraculously surviving the fall at the end of the first movie (in which they show him taking some of the super ooze, which may be how he survived... but why weren't there bigger effects?), and he's rounding up a new gang to take over the city with. Part of his crew are dopey outlaws Bebop and Rocksteady, who then become guinea pigs for a new super syrum. And the beloved mutated warthog and rhinoceros from the original cartoon show are introduced into this new cinematic world. And finally, this extra screen time gives much more focus on the turtle brothers themselves (even sidelining Master Splinter), and their moments together are surprisingly the film's best, and the film's strong point (I say "surprisingly" because we're talking about animated mutant turtles which are entirely CG and can be really annoying at times).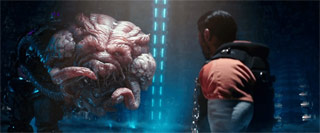 Taking an animated cartoon series and translating into a live action format is no easy task. Both the G.I. Joe and Transformers franchises have struggled with striking the right tonal balance, as well as a balance between child-friendly and more adult content. Out of Shadows throws diehard fans of the lore several bones this time around, including the introduction of Dr. Baxter Stockman ("The Fly" character in the show), who's played here by comedian Tyler Perry. At times, Perry is amusing in the role, but he plays it so over the top, that it seems like he thinks he's in a different movie. Out of Shadows tries so hard to be serious at times, and then it's just so corny; it never really finds the right leveled plane. Meanwhile, Amell's Casey Jones shouts random profanity in one of his first scenes, making it all feel much more adult in nature. Then we have Bebop and Rocksteady who are constantly goofing around, and even offer cringe-worthy fart jokes. To make matters worse, the brain-like alien Krang is even more over-the-top, really making the film feel all over the place. In the end, some scenes feel satisfying--like some of the character-driven Turtle moments--and others will have you reaching for the remote.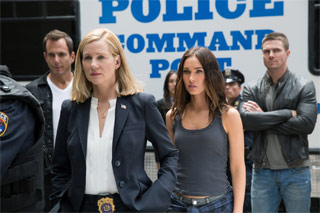 The content is mostly just action violence again, as they do scale back the sexual references and jokes this time around. Still, April's reintroduction scene focuses on her transforming her disguise into a slutty school girl outfit, focusing on her tight tummy with a soundtrack that highlights the sensual feel of the moment. Thankfully, that's it for the movie, as April seems to get back to how her character should be, instead of the kind you'd expect from a Michael Bay film (though he's a producer here, not the director). There is some language, too, mostly from Casey Jones, including a single use each of the "S" word and "S.O.B." Finally, while there's lots of action violence, with some being lethal towards the "Foot Clan," nothing is graphic or brutally violent.
Is Teenage Mutant Ninja Turtles: Out of Shadows better than its predecessor? Sometimes it is. The addition of Amell and shifting the spotlight onto the Turtles themselves does add to the movie. However, the uneven tone, a surprisingly disappointing use of Shredder, and a weak script continue to hold the franchise back. I'm not even sure what specifically could be done to lift the franchise out of mediocrity, but it does seem to possess many of the same problems its sibling franchise Transformers continues to have. Diehard Turtles fans will get the most out of this sequel, but for the rest of the movie-going public, it's mostly just a tonally uneven mess of gooey cheese and pepperoni.
-
John DiBiase
(reviewed: 9/18/16)
Blu-Ray Special Features Review
Teenage Mutant Ninja Turtles
is available in a Blu-Ray/DVD 2-disc combo pack, a 3D Blu-Ray/2D Blu-Ray/DVD 3-disc combo pack, a 4K Ultra HD/2D Blu-Ray 2-disc combo pack, a lunchbox tin set that includes the Blu-Ray combo packs for both movies, or as a single-disc DVD (and through the usual digital services). The Blu-Ray disc has a few bonus features while the feature film looks really, really vibrant and crisp in HD. I watched it in 3D and it's a really fun one in this format. If you like 3D, I recommend it. The following extras are included on the 2D Blu-Ray disc:
We Are Family (8:15) doesn't only just focus on the brotherhood of the turtles, but also the brotherhood of the actors playing the turtles. We're also shown some great behind-the-scenes footage of the actors in their motion-cap suits on set and hear from them in interview segments.
Whoa! Expanding the Turtleverse (14:19) focuses on the film's new characters, talking about their relationship to the Turtles franchise and how they fit into this film. It profiles Casey Jones, Bebop and Rocksteady, the new take on Shredder, and Krang. (1 "bad*ss," 1 "G-d")
House Party (6:18) is a really cool featurette that takes us onto the set of the underground turtle lair. After it got blown up in the first film, we see a new, rebuilt version here. We're shown their individual bed and sleeping quarters, and lots of other cool little details.
It's Tricky: Inside the Van (4:08) is all about the new Turtle van and its upgrades since the first film. Like with the lair, we're shown all the fine little details on the set.
ILM - The Effects Beneath the Shell (3:04) shows us many effects passes from various scenes, usually involving the turtles in completely fabricated scenery. It's really impressive.
Did You Catch That? Turtle Eggs (3:02) - This one is dedicated to the TMNT Easter Eggs in the film - from the van's horn sound being part of the Turtles' theme song, to the toy van nod (it shoots out manhole covers instead of pizzas), and little character references. They tried to use as many cast and crew reference ideas as they possibly could.
Deleted Scenes (4:54) - There are three deleted scenes. Most of them involve a rejected subplot that saw April getting promoted at the station. The first scene has April meeting Verne at the network and then she gets offered a promotion by her boss. The next scene has Casey and April in the turtle van talking about their careers, and she mentions the promotion offer. Lastly, while they're pulling the police station heist, Casey tells April to kiss him as a diversion. She smartly quips that that would only draw more attention, considering they'd be kissing... in a police station.
-
John DiBiase
,
(reviewed: 9/18/16)
Parental Guide: Content Summary

Sex/Nudity
: While undercover, April transforms her disguise into a slutty school girl outfit, tying off her shirt to show off her belly button; Bebop and Rocksteady peak down the front of their own pants after they've mutated and admire their own genitalia; Casey tries introducing himself while still wearing his mask and April has trouble understanding him, guessing "Stacy moans?"

Vulgarity/Language
: 1 "S" word, 1 "S.O.B," 2 "d*mn," 1 "h*ll," 2 "a" words, 1 "Oh my G-d,"

Alcohol/Drugs
: We see Bebop and Rocksteady drinking in a bar; When Casey comes to investigate the bar, the bartender is seen drinking;

Blood/Gore
: None.

Violence
: From the rafters of the basketball game, the Turtles shoot spitballs at Verne, hitting him in the face; Donnie shocks Mikey with his staff; There's a battle on the highway as Foot soldiers try to rescue Shredder from an armored truck. An explosion on the highway with cars flying and flipping through the air; the Turtles shoot manhole covers out of the front of their van; Casey shoots a shotgun while hanging out the window of the armored truck till the gun is knocked out of his hands; Giant nunchucks extend from the sides of the van to smash the villains' vehicles, which smash then get ripped off; Raph jumps out and clotheslines two motorcyclists in slow motion, and knocks one off their bike; Casey hits some guys and then gets knocked out; We see the driver get thrown from truck; Shredder tries escaping on a helicopter and is dangling on a line when Leo shoots a sword from the van that cuts Shredder's line; Krang smacks Shredder around. A large robot smacks and smushes Krang back into his abdomen; Casey smashes the jukebox in the bar, takes out a CD from it and throws it at the mirror behind the bar and continues to smash and break glasses; Bebop and Rocksteady are hit in the necks with darts containing a super syrum, and we watch them mutate into a warthog and a rhino. The two playfully ram each other; Casey pelts Foot soldiers with hockey pucks. A throwing star gets embedded into his hockey mask. April hits a Foot soldier with a pipe after she gets hit by a soldier; The Turtles trick Casey into running at Splinter, who flips Casey on his back; Bebop and Rocksteady run headfirst into a large rock; Casey and the Foot soldiers fight in a police station. Raph and Mikey crash in and join the fight; Agents hold the Turtles at gunpoint; Turtles board a plane and throw Foot soldiers out of the plane; Bebop and Rocksteady fight the Turtles on the plane; Pilot ejects from the plane with parachutes and the plane breaks apart and crash lands; A tank fires as Donnie dodges the shot in slow motion; The Turtles fall over a waterfall; Raph smashes a vial against a wall; A police mob hold guns on the Turtles; Krang hits Shredder and knocks him off a platform; Huge pieces of an alien ship swarm to combine. Pieces of them crash into city buildings, causing debris to fall on the streets below; Several cop cars crash into barriers. Casey's car flips and crash lands; Rocksteady throws cars at Casey and they crash around him; Rocksteady kicks Casey into a car; The Turtles cut off one of Krang's robot's hands as they fight him; Cars flip all around Casey from Bebop and Rocksteady as they chase him. He leads them into a metal crate and toss a grenade in after them; Verne and April fight Jade.
Disclaimer: All reviews are based solely on the opinions of the reviewer. Most reviews are rated on how the reviewer enjoyed the film overall, not exclusively on content. However, if the content really affects the reviewer's opinion and experience of the film, it will definitely affect the reviewer's overall rating.
To find out why we don't typically review R-rated movies,
click here