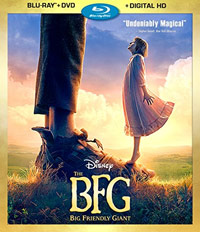 The BFG


- for action/peril, some scary moments and brief rude humor.
Director:
Steven Spielberg
Starring:
Mark Rylance, Ruby Barnhill, Penelope Wilton, Jemaine Clement (voice), Rebecca Hall, Rafe Spall, Bill Hader (voice)
Running Time:
1 hour, 57 minutes
Theatrical Release Date:
July 1, 2016
Blu-Ray Release Date:
November 29, 2016 (
Amazon.com
)
Plot Summary
A girl named Sophie encounters the Big Friendly Giant who, despite his intimidating appearance, turns out to be a kind-hearted soul who is considered an outcast by the other giants because, unlike them, he refuses to eat children. (from IMDB)
Film Review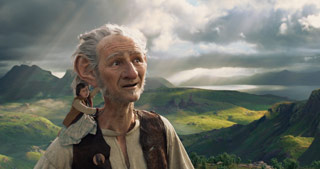 At this stage in his career, Steven Spielberg is a director who can pick any project he wants and make any kind of movie he wishes to--and he does. Following the historical drama Bridge of Spies, Spielberg has turned to the family film genre to turn Roald Dahl's book The BFG into a magical fantasy movie. The story debuted in 1982 as a fleshed-out version of a short story from the 1975 book, Danny, the Champion of the World. I have to admit, I somehow missed this book entirely as the film is the first time I feel like I've even heard about The BFG (And I was the appropriate age in the 80s!). My first impression of the title was that it's an abysmal name for a film (and that the acronym was popular for a weapon in 90s multiplayer games). But if it's a Spielberg venture, I knew it'd be worth a look.
If you still don't know what "BFG" stands for, it's "Big Friendly Giant," a name given to the old, friendly 24-foot giant who befriends an orphan girl named Sophie. Since I was unfamiliar with the original book, I relied entirely on Spielberg's storytelling expertise to introduce me to the tale. I quickly found myself growing restless while watching the film for some kind of plot or direction in the story to reveal itself. And, by the time it reaches the end of its near 2-hour running time, I understood the story's mission, but it seemed like Spielberg needlessly took his time getting there. The filmmaker has a penchant for lengthy films--especially evidenced by Bridge of Spies, Lincoln and War Horse all being near 2 and a half hours in length--and The BFG probably would have benefited from a truncated running time and hastened pace. The other thing that was tough to digest was how much of the film relied on computer animation to tell the story (something Spielberg usually doesn't do, save for Tin Tin). I understand how difficult it must be, still, to get characters with human likenesses to look real, but it's always been distracting to me. Bridge of Spies' Mark Rylance is an excellent actor, and he's wonderful (and perfect) as BFG, but it was a little frustrating to see his performance only expressed through computer animation, despite it being quite good at times. It reminded me a lot of Robert Zemeckis' 2009 motion-capture animated adaptation of A Christmas Carol. It's a surreal way of storytelling through animation that never quite looks as lifelike as the filmmakers hope and intend it too. However (and it's a significant "however"), the animation for Jemaine Clement's Fleshlumpeater is the best in the movie. While much of the film will have those who actually saw Jack The Giant Slayer thinking of that film and its mediocre animation (which, as flawed as it was, was actually more enjoyable than The BFG), it's the accomplishment of Fleshlumpeater's animation that brings more hope to the future of lifelike animation. Granted, The BFG's "effects" aren't all bad--in fact, it's far from it--but Fleshlumpeater's fellow giants all look especially fake and oddly designed in the face, and that doesn't do much to help the film as a whole.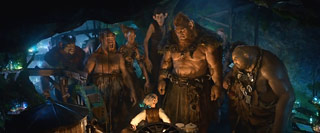 Where The BFG falters in pacing and presentation, it makes up for in heart. The relationship between Sophie and the titular giant is a heartwarming one, and Rylance brings so much to BFG (the character and film). Again, as odd of a story this film tells, it certainly has its moments. The Pete's Dragon remake, which also makes its home entertainment debut the same day as this film, also took its time building its story, but I never found myself frustrated by the pacing. One comment I saw online from a viewer (of that film) said it was boring until the last 10 minutes. While I obviously don't agree with that statement, The BFG can probably be given a similar complaint, as the whole tone and feel of the story changes, as it nears its end, when Sophie and BFG go to visit The Queen of England. If this wasn't based on a popular childrens book, I'd find this shift completely silly and out of left field, but the human element these scenes bring to the movie are refreshing and sort of a relief. Rebecca Hall (The Prestige, Iron Man 3) plays an aid to The Queen and it's nice to see her in a different kind of role like this. Penelope Wilton is also quite good as The Queen, and she also helps warm up the film in its final act.
The content for the film is certainly of the PG variety. The giants are often ugly and menacing, while there's some verbal imagery describing how they eat children. BFG also collects and distributes dreams, and a couple instances have him giving out nightmares to people--including Sophie, in order to strike the right kind of fear in her about his fellow, bullying giants. There is no language present, and no sexual content of any kind. For the most part, the fantastical imagery is the only thing that might unsettle the younger viewers.
The BFG is hardly the best--or worst--from Steven Spielberg, but there's just something lacking about it. The sluggish pacing and somewhat tedious storytelling holds it back from being something extraordinary, but it still is a decent fantasy story that captures a bit of the wonder that the 80s fantasy films often possessed. Perhaps repeat viewings will reveal something deeper and timeless about it, but the first impression it left was that of disappointment.
-
John DiBiase
(reviewed: 11/30/16)
Blu-Ray Bonus Features Review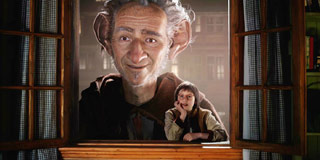 The BFG
looks gorgeous in HD, and you can grab it on Blu-Ray disc with a DVD and Digital HD copy, separately on DVD and also separately through the digital movie providers. On the Blu-Ray disc and in the iTunes Extras are the following features:
Bringing The BFG To Life (27:08) - Ruby Barnhill, who plays Sophie, shares her video diaries from during the filmmaking process. It also features interviews from Roald Dahl's daughter, the film's screenwriter, Spielberg himself, and members of the cast. It's cool seeing a lot of on-set footage, revealing how the movie came to life. They talk about the relationships on and off the screen, doing motion capture, building elaborate sets--and to different scales, creating the whizz-popper sound, costumes, and more. This is the meat-and-potatoes of the special features.
The Big Friendly Giant and Me (1:54) - This is a short story, animated like kids drawings, told from the perspective of the little boy who lived with BFG before Sophie.
Gobblefunk: The Words of The BFG (3:15) - "Gobblefunk" is the official language of the BFG. This is a fun little featurette about the silly language that BFG speaks. It's a playful way to highlight the words and explain what some of them mean.
Giants 101 (4:57) - This is a really fun featurette about the various giants, and we see lots of footage of the guys in motion capture suits, and we hear from them as they talk about their roles. We're also treated to some footage of them doing "interviews" as their characters, which was an exercise to help them define their individual characters.
Melissa Mathison: A Tribute (5:48) - Screenwriter Melissa Mathison, whose credits include E.T. and The Black Stallion, has since passed after working on BFG, and this special feature is all about her career and the cast and crew having worked with her. They actually celebrated her last birthday with her while on set... It's really touching (and a little heartbreaking).
- John DiBiase, (reviewed: 11/30/16)
Parental Guide: Content Summary

Sex/Nudity
: We see jars of dreams labeled "I is naked at work," "I is naked at my wedding" and "I is naked at school"

Vulgarity/Language
: None.

Alcohol/Drugs
: We see a few drunk people stumbling down the streets late at night in London.

Blood/Gore
: None.

Violence
: When Sophie is first taken by BFG, she doesn't know his intent and we see him cutting up a vegetable with a large blade that looks like a Snow plow blade on a stick. The whole time, Sophie is concerned she will be eaten; BFG tells Sophie about the different giants, who all have violent names, who are dangerous and would eat her; Sophie has a nightmare of getting eaten by giant who crawls out from under a hill of grass; The bigger, meaner giants toss BFG around like a football among themselves. At one point, they put him on top of a garbage truck and roll him down a hill, while another giant skates with cars on her feet. BFG's head connects with the giant's crotch and he falls over; Sophie jumps from a window sill, hoping BFG will catch her (and he does); The large giants trash BFG's home, smashing many of his dream bottles; BFG and Sophie create a nightmare about the giants eating the children (and we see some shadowy imagery of the giants grabbing kids) and they give it to The Queen; The giants try to grab Sophie and punch BFG but get roped and flown by helicopter to an island, and dropped into the water.
Disclaimer: All reviews are based solely on the opinions of the reviewer. Most reviews are rated on how the reviewer enjoyed the film overall, not exclusively on content. However, if the content really affects the reviewer's opinion and experience of the film, it will definitely affect the reviewer's overall rating.
To find out why we don't typically review R-rated movies,
click here