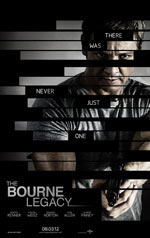 The Bourne Legacy


- for violence and action sequences.
Director:
Tony Gilroy
Starring:
Jeremy Renner, Rachel Weisz, Edward Norton, Stacy Keach, Donna Murphy, Joan Allen, Albert Finney
Running Time:
2 hours, 15 minutes
Theatrical Release Date:
August 10, 2012
Official Site
Plot Summary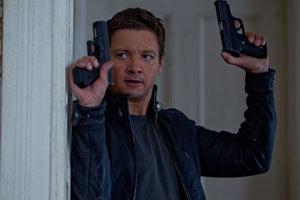 In The Bourne Legacy, writer/director Tony GIlroy expands the Bourne universe created by Robert Ludlum with an original story that introduces us to a new hero (Jeremy Renner) whose life-or-death stakes have been triggered by the events of the first three films.

For The Bourne Legacy, Renner joins fellow series newcomers Rachel Weisz, Edward Norton, Stacy Keach and Oscar Isaac, while franchise veterans Albert Finney, Joan Allen, David Strathairn and Scott Glenn reprise their roles. (from Facebook.com/TheBourneSeries)
Film Review
Ever since the runaway success of The Bourney Identity spawned two sequels, Universal Pictures have been certain they had their own on-going franchise on their hands. Words like "their own James Bond franchise" were even thrown around. But Universal hit a brick wall when Damon and the two sequels' director Paul Greengrass insisted on bowing out after the third film. While Damon hasn't vowed never to return to the role of Bourne, he has been especially cautious as not to make another film just for a paycheck, and wants the series to continue strongly. Sadly, this wasn't enough for Universal, and plans to continue the Jason Bourne franchise without Jason Bourne were set in motion. This is why we now have The Bourne Legacy.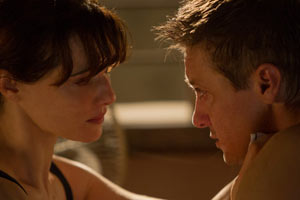 Named after a Jason Bourne novel that wasn't penned by the series' original author Robert Ludlum, The Bourne Legacy film is meant to carry on the spy thriller that began with Jason. This time around, we have a Bourne movie that has next to nothing to do with Bourne, and he only appears in the film via printed photographs from ID cards. This is actually a big problem from the get-go, because it's more than obvious that Matt Damon had nothing to do with this story. The movie opens with a shot of a man lying in the water, in a similar fashion (but not exact) to the way that The Bourne Ultimatum ended and even more similarly to how Bourne was originally discovered in the water at the beginning of The Bourne Identity. This figure then moves and grabs some kind of training item attached to a pole underwater and emerges in the frigid, snowy Alaskan air. Meet Aaron Cross. Soon, we learn that Aaron Cross is part of a program similar to Treadstone--the program Bourne was part of--but Cross is part of a genetically altered breed of super spys. The film decides to plop itself somewhere within the timeline during the events of The Bourne Ultimatum. There's talk of the reporter who is killed while with Bourne at Waterloo (but we never see the asset who shoots him or Bourne, just footage from the previous film of that reporter... and then him getting shot again) and it frequently flashes back and forth with those heading up Operation Outcome, which Cross was a part of. Due to Bourne's tangle with CIA and the reporter who was murdered, the undercover dealings are seeing the light of day now, so Outcome must be scrubbed. This leaves folks like Dr. Marta Shearing, played by Rachel Weisz, in the line of sight, while Cross just barely evades being taken out himself. The screenplay writer for all four Bourne films takes over the director's chair this time around, clearly having taken notes from Greengrass's pursuits from the past two films, and does his best to marry his new universe where Cross exists and Bourne's. However, most of Cross's universe with Operation Outcome is merely watching Bourne's misadventures unfold on TV and there's very little natural crossover. In fact, it ultimately just feels forced and contrived. Instead, we have little explanation as to who the players are behind the scenes and just know that Marta and Cross are persons of interest that are part of a series of loose ends they want cleaned up. It's all way too familiar.
The absence of Matt Damon and using the title of "Bourne" seems manipulative to arouse interest in the movie. When the Universal Pictures logo appears on the screen before the first scene, echoes of Jason's theme can be heard in a distorted fashion before an all new score from a first-time Bourne composer, James Newton Howard, makes its first musical appearance. As the film progresses, the music gets slightly more reminiscent of the previous films, but safely keeps its distance from Jason's theme. Unfortunately, Aaron never really seems to have his own unique, unmistakable theme like Jason has, and when the end credits see a fourth usage of Moby's "Extreme Ways," it stings just a little. It's a reminder that Damon and Bourne have nothing to do with this film and it isn't nearly as good as any of the movies that preceded it. If Universal had only managed to really integrate the two worlds of these agents more naturally, it wouldn't feel like such a counterfeit film. To make matters worse, several action sequences feel recycled. When Cross is running on tin rooftops in the Philippines, it feels much too much like Jason's foot chase on the cement rooftops in Tangiers in Ultimatum. Bourne even has a motorcycle chase in that film, although much shorter than what is shown in Legacy, but this chase scene does freshen things up just slightly enough to feel different. Sadly, the overuse of close-ups and shaky cam work make the chase scene feel a lot like Bourne Supremacy, but the conditions have certainly changed and some cool alterations in the stakes make the finale a decent one, even if it's not as satisfying as it probably could have been.
Because we're being introduced to a new government operation this time around and are expected to easily follow the fact that Legacy's events are taking place during Ultimatum's events, it's easy to get a bit lost if you're not very familiar with The Bourne Ultimatum. Jeremy Renner is good as our latest new operative gone rogue, ready to fight a system that turned on him, but circumstances are different this time around in that Renner's Cross knows who he is (while Bourne had amnesia). He knows what he signed up for, he knows what he's doing, and he knows what he has to do. Also, the switch this time around is that those behind Outcome are really hunting down Dr. Marta Shearing after they believe Cross to be dead, so Cross decides to protect her and use her to find answers to what exactly may be going on. So instead of Bourne inadvertently dragging Marie into his own fight, Cross is protecting Marta. It's something that definitely changes up the leads' dynamic, but it may just not be quite enough to make Legacy really work on its own as part of this series. The Bourne Legacy feels contrived from the first moments and it never shakes off that feeling. Not only is it washed over with a sense of familiarity, but the lack of Jason Bourne being in a movie titled after him just feels cheap (Can you tell that irks me?).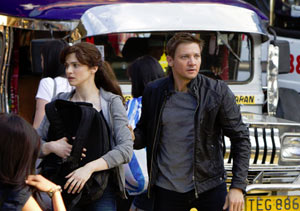 The content for The Bourney Legacy is about on par with the other three films. The worst gory moment comes when Aaron takes a blade to his side and cuts an incision there (we see the whole thing) and he digs around to get a tracking device out. It's pretty bloody. But the most intense sequence comes when a doctor locks other doctors in a room and goes on a shooting spree. It's frightening and intense in a near-horror film fashion. And when the man finally turns the gun on himself and we hear the splattering sounds of the act being done off camera, it all adds up to a very disturbing scene (especially given recent events of a gunman shooting up a movie theater for no reason. The scene where Norton's character sees this doctor shooting on the news especially feels eerie). Language is frequent enough with about ten uses of the "S" word and several uses of blasphemy, including "J-sus," "For Chr-st's sake," "g*dd*mn" and "Oh my G-d." There's also one moment during the aforementioned shooting spree where I may have heard a muffled "F" word in the background as people were scrambling to apprehend the shooter, but it wasn't clear enough to call it for sure.
If we were to ignore the other three Jason Bourne films, The Bourne Legacy is a decent action spy thriller. The beginning is unusually slow, however. Even when the previous films paused for the government conspiracy moments and plot building, there was something intriguing and intense enough to keep viewers' interest. I don't know if it was just due to a more passive score from James Newton Howard or Gilroy's lack of aggression in getting the story started, but the movie really doesn't feel like it kicks in until Cross and Marta meet up. It's unfortunate, too, because the opportunity to start anew here was definitely presented; it just wasn't executed as strongly as it could have been. Renner and Weisz carry this film and the two work wonderfully together. Renner pulls off the Bourne-style action scenes well too, and the idea that his breed of spy was genetically altered is a cool way to take the story in a new direction. In the end, however, The Bourne Legacy is dissatisfying and maybe even a bit redundant.
Fans of the Bourne series might just be happy to have the formula back in place for a fourth outing, but the lack of Jason Bourne in a movie titled after his character feels about as cheaply fashioned and put-together as one might assume it would be. The only way The Bourne Legacy will really work will be if the fifth film unites Bourne and Cross. That would ultimately justify the existence of Legacy. Until then, The Bourne Legacy is one of those spin-off sequels that some will like and others maybe even love, while most will find it to be worth a mere rental or purchase from the bargain bin.
-
John DiBiase
(reviewed: 8/10/12)
Parental Guide: Content Summary

Sex/Nudity
: None.

Vulgarity/Language
: At least 10 "S" words, 1 "g*dd*mn," 17 "h*ll," 3 "a" words, 4 "J-sus," 1 "For Chr-st's sake," 1 "S.O.B," 7 derivatives of "G-d"

Alcohol/Drugs
: Aaron and other assets in the same program take drugs that change their chemical make-up and enhance their body and mental capacity.

Blood/Gore
: We briefly see the reporter from
Bourne Ultimatum
take a bullet to his forehead (with just a flash of a dot on his forehead) and fall over. This is shown as TV footage; Aaron takes a blade and slices into his side and digs around to remove a tracking device. We see the blade cutting the skin and blood as he pulls out the device; We see some bloody gauze and bandages on the snow afterwards; A man shoots up a lab full of white coat doctors. As such, we see several victimes with bloody spots on the back of their coats, some with more than just a couple blood spots, indicating where they'd been shot; We see Marta push a needle into Aaron's arm; We see blood on the shoulder of Aaron's jacket; A man is thrown from a motorcycle and we see some blood on their face and clothes; Marta touches Aarons clothed leg and finds blood on her hand; We see flashbacks of a severely beaten up Cross as he was agreeing to be in the Outcome program and he has dried blood all over one side of his face and a very bloodshot eye on the other side of his face; A motorcycle crashes into a pillar and we see the victim fly off like a rag doll (not really bloody or gory, but very startling when it happens)

Violence
: A cabin explodes from a missile, killing a person inside; Aaron uses a knife to cut a tracking device out of his side; We see flashback footage of a reporter named Simon Ross being shot in the head and killed; Aaron wrestles a wolf and shoves a tracking device into its mouth. The wolf then chases Aaron and a missile blows up the animal before it reaches him; A man goes into a lab and locks the doors before opening fire on all of the people in the room. A man cowers under his desk and the murderer shoots at him, causing him to flee where he was hiding and then be gunned down. A woman is hiding on one side of a wall and pleads with the man not to shoot her and we then see just his gun repeatedly firing in her direction, killing her. Marta desperately flees the scene, locking herself in a storage room where the man tries to shoot her from the other side of the glass; Marta's home is invaded by a few government officials who then force her into a chair and try to twist her arm while holding her gun to shoot herself. Cross shows up and engages these people in hand-to-hand combat, shooting some and beating up others. It ends with the attackers all dead and Cross setting fire to the house; In a factory of sorts, several security guards approach Cross who then beats them up (twisting the arms and necks of some of the guards), subduing them. They then flee through a crowd where Cross knocks out the head of the factory who was chasing them and then escape. An asset chases Cross across rooftops in the Philippines while local cops chase Marta on the ground. Cross beats up several cops and then has a big motorcycle chase through the streets of the Philippines where many car and motorcycle crashes happen. It ends with a man on a motorcycle being shoved into a pillar and being thrown from the motorcycle. (And possibly some other action violence)
Disclaimer: All reviews are based solely on the opinions of the reviewer. Most reviews are rated on how the reviewer enjoyed the film overall, not exclusively on content. However, if the content really affects the reviewer's opinion and experience of the film, it will definitely affect the reviewer's overall rating.
To find out why we don't typically review R-rated movies,
click here