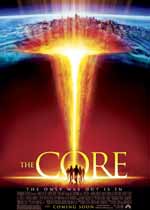 The Core


- for sci-fi life/death situations and brief strong language.
Director:
Jon Amiel
Starring:
Hilary Swank, Aaron Eckhart
Running Time:
2 hours, 15 minutes
Theatrical Release Date:
March 28, 2003
Plot Summary
When 17 people suddenly drop dead within a 10-block radius in Boston, geophysicist Dr. Josh Keyes (Aaron Eckhart) and French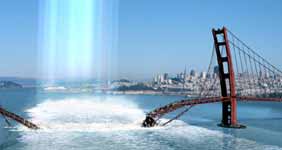 atomic weapons expert Dr. Serge Leveque (Tchky Karyo) are summoned by General Thomas Purcell (Richard Jenkins) to Washington, DC, to find out if the deaths are due to an attack from another country. But Keyes discovers that for reasons unknown, the earth's inner core has stopped rotating, causing the planet's electromagnetic fielt to rapidly deteriorate. At the same time, life as we know it begins to deteriorate as well, causing birds to lose their ability to navigate, whales to erratically change their migration patterns, and people with pacemakers to suddenly drop dead. The solution? Create a ship that can breach the core of the earth and give it a boost to start it back up, what else?
Armageddon 2 stars... Oh, uh... Sorry. I mean, The Core is the latest apocalyptic fantasy/adventure film to hit the silver screen. While 1998 produced two meteor-related disaster flicks, 2003 offers the a end-of-the-world adventure that begins when the Earth's core stops circulating. What unfolds is science that hardly makes sense but allows the imagination to stretch and offer an enjoyable two hours of visible effects and moderately witty dialog. The Core seems to realize the preposterous plot and science it displays and proceeds to remedy it with healthy helpings of humor and decent acting. So where does the film go wrong? The problems lie within the plot that many will find too hard to swallow and the lack of star power or must-see effects keep this film grounded. It's not surprise why it hasn't become a big blockbuster hit, but with an open-mind, it's not a hard movie to enjoy.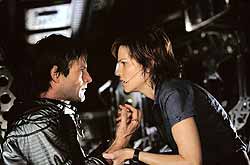 In the content department, The Core is surprisingly clean for the kind of genre it fits into. Blood/gore is severely minimized considering it's disaster film status. Language is moderate with 1 "f" word and an assortment of other colorful words. Finally, sexual content is also kept to a bare minimum with merely 2 brief references.
The Core, although enjoyable, lacked a firm and plausible plot and jaw-dropping effects or virtually anything the audience hasn't seen before. While the idea seemed relatively original (except more like a modern Journey to the Center of the Earth minus the dinosaurs), it just felt more like a sequel or sibling to Armageddon than its own film. But if you can suspend your concept of reality for a couple of hours on a rainy day, The Core is an intense journey that would be the perfect popcorn flick for you. And you know the drill (ha, no pun intended), if you have any questions or comments about the film before you see it (if you decide to), feel free to contact me.
-
John DiBiase
(reviewed: 4/16/03)
Parental Guide: Content Summary

Sex/Nudity
: Rat makes two minor comments.

Vulgarity/Language
: 1 "f" word, 3 "J-sus," 2 "s" words, 12 "h*ll," 8 "d*mn," 1 "a" word, 1 "cr*p," 13 uses of "G-d"

Alcohol/Drugs
: Some people drink; Josh gets drunk at a bar.

Blood/Gore
: We see a blood trickle down a man's forehead from inside of their helmet; A man's arm is red from being burned.

Violence
: Swarms of birds lose control while in flight and begin crashing into things, including cars and cause numerous accidents. A man is punched by another. Other disaster-related violence.
Disclaimer: All reviews are based solely on the opinions of the reviewer. Most reviews are rated on how the reviewer enjoyed the film overall, not exclusively on content. However, if the content really affects the reviewer's opinion and experience of the film, it will definitely affect the reviewer's overall rating.
To find out why we don't typically review R-rated movies,
click here