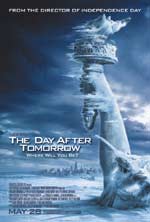 The Day After Tomorrow


- for intense situations of peril.
Director:
Roland Emmerich
Starring:
Dennis Quaid, Jake Gyllenhaal
Running Time:
2 hours, 4 minutes
Theatrical Release Date:
May 28, 2004
Official Site
Plot Summary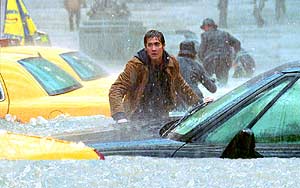 In Independence Day, Roland Emmerich brought you the near destruction of the earth by aliens. Now, In The Day After Tomorrow, the enemy is an even more devastating force: nature itself. Tornadoes rip through Los Angeles; a massive snow storm pounds New Dehli; hail the size of grapefruit batters Tokyo; and in New York City, temperature swings from sweltering to freezing in one day. (from TheDayAfterTomorrow.com)
Film Review
There's just something about big dumb disaster movies that are appealing. Of course it's nowhere near 'cool' when disasters happen in real life, but there's something about just shutting your brain off and watching a disaster/action film that can genuinely be fun. The Day After Tomorrow is director Roland Emmerich's third turn at demolishing U.S. cities on film, following his successful outtings Independence Day and Godzilla. Those films have never been known for their acting, story, or dialog, but will never be forgotten as disaster thrill rides. Weather goes awry in The Day After Tomorrow, making way for a plot that's silly, political, and farfetched, but entertaining nonetheless.
Disaster films are a genre that need to be appreciated to enjoy. We've come to expect camp and cheese when viewing these films and Emmerich makes no bones about this. It's clear that he is more concerned about taking home an Oscar for visual effects than for acting or screenplay. So this does indeed pose an interesting question: Is there anything redeemable about The Day After Tomorrow aside from the effects?
The actor lineup includes Dennis Quaid as the lead with Jake Gyllenhaal, known best for roles in many indie films, as his son. Emmerich unfortunately doesn't give the actors much to work with in the dialog department and it shows. Another problem is Emmerich does a poor job providing logical backstory and reasoning behind the actions for the main characters. (Minor plot spoilers ahead) We know from the beginning that Quaid's character Jack is a climatologist who clearly spends a lot of time away from home. Because of this, it appears that he and his wife are either separated or divorced and that his 17-year-old son Sam (played by 23-year-old Gyllenhaal) borderline hates his guts and wants little to do with him. We also never clearly understand why Jack feels the need to trek from Washington D.C. all the way to New York in lethal temperatures to try to reach his quite able 17-year-old. My only assumption is he feels so regretful for being a crummy father that he feels leaving his son out in the cold (no pun intended) would just be icing on the cake and risking his life to be there for his son is the least he could do.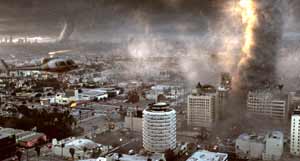 Another problem is the political nature of the film. Despite the fact that the premise is pretty silly (at least it's explained quite poorly), the picture Emmerich paints of the president and his stooge of a vice president are far from flattering (and it's an obvious dig at the current presidency). While Indepence Day at least cast Bill Pullman in the presidential role and made the viewers like him, Day After... gives you little simpathy or emotional attachment to our country's leadership and frankly we could care less if they make it out of Washington or not. Finally, you're liable to be rolling your eyes and laughing when we finally get to hear the classic (yet brief here) presidential speech that's present in every disaster film.
The violence is what can be expected from a disaster film. We see buildings torn apart; cars crushed to bits, being thrown around, overturned; people hit by debris, consumed by large amounts of water, frozen to death; etc. Surprisingly, the graphic nature of the violence is extremely minimal, considering. The only blood we see in the film is an infected wound on a character's leg, a scrape on another's leg, and some blood on two people's hands at different times. Language is also quite minimal with 2 "s" words and a few other exclamations. Spiritually, the movie is void of anything. While Quaid's character suggests prayer as an only hope for survival, a random survivor suggests saving a book by Nietzsche (instead of burning it to keep warm), because of his brilliance (or some other laughable tripe like that). Later we see that same survivor clutching a Bible and stating he doesn't believe in God but wants to save the book because it represents mankind's literary achievement. Yeah, all of these moments are downright laughable, but it's a shame that Emmerich had to waste our time bringing Nietzsche into the mix and introduce an agnostic character.
As a whole, The Day After Tomorrow is one big, dumb, stupid, but fun disaster film. While it could have been much smarter and organized, it's not much worse than other films like it. While it strives to have the heart it needs for us to care, it still manages to come up short in that department. So, if you're in the mood for a mostly benign but violent disaster film, shut your brain off or leave it at home, and check out The Day After Tomorrow.
-
John DiBiase
(reviewed: 5/29/04)
Parental Guide: Content Summary

Sex/Nudity
: We see a man in San Francisco lying on top of a woman on top of a couch kissing her and unbuttoning her shirt. They're quickly interrupted, however, and nothing else happens. After being in freezing cold water, Sam strips down to his boxers and Laura (still full clothed) holds him tightly against her to try to warm him up. Later in the film, we see a short, passionate kiss between the two of them.

Vulgarity/Language
: 2 "s" words, 4 "d*mn", 2 "h*ll", 1 "a" word, 5 "Oh my G-d", 6 "G-d"

Alcohol/Drugs
: Some characters share a drink when they realize they're not going to survive the storm.

Blood/Gore
: We see some blood on the face and hand of a man following a helicopter crash. We see some blood float through water when Laura cuts her leg on a submerged car. While trying to support themselves up against a broken piece of glass, we briefly see some blood ooze from their hand. We see the cut on Laura's leg is now infected and pretty gross-looking. We see some blood on J.D.'s pant leg after he has been bitten or scratched by an animal. We see many frozen and dead bodies (but they aren't gory or anything - it may be disturbing to some)

Violence
: Disaster-related violence. People are killed by tornadoes, flying debris, tidal waves, frozen to death, a person falls to their death in sacrifice for another, etc.
Disclaimer: All reviews are based solely on the opinions of the reviewer. Most reviews are rated on how the reviewer enjoyed the film overall, not exclusively on content. However, if the content really affects the reviewer's opinion and experience of the film, it will definitely affect the reviewer's overall rating.
To find out why we don't typically review R-rated movies,
click here