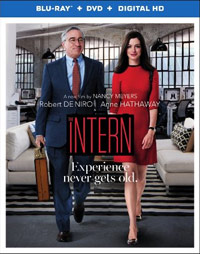 The Intern


- for some suggestive content and brief strong language.
Director:
Nancy Meyers
Starring:
Robert De Niro, Anne Hathaway, Rene Russo, Anders Holm
Running Time:
2 hours, 1 minute
Theatrical Release Date:
September 25, 2015
Official Site
Blu-Ray Release Date:
January 19 (
Amazon.com
)
Plot Summary
70-year-old widower Ben Whittaker has discovered that retirement isn't all it's cracked up to be. Seizing an opportunity to get back in the game, he becomes a senior intern at an online fashion site, founded and run by Jules Ostin. (from IMDB.com)
Film Review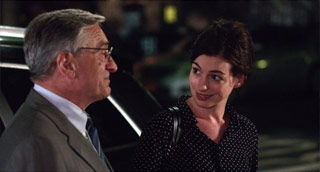 Best known for her previous directorial outings, The Holiday (2006), Something's Gotta Give (2003) and What Women Want (2000), Nancy Meyers takes a different approach to the romantic comedy with The Intern, giving audiences a comedic and heartwarming look at more of an unlikely friendship than a romantic one. The film centers on Ben, played by Robert De Niro, a retired widower who is 70 years old when he decides to apply for a "senior internship" at a local startup company. Ben gets the job, but the neurotic go-getting company head, Jules Ostin--played by Anne Hathaway--isn't too keen on his presence or his observant nature. Still, the two end up hitting it off and Ben's eager-to-please personality ends up becoming quite the benefit for Jules and her company -- especially when her personal and professional life starts to get unhinged.
The Intern suprisingly has a lot of moving parts to it. Aside from being about Ben's journey as a retired hardworker from a bygone age--and dealing with life on his own after his wife had passed away only a couple years earlier, it's also very much about Jules' journey as a working mother with a stay-at-home-dad husband while running a super-fast-growing online retail company. On top of that, it covers several themes including feminism, old school values, how men have been downgraded to "boys" in society, spouses who are workaholics and how that affects their marriage, and what an affair can do for a relationship or marriage. Furthermore, The Intern is a comedy, so Meyers does her best to keep things light, even as the topics turn rather heavy. And, for the most part, it does work.

One of the most fun moments of the film is actually an unexpected heist where Ben and the younger interns must break into someplace to retrieve something. Meyers even enlists a track from the soundtrack of the 2001 Ocean's 11 remake as one of the interns excitedly realizes they're just like Ocean's team. Jules' daugther Paige is cute and very funny, and several of the employees at Jules' office turn out to be rather enjoyable. But obviously, De Niro and Hathaway take the cake and serve as a really wonderful pair here. De Niro is charming and really embodies the hardworking and classy values of his day. When Hathaway points at the young, wimpy hipster guys who are interns along with Ben and asks rhetorically whatever happened to men like Jack Nicholson and Harrison Ford, it's a truth that hits hard; society seems to be determined to keep boys as boys--never becoming "men," and in a movie where we're constantly reminded of feminist views and the strenth of women, it's an interesting point to make note of.
While I found The Intern largely enjoyable, a few things didn't work quite as well. For starters, the musical score was often too whimsical and felt more like the kind of music you'd hear in a romantic comedy trailer. That kind of music often works in trailers, but as a soundtrack to a film, it just feels forced and out of place (if not wholly unnatural). Another thing is that the tone of the film is a tad uneven. This whimsical, upbeat tone is common for romantic comedies and it kind of paints normal people as just caricatures rather than real-life characters, and it makes the film feel a lot less realistic. I suppose that's fine if the movie sticks to that vibe, but once some heavy real-life topics come into play, like the revelation of a marital affair, things start to get much more serious.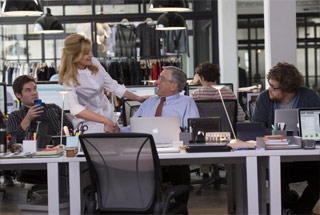 The content for the film overall doesn't feel that rough, which makes it's edgier moments more surprising. For example, one intern uses the "F" word in a comedic moment, while another woman mouths it to Ben in another humorous encounter (and while she's giving him the middle finger). Most of the rest of the language throughout the film is just "Oh my G-d" and related variations of the exclamation. There's also some sexual humor, like Ben getting unintentionally aroused by the office massage therapist giving him a really good lower back rub. In their next massage encounter, someone walks in on them as she's rubbing his calves and from their angle behind her, it looks like she's giving him oral sex (but she isn't). Then there's the topic of a man cheating on his wife and how that affects people around them, and that becomes a surprising and weighty topic in the movie.
The Intern might be a little hit and miss, but a great cast and a decent script make the film a step above the genre's usual offerings, with everyone seeming to put in their best efforts to get the job done.
-
John DiBiase
(reviewed: 1/14/16)
Blu-Ray Special Features Review
The Intern
arrives on Blu-Ray in a DVD/Digital HD combo pack, on DVD, and through the usual digital providers. It's crisp and clear and looks vibrant in high definition. The special features include the following:
Living from Experience (4:46) is the first featurette and talks about Nancy Myers movies and her style as a filmmaker. Here, Nancy talks about the film as being not the usual romantic comedy, but more of an "unlikely friendship" movie.
Designs On Life (6:07) - The cast talk about Nancy's movies and moviemaking style, as well as the look and design of the sets and wardrobes.
The Three Interns (5:46) - The 20-something guys who are interns with De Niro's character are interviewed here and talk about the film, their characters and working with Robert. The best part is when they frankly joke about De Niro's classic "Robert De Niro" facial expression.
-
John DiBiase
,
(reviewed: 1/14/16)
Parental Guide: Content Summary

Sex/Nudity
: One of the young guys at the office admits to sleeping with his girlfriend's roommate (and apparently feels bad about it); Fiona, the office massage therapist, gives Ben a seated, clothed massage that includes his lower back and his hips. One of the guys sitting next to him looks down at his crotch and laughs. They give him a paper to put on his lap, and as he does it, we briefly see his pants raised in the middle as he has an erection. After the massage, she gives him her card and Ben acts flustered; Jules crawls into bed and tries to get her husband Matt to "sleep" with her. She rubs his back and says, "Is there anybody home?" He says he's too tired and asks to reschedule and the scene ends; Fiona massages Ben again, but this time in her office. He leans back and she rubs his feet and up his pant leg to his calves. He moans in pleasure over how good it feels, and someone walks in the room. They see from behind Fiona as she's leaning over to massage Ben's legs and it looks like she's giving him oral sex. The man panics and apologizes and leaves, but obviously that's not what was happening; Jules and Matt kiss passionately in bed before "sleeping" together (the scene ends before things escalate past kissing); Ben accidentally sees a married man leaving his wife's home and getting in a car with another woman, meaning he's having an affair. Later, Ben has a conversation with the man's wife where she tells him about the affair and how distraught she is; A man apologizes for having an affair and insists it's over; Jules goes to Ben's apartment one morning and finds Fiona in the kitchen. We find out she apparently slept over.

Vulgarity/Language
: 1 "F" word, 4 "a" words, 1 "S.O.B," 2 "b*tch" (1 written in a text), 1 "F-ed up" in a text, 3 "Oh G-d," 3 "G-d," 15 "Oh my G-d"; A woman gives Ben the finger and mouths "F--- you" just as someone in the foreground pushing a cart of flowers walks past her, briefly blocking her mouth as she says it.

Alcohol/Drugs
: Jules takes the interns out for drinks at a bar and they all have some. Afterwards, we see Jules getting sick over a garbage can in the street as she's had too much to drink.

Blood/Gore
: None.

Violence
: A woman driving Jules pulls out into the street without looking and nearly gets into a couple accidents.
Disclaimer: All reviews are based solely on the opinions of the reviewer. Most reviews are rated on how the reviewer enjoyed the film overall, not exclusively on content. However, if the content really affects the reviewer's opinion and experience of the film, it will definitely affect the reviewer's overall rating.
To find out why we don't typically review R-rated movies,
click here