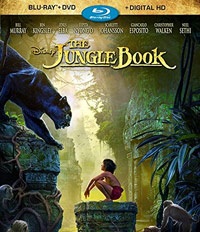 The Jungle Book


- for some sequences of scary action and peril.
Director:
Jon Favreau
Starring:
Neel Sethi; voices of Bill Murray, Ben Kinglsey, Idris Elba, Lupita Nyong'o, Scarlett Johansson, Christopher Walken, Garry Shandling
Running Time:
1 hour, 45 minutes
Theatrical Release Date:
April 15, 2016
Blu-Ray Release Date:
August 30, 2016 (
Amazon.com
)
Plot Summary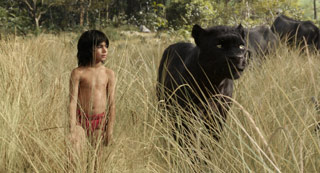 Directed by Jon Favreau ("Iron Man," "Iron Man 2," "Elf") and produced by Favreau and Brigham Taylor (executive producer of "Pirates of the Caribbean: Dead Men Tell No Tales," "Tomorrowland"), "The Jungle Book" is a live-action epic adventure based on Rudyard Kipling's timeless stories, inspired by Disney's classic 1967 animated film and centered on Mowgli (Neel Sethi), a man-cub who's been raised by a family of wolves. But Mowgli finds he is no longer welcome in the jungle when fearsome tiger Shere Khan (voice of Idris Elba), who bears the scars of Man, promises to eliminate what he sees as a threat. (from Walt Disney Pictures)
Film Review
While I think a lot of moviegoers are getting fed up with all of the remakes these days, Walt Disney Pictures is no stranger to remaking fan favorite films. In 1994, the studio made a live action remake/quasi-sequel to The Jungle Book in live action form. It's been long forgotten by now, but it marked the first time the story had gotten the live action treatment. For 2016, The Jungle Book comes back to the big screen as a live action movie, however, due to its use of modern technology, it's pretty much another animated film. Allow me to elaborate...
In 2004, an entertaining (and oddball) blockbuster film called Sky Captain And The World Of Tomorrow hit the big screen. For this film, the actors performed in front of a blue screen for every scene. There wasn't a single on-location portion of the film. It worked sometimes and was clearly an experiment, but it was also often obvious at times that the actors were merely acting within a synthetic environment. The following year, Star Wars Episode III: Revenge of the Sith was largely filmed the same way (but not exclusively all blue screen), much to the dissatisfaction of diehard original Star Wars fans. The biggest problem was that the technology just wasn't quite "there" yet. But in 2015, director/actor Jon Favreau (most known for directing Elf, Zathura, and Iron Man 1 and 2), spent 9 months in a studio with a young new actor named Neel Sethi acting around blue screens. And honestly? It's tough to tell that that was the case while watching a good portion of The Jungle Book.
It seems like the average movie watcher can't really tell the difference between CG environments and real ones -- when it's done right. I really didn't know that's how this film was made until I watched the special features. I thought for sure at least SOME of the film was shot on location in Africa or a jungle or something. But, apparently, only the occasional patch of ground with leaves and plants made up physical set pieces (still on a sound stage) with the rest being filled in with computer animation. The end result is truly remarkable. There are a few scenes where I figured it was a CG environment, but I was otherwise fooled by how incredible the effects and animation are. Every single animal on screen was created digitally -- and sometimes from actors in motion capture suits. I'm a firm believer in practical sets and not overloading a movie with too many effects shots and computer animation, but The Jungle Book is an incredible accomplishment. And I have to credit Favreau's attention to detail and skilled directing abilities for pulling it all together and making it work. I've yet to see a bad film from this director and I think The Jungle Book just proves he's getting even better.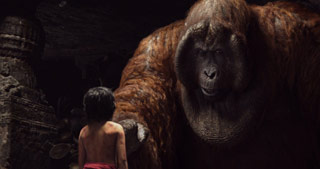 The animals are wonderfully done as well. I think it's pretty obvious that they're CG creatures -- especially Baloo the bear and Bagheera the panther -- but Shere Khan the tiger and King Louie the orangutan are often eerily lifelike. If it were not for their mouths moving as they speak English, there are moments where you could bet they were real animals. The voice acting is also topnotch across the board. To honor the fact that the original 1967 animated film, The Jungle Book, was the first Disney animated film to utilize celebrity voices, Favreau packed his version of the film with some excellent talent and recognizable voices. Ben Kingsley provides the voice for Bagheera the panther, also serving as the story's narrator, and he brings a great elegance to the film. Bill Murray is a great choice for Baloo, although he does often sound exactly like his portrayal of Garfield from those films. Scarlett Johanssen offers an intriguing take on the snake Kaa, while Christopher Walken proves to be an inspired choice to play King Louie. Finally, Idris Elba is appropriately menacing as the villainous Shere Khan. There was a classiness to Shere Khan in the original film and Elba brings a hint of that to the far more evil update of Mowgli's foil. The only live action cast member, newcomer Neel Sethi, is pretty good as the "man cub" Mowgli. There are moments where I wasn't sure he was a good fit, but I definitely warmed up to him by the film's end, even finding him to have been a pretty solid casting for Mowgli.
If you're wondering about the rating and content, I thought Favreau found a pretty good balance between kid-friendly and family-friendly. He admitted in the making-of feature on the Blu-Ray disc that when he'd read the script, there was more of a leaning towards a darker, more PG-13 tone. Thankfully, Favreau pulled it back quite a bit and kept the violence to more of a minimum. The creepier scenes are by far the Kaa encounter and King Louie's menacing presence; both characters aren't quite as light and fun as they were in the 1967 film. However, I'd say the film's overall tone is a little lighter than the trailer seemed to suggest. There is plenty of violence, though, including Khan killing an animal by throwing it off of a cliff and killing another character in a flashback. The finale is also a bit intense as the animals confront Shere Khan and a fire breaks out in the jungle. Lastly, Mowgli is only wearing a loin cloth for the entire film, so he's often sporting scrapes and bruises from scene to scene. In his encounter with Shere Khan, he's slashed in the chest by claws at one point, so we see some blood dripping down his chest.
Overall, I was quite impressed by Disney's updated take on The Jungle Book. Everything about this production is quality and impressive; if you're a fan of any one of the cast - and especially the original animated classic - you shouldn't miss this wonderful cinematic treat.
-
John DiBiase
(reviewed: 8/28/16)
Blu-Ray Special Features Review
The Jungle Book
is available in a Blu-Ray/DVD/Digtial combo pack, on single disc DVD, and through the usual digital movie providers. A 3D Blu-Ray release is not available right now, but it has been announced to release later this year (like the studio has done with
Star Wars: The Force Awakens
). The Blu-Ray release of
The Jungle Book
includes a decent set of bonus features, but I have to wonder if they're saving more features for the 3D release. The film offers incredible visuals that need to be experienced in high definition to truly appreciate, so I wouldn't recommend seeing it any other way. The special features on this Blu-Ray disc include: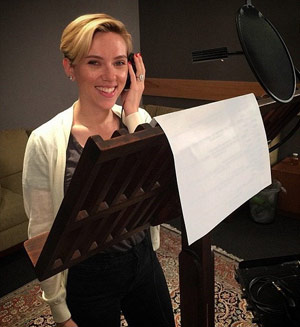 The Jungle Book Reimagined (35:02) - This featurette is the cream of the crop for the extras on this release. Director Jon Favreau and the film's producers talk about paying homage to the 1967 original and creating a live action film using a completely digital environment. They discuss the challenges of the production and pushing the technology further than it has been pushed before. We also learn that the book prop featured in the credits in this film is actually THE book used in the 1967 version, too. The stellar voice cast is covered in detail here, with great footage of the actors in the studio, as well as interviews with most of them. It also includes a segment about composer John Debney's new score for the film and incorporating some of the original film's classic themes into the musical score. (1 "Oh my God," 2 "cr*ppy")
I Am Mowgli (8:18) is all about casting the main character of The Jungle Book. We learn here that they had looked at over 2,000 kids before settling on Neel Sethi, who was completely new to the acting scene. We hear from Neel himself and get to see some great on-set footage of him interacting with Favreau, actors in motion capture suits, and even entering the audio recording booth with the actors as they recorded their lines for their respective animals. (1 "Oh my God")
King Louie's Temple: Layer by Layer (3:14) - Here we see John Debney in the studio as he introduces the legendary Richard Sherman (who wrote some new lines for the classic song, "I Wan'na Be Like You"). We're then treated to a montage of "I Wan'na Be Like You" as we see footage from the movie, storyboards, Christopher Walken in the studio, etc, to get a glimpse of all of the various stages during the production of the song.
Finally, to round out the disc's special features, is a feature-length Audio Commentary from director Jon favreau.
-
John DiBiase
,
(reviewed: 8/28/16)
Parental Guide: Content Summary

Sex/Nudity
: Mowgli is seen only in a loin cloth for the entire film.

Vulgarity/Language
: None. (1 "heck" is about as harsh as the movie gets)

Alcohol/Drugs
: None.

Blood/Gore
: Throughout the entire film, Mowgli has scrapes and abrasions on his bare chest, shoulders, arms and legs; Mowgli has a long, bloody scrape on his knee; Mowgli finds a gigantic snake skin in the forest and picks it up, studying it briefly; Shere Khan has scars all over his face with one of his eyes being white; We see bee sting welts on Mowgli's body; We briefly see some vultures picking at bare bones; Shere Khan slashes Mowgli's chest, causing a large scrape on his shoulder/chest that drips blood.

Violence
: The movie opens with Mowgli running with the wolves. He then gets tackled by a panther, and we learn that he was being taught a lesson about being hunted; Shere Khan fights Bagheera (with Khan jumping at the screen). He slashes Bagheera's face and chases Mowgli who runs into a herd of bison. The bison then stampede around him; Shere Khan tosses Akela off a cliff to his death; We see a rock and mudslide which forces Mowgli to jump into a river during a terrible storm; We see a flashback/vision of a forest on fire. We then see Shere Khan lunging at a man and attacking him. We hear that the man was killed and we see the man's torch burn Shere Khan's face; Kaa wraps herself around Mowgli. As she lunges at him to eat him, a large bear attacks Kaa; Mowgli gets stung by bees while trying to steal some honey for Baloo; We briefly see some vultures picking at bare bones; Monkeys chase Mowgli, Baloo and Bagheera and attack them (and they fight back). Louie chases Mowgli, bashing through a large temple while trying to grab him. Meanwhile, Baloo swats away monkeys that tackles him. The temple then collapses onto Louie as Mowgli escapes; We see a forest/jungle set on fire; Baloo and Shere Khan fight, with Khan biting Baloo in the neck. The wolves gang up on Shere Khan and then Bagheera attacks him. Mowgli draws Shere Khan away into the jungle for them to fight one-on-one; Shere Khan corners Mowgli inside of a hollowed-out tree and slashes his chest, drawing blood; Shere Khan falls from a tree into fire below.
Disclaimer: All reviews are based solely on the opinions of the reviewer. Most reviews are rated on how the reviewer enjoyed the film overall, not exclusively on content. However, if the content really affects the reviewer's opinion and experience of the film, it will definitely affect the reviewer's overall rating.
To find out why we don't typically review R-rated movies,
click here