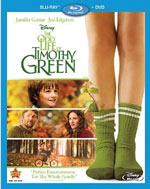 The Odd Life Of Timothy Green


- for mild thematic elements and brief language.
Director:
Peter Hedges
Starring:
Jennifer Garner, Joel Edgerton, CJ Adams, Ron Livingston, Odeya Rush, David Morse, Rosemarie DeWitt
Running Time:
1 hour, 45 minutes
Theatrical Release Date:
August 15, 2012
Blu-Ray Release Date:
December 4, 2012 (
Amazon.com
)
Official Site
Plot Summary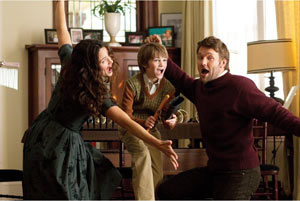 From Academy Award-nominated writer/director Peter Hedges (Dan in Real Life, What's Eating Gilbert Grape), and starring Golden GlobeŽ winner Jennifer Garner, Joel Edgerton, OscarŽ winner Dianne Wiest and CJ Adams as Timothy Green, comes this highly imaginative story about a happily married couple who can't wait to start a family but can only dream about what their child would be like. Then one stormy night young Timothy shows up on their doorstep. Soon they and the small town in which they live learn that sometimes the unexpected can bring some of life's greatest gifts. (from Click Communications)
Film Review
Upon seeing a trailer for
The Odd Life Of Timothy Green
, a Disney drama about a miraculous event that happens to a couple who find that they aren't able to conceive a child for themselves, I was equal parts intrigued and concerned it will be a tear-jerker. However, it's a family-centered film directed by
Dan In Real Life
's Peter Hedges, so with that in mind, you can expect a smart and well-acted and told family story with a twist.
Dan In Real Life
has easily become one of my favorite films, so knowing upon watching the movie that Hedges was in the director's chair gave this reviewer hope... and I wasn't let down.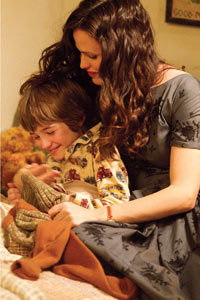 Let me just start by saying that The Odd Life Of Timothy Green is certainly not a film for everyone. The biggest deterrent for some watchers may be the fantastical elements of the story. In short, this couple--Jim and Cindy--have an impulsive evening when, out of discouragement in not being able to conceive a child for themselves, imagine up all of the character traits they wish their child could have had. From "a good heart" to "honest, to a fault," they write all of their wishes down on paper, put them in a box and bury them in their garden. That same evening, it rains heavily and out pops a ten year old boy who turns out to be their son (this isn't really a spoiler, as this all happens in the beginning of the movie). The movie actually opens with Jim and Cindy trying to relate their experiences with raising Timothy to two adoption agency officials. It's from scene one of the film that we know Timothy doesn't stay around, which is kind of a spoiler to the viewer in itself, but knowing that right away does help prepare the viewer for the story that lies ahead. But the biggest problem I think some viewers will have with the story is that it is never explained as to why Timothy grew out of the ground and why his time spent on earth is so limited. It's the kind of detail that caused many a viewer to find the unexplainably magic mailbox in The Lakehouse a hard concept to swallow. Obviously this major detail is a dealbreaker for some movie watchers, but I found it minor in the grand scheme of the story the filmmakers are trying to tell here.
The main theme of The Odd Life Of Timothy Green is family. Like Dan in Real Life, the movie is given a smalltown, close-knit group of family to center the story around, but the Greens do have considerably more complex drama wrapped in it. Steve Carell's Dan was learning to move on from losing his wife and now being left to raise three daughters on his own, while here, the Greens are struggling to get used to their newfound parenthood and adjusting to having a very special child that the world isn't really ready for. Within this dilemma are the family dynamics of Cindy's older sister and Jim's father. Cindy's sister Brenda brags about her own biological children and takes every opportunity to make Timothy look like an oddball. Meanwhile, Jim's father, AKA "Big Jim," proves to be an emotionally distant and impossible-to-please model of parenthood to Jim that he does not want to repeat with Timothy. These power plays and family dramas are very real and honest and cause both Cindy and Jim to be forced to grow and learn as parents through the process. In the end, Timothy's presence brings the family closer together in miraculous ways and renews the hope that Cindy and Jim were beginning to lose at the beginning of their story.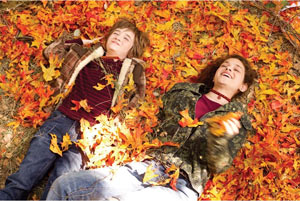 As a whole, The Odd Life Of Timothy Green is a really beautiful film. There's a hint of idealism in the mix, but Hedges keeps it relatable, familiar and grounded enough--while still having an element of whimsy due to the presence of Timothy--to give it a little bit of the indie feel that Dan In Real Life had without losing the bigger scope that this more "magical" tale is intending to convey. Jennifer Garner and Joel Edgerton are both lovable as Cindy and Jim, while Dan In Real Life's CJ Adams takes on the title character of Timothy Green with all the warmth the child needs to pull off the character right. Hedges knows how to tells his stories with feeling and it allows The Odd Life Of Timothy Green to be a tear-jerker for people who don't normally like tear-jerkers. And while there are sad elements to the story, Hedges does not wallow in them, allowing hope to be the winning theme of the film when all is said and done.
The content of the film is almost squeaky clean. The PG rating is for the thematic material and "language," but one use of "h*ll" and a few exclamations of "G-d" were the only noticeable objectionable language present. And while the movie is clear about Cindy and Jim "trying" for a child of their own, it's never spoken about frankly or explicitly. Content-wise, the movie is appropriate for the whole family, but it is a bit thematically heavy as it even briefly involves the passing of a grandfatherly uncle in the family.
The Odd Life Of Timothy Green is a heartwarming tale of family and never giving up hope when all hope is lost. In the hands of a different director, it probably wouldn't have been as well done as it is, but with Peter Hedges at the helm--and a wonderful cast in front of the lens--The Odd Life Of Timothy Green is a wonderful family movie that may not be perfect... but neither are our families.
-
John DiBiase
(reviewed: 1/5/13)
Blu-Ray Special Features Review
The Odd Life Of Timothy Green
is available in a Blu-Ray/DVD combo pack or on a single-disc DVD, and of course the usual digital retailers. The film looks beautiful in HD and is about as crisp and vibrant as they come. Along with the feature film is a feature commentary, as well as the following extras...
This Is Family (10:12) is dedicated to the family aspect of the film and families in general. Peter Hedges talks about working with story writer Ahmet Zappa, while Jennifer Garner, Joel Edgerton, CJ and other major cast members talk about working with Peter, as well as reflecting on the story itself. It's a wonderful featurette because it's clear everyone really enjoyed making this film!
The Gift of Music (9:15) is dedicated to the music in the film, which was composed by Geoff Zanelli. Hedges has never worked with a real film composer before and we hear here from Zanelli and Hedges as they reflect on the music and the moments in the movie that are represented by it. The featurette also spends time with Hedges and artist Glen Hansard, who wrote and performed the song "This Gift" for the film.
"This Gift" Music Video Performed By Glen Hansard (4:41) is the official music video for the song "This Gift," by artist Glen Hansard. It incorporates scenes from the film while Glen performs at a piano.
Deleted Scenes (5:46) - There are five deleted scenes with optional commentary from director Peter Hedges. "Remembering Bubbles" takes place at Uncle Bub's funeral where his wife presents Cindy with the painting she made as a child and had thrown away but Bub had saved (It's mentioned earlier in the movie but not shown). It's a bittersweet scene but at least part of it probably could have been left in. "Neighbor" features Timothy raking leaves and their neighbor comments on how the leaves keep falling (1 "d*mn"). "Discovery" is a short scene between Cindy and her gardner friend. In "You're a Ficus," the gardener tells Timothy that he has ficus leaves. "A Mess" is a disposable scene with the aforementioned neighbor commenting on a mess in the garden being too messy to have been made by a raccoon. (I can definitely see why the neighbor scenes were cut.) All of the deleted scenes are pretty short and not especially important, but they're decent additions here on the disc.
-
John DiBiase
,
(reviewed: 1/4/13)
Parental Guide: Content Summary

Sex/Nudity
: It's not frankly spoken about, but we learn that Cindy and Jim have been trying for a baby but it doesn't work out.

Vulgarity/Language
: 1 "h*ll," 3 "G-d," 1 "Oh, G-d," 1 "oh dear G-d"

Alcohol/Drugs
: Cindy and Jim drink wine while making up a wishlist of their kid's character traits.

Blood/Gore
: Joni has a little blood on her nose after Timothy accidentally kicks her in the head.

Violence
: A gardener tries to clip a leaf off Timothy's leg but it breaks his clippers; Timothy reacts to a girl pulling his sock down to look at his leaves by kicking her in the head; Franklin smacks his son in the head at the soccer game to encourage him to play better.
Disclaimer: All reviews are based solely on the opinions of the reviewer. Most reviews are rated on how the reviewer enjoyed the film overall, not exclusively on content. However, if the content really affects the reviewer's opinion and experience of the film, it will definitely affect the reviewer's overall rating.
To find out why we don't typically review R-rated movies,
click here