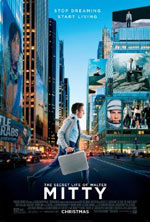 The Secret Life of Walter Mitty


- for some crude comments, language and action violence.
Director:
Ben Stiller
Starring:
Ben Stiller, Kristen Wiig, Adam Scott, Sean Penn, Shirley MacLaine, Kathryn Hahn, Patton Oswalt
Running Time:
1 hour, 54 minutes
Theatrical Release Date:
December 25, 2013
Official Site
Plot Summary
Ben Stiller directs and stars in The Secret Life of Walter Mitty, James Thurber's classic story of a day-dreamer who escapes his anonymous life by disappearing into a world of fantasies filled with heroism, romance and action. When his job along with that of his co-worker (Kristen Wiig) are threatened, Walter takes action in the real world embarking on a global journey that turns into an adventure more extraordinary than anything he could have ever imagined. (from MovieWeb.com)
Film Review

For at least fourteen years, The Secret Life of Walter Mitty has been largely talked about and in some kind of development for being brought back to the screen in a modern way. In 1947, a short story (from 1939) was turned into a big screen film starring Danny Kaye, but recent years have seen all kinds of popular names and directors attached to a remake, from Jim Carrey and Owen Wilson to Steven Spielberg and Gore Verbinski. But in 2013, comedic actor Ben Stiller took the title role and the director's chair to finally give people a new take on the famed tale.
From the initial ads and trailers, it was pretty apparent that The Secret Life of Walter Mitty would have a unique feel to it. From the music in the trailer to the cinematography, The Secret Life of Walter Mitty was shaping up to be an indie film with a fantastical feel: fun, poignant, and a little larger than life. And that's just the kind of movie the film is. Stiller steps into Mitty's shoes as a lonely archivist at LIFE magazine. The magazine (which, in real life, stopped publishing in 2007) is on the verge of being acquired and restructured. Immediately, the film takes on a dreary Fun With Dick and Jane / In Good Company corporate world feel where the old ways are being deep-sixed to make way for the changes in technology and pop culture. In The Secret Life..., Walter Mitty is a dreamer who is stuck in a nine-to-five job in the basement of LIFE where he handles the incredible photographic prints and negatives of the renowned photographer Sean O'Connell, but has never experienced even a modicum of the kind of adventure that Sean lives on a daily basis. We soon learn that Walter had always dreamed of traveling and seeing the world, but he'd never had the chance (or taken the risk). When Walter goes to process Sean's final shipment of negatives for the final cover of LIFE magazine, the picture Sean assigned to be the cover photo is missing. And since Walter is so devoted to his job, he sets out on a quest to find Sean and the photograph.
Stiller's indie approach to The Secret Life... actually adds to the atmosphere of the film. New York City is almost a prison for Mitty with its buildings as bars to keep him from busting out in his life. He has his romantic eye set on Cheryl Melhoff, played pretty low key by the versatile Kristen Wiig, and as the drama at work comes to a head, it gives him an opportunity to strike up a friendship with her. Meanwhile, throughout all of this, Mitty tends to just randomly "zone out," fantasizing about conversations he wishes he could have, or confrontations he wishes he could have. The first fantasy is one of the best, where Mitty imagines diving off of a bridge and through a window to save Cheryl's three-legged dog from a burning building. But in a close second is a street-level superhero-style asphalt-shredding brawl between Mitty and his boss that occurs when they come face-to-face in an elevator.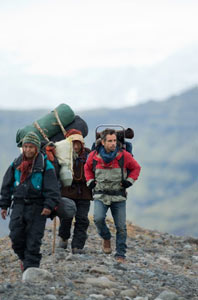 But while nearly each daydream of Walter's is quite entertaining and even funny, they pretty much come to a halt when he heads out on his own real-life adventure to find O'Connell and the missing photograph. His journey becomes almost hard to believe because of how seemingly unreal some of it truly is, but with the traveling taking the viewer to remote, beautiful locations like Greenland and the Himalayas, it's tough not to just want to enjoy the ride with Mitty. After all, the man has paid his dues and deserves to catch a break. So it's enjoyable to finally see him get to enjoy himself. He makes quite the character transformation and it's fun to live vicariously through him. The story encourages the viewer to leave the theater and live their lives to the fullest, to reach for their dreams and not rest till those dreams become reality. There's also a moment that sticks with you when a photographer gets the opportunity to take a potentially rare and coveted photograph but chooses just to watch it with his own eyes to take in the moment. It ends up being food-for-thought for a generation with a camera on every cell phone readily available at a given moment. There's something charming and classic about Stiller's Mitty that ought to give it longlasting value.
The content for this PG-rated family film is mostly mild, but there is some language to consider before viewing it. There's at least one use of the "S" word, 1 "J-sus" (said by the villain), a handful of uses of "Oh my G-d," and a couple uses of words like "d*ck," "h*ll" and the "a" word. It's not frequent, and this probably isn't a movie little kids would be interested in anyway, but it's something to keep in mind. Otherwise, there's a little drinking in a bar when Mitty runs into a drunk (and still drinking) pilot, and there's comedic violence, mainly with Walter fantasizing over fighting with his condescending boss and when he actually fends off a shark in the ocean later in the film. But, for the most part, The Secret Life of Walter Mitty is a surprisingly, and refreshingly, tame film.
Not perfect but very enjoyable, Ben Stiller's take on The Secret Life of Walter Mitty is a memorable one. It reminds us to not only appreciate life, but to also just get out and live it. And that's certainly not a bad thing to be reminded of.
-
John DiBiase
(reviewed: 1/15/14)
Parental Guide: Content Summary

Sex/Nudity
: There are a couple lines/comments that include mild innuendo. One has a foreigner trying to say the word "eruption" to Walter (about a volcano) and Walter thinks he says "erection;" A representative for eHarmony keeps calling Walter to help him fill out his profile on the website and often talks about attracting ladies and how Walter can better do that through his profile.

Vulgarity/Language
: 1 "S" word, 1 "J-sus," 2 "h*ll," 2 "a" words, 1 "d*ck," 6 "G-d," 2 "suck"

Alcohol/Drugs
: Walter encounters a drunk in a bar in Greenland and we see him still drinking while very drunk and he's supposed to fly a helicopter in just a few minutes.

Blood/Gore
: During a daydream where Walter and Ted fight, we see some bloody scrapes on their faces.

Violence
: Walter daydreams that he runs along a bridge and dives off of it through an apartment window. The building then erupts in flames and we then see him run out after having rescued a dog; Walter imagines fighting with Ted over a Stretch Armstrong doll while in an elevator and then it turns into a big, violent superhero-style fight in the streets before Ted taps Walter on the forehead to wake him up out of it; In real life, Walter jumps off a helicopter into the water below and is almost attacked by sharks. He hits one away with his briefcase; We see a car speeding away from an erupting volcano.
Disclaimer: All reviews are based solely on the opinions of the reviewer. Most reviews are rated on how the reviewer enjoyed the film overall, not exclusively on content. However, if the content really affects the reviewer's opinion and experience of the film, it will definitely affect the reviewer's overall rating.
To find out why we don't typically review R-rated movies,
click here