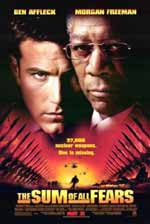 The Sum of All Fears


- for violence, disaster images and brief strong language.
Director:
Phil Alden Robinson
Starring:
Ben Affleck, Morgan Freeman
Running Time:
2 hours, 4 minutes
Plot Summary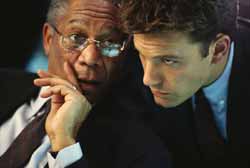 In 1973, an Israeli fighter jet carrying a nuclear bomb is shot down over the desert, burying the bomb in the sand. 29 years later, the bomb is found and sold to a group of terrorists with the goal of stirring up trouble with the United States. As the CIA begins to get wind of a nuclear bomb being created, tensions rise and the country behind the conspiracy remains a mystery. It's up to CIA agent Jack Ryan to get to the bottom of the crisis before a bomb is set off on American soil.
Film Review
The Sum of All Fears continues the series of Tom Clancy novels revolving around CIA agent character Jack Ryan adapted for the big screen. The film's plot involves terrorists in a kind of complicated plot that I won't reveal more of in case you decide to see it. Due to the terrorist-related plot, the material of the film may be unsettling considering current events at the time of the film's release on top of the September 11th 2001 still being fresh in many Americans' memories. What's buried beneath the sensitive subject is a well constructed thriller with good acting and a good story. While some might and will be turned off by the film's topic, others will be able to enjoy the thrilling story as the film it is.
My main complaint with the film is not the subject matter, but the language. Although I have heard worse in PG-13 films and other films like this one in nature, the brunt of the swearing was delivered by the president and his advisers. This, of course, is not only unnecessary for the story, but just seemed to weaken the credibility of the characters. First of all, James Cromwell as president is just plain bad casting, but it didn't really hurt the film. Although he does have one of those characters that if he were killed, you probably wouldn't care a whole lot. As far as violence go, not much physical violence is shown, but moreso aftermath violence. Three men are murdered, which although we don't see, we do see the moderately bloody results. Also, after an explosion, we see some characters have bloody cuts on them, and in a hospital setting, we see some bloody patients lying on tables. Concerning sexual content, there is one minor conversation about a possible politician-involved affair, and although there is no sex or nudity shown,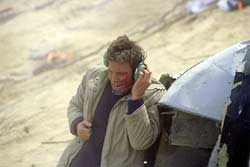 it's implied Jack and Cathy are sleeping together although just starting to date and we see them lying in bed together in one scene.
The acting was excellent in the film. Although I haven't seen any other Tom Clancy written films about his Jack Ryan characters (except for The Hunt for Red October), it may seem an odd match for Ben Affleck to replace a character most known for being portrayed by Harrison Ford. Affleck, although not your typical action/drama hero does well here. But the real show stealer here, as always, is actually Morgan Freeman who's character had originally been written into the story to make for a younger Jack Ryan than Ford had played. Freeman just has charisma and a magnetic personality that not many actors have these days. He can make a bad film shine brightly when he is on film, and he can glorify a good picture. In The Sum of All Fears he just adds to an already well-written movie.
The Sum of All Fears isn't for everyone, and do the the language and violence I can't really recommend the film fully, but it was an otherwise well-constructed film.
- John DiBiase (reviewed: 6/2/02)
Parental Guide: Content Summary

Sex/Nudity
: We see Jack and Cathy in bed in one sequence, before they're married, rolling around playfully under the covers, but nothing happens. A conversation about a political leader's personal life involves the usage of the word "banging" three times sexually (but mostly jokingly). In a romantic moment, we see Jack and Cathy passionately kissing, but they're interrupted before anything else happens.

Vulgarity/Language
: 1 "f" word, 10 "s" words, 9 "g*dd*mn," 1 S.O.B., 3 "b*nging," 7 h*ll, 1 "a" word, 1 cr*p written in subtitles, 1 d*mn, 2 "J-sus," 1 "For Chr-st's sake," 1 "For G-d's sake," 2 "Oh G-d," 2 "Oh my G-d"

Alcohol/Drugs
: Some people have drinks at a dinner party, a couple other people are seen with drinks during the film.

Blood/Gore
: We see a couple dead men lying around. One of them has a bloody bullet hole in his temple, another has some blood on their face and clothes, and another is lying on the ground pretty bloody with a couple dogs yanking at its covered leg. After a large explosion, Jack has some blood on his face, Fowler has a bloody cut on his forehead, and several other characters have varying amounts of blood on their face. Jack finds a dead man in a helicopter who is pretty bloody. In a hospital scene, we see several brief shots of people with varying degrees of bloody injuries. We see a man who's been hung, but it's not really graphic. After a fight, the two mens' faces are bloody.

Violence
: A large explosion resulting in a large number of deaths, a few people are killed off screen (we see their dead bodies later), a fight between two men, a man's throat is cut (the action isn't seen), a man is shot to death (we don't see the body, but we see the shooting), a car explodes killing the person inside.
Disclaimer: All reviews are based solely on the opinions of the reviewer. Most reviews are rated on how the reviewer enjoyed the film overall, not exclusively on content. However, if the content really affects the reviewer's opinion and experience of the film, it will definitely affect the reviewer's overall rating.
To find out why we don't typically review R-rated movies,
click here