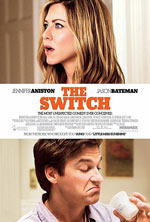 The Switch


- for mature thematic content, sexual material including dialogue, some nudity, drug use and language.
Director:
Josh Gordon, Will Speck
Starring:
Jason Bateman, Jennifer Aniston, Jeff Goldblum
Running Time:
1 hour, 40 minutes
Theatrical Release Date:
August 20, 2010
Blu-Ray Release Date:
March 15, 2011 (
Amazon.com
)
Official Site
Plot Summary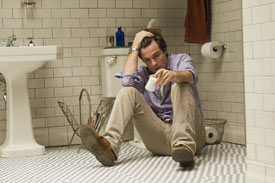 The film is based on Jeffrey Eugenides' short story "Baster," which was first published in The New Yorker. "The Baster" centers on a neurotic and insecure man (Bateman) who finds out his best friend (Aniston) wants to have a child through artificial insemination. He surreptitiously replaces her donor's semen with his own and is then forced to live with the secret that he is the child's real father. (from MovieWeb.com)
Film Review
From the guys who directed the over-the-top Will Ferrell male figure skating comedy, Blades Of Glory, comes a film about a man's best female friend deciding to get artificially inseminated and what happens when he unintentionally swaps out her originally intended donor's specimen for his own. This is one of those romantic comedies that aims for the adult crowd and offers a pretty unusual plot with subject matter and themes that definitely aren't suitable for families or younger audiences. However, for most adults, a film like The Switch manages to take such mature subject matter and make a film that shoots straight for the heart.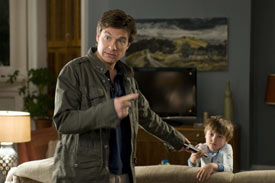 From the film's opening "7 years ago," we meet Wally and Kassie who are the bestest of friends living in New York City and have been so engrossed in their careers over the years that they never officially settled down with anyone. When Kassie tells Wally that she wants to go for artificial insemination because her biological clock is ticking and she desperately wants a child, Wally immediately objects to the idea, simultaneously throwing himself into a fit of desperation at the mere thought of any other guy fathering a child with her. At the official party to celebrate her pending insemination, with even the willing male donor present, Wally drinks himself silly, even taking some kind of "herbal" drug from Kassie's best pal to help him lighten up a bit. He stumbles into the bathroom where Kassie's donor left his "contribution" to the process and, in a drunken stupor, Wally accidentally dumps the cupful of seed in the sink. Slightly delirious, Wally on the spot decides to replace the lost goods with his own. Upon getting pregnant, Kassie decides to move home to be with family and it's nearly seven years before the two meet again. Wally has no recollection of that night or what he did, so when Kassie's six year old Sebastian turns out to have some of the same neurotic and quirky behaviors that Wally has, the unknowing donor begins to suspect what really happened that night at Kassie's party.
Jennifer Aniston hasn't been doing so well in choosing movie roles as of late, but with The Switch, and with Jason Bateman ultimately taking the lead as the film's central character in Wally Mars, Aniston doesn't have to carry the weight of the film on her own. Aniston can provide romantic support well enough, as evidenced in Bruce Almighty, and Bateman makes a solid leading man with his charming wallflower personality and unusual behavior. But with a film that relies also so heavily on a child actor, newcomer Thomas Robinson is adorable and wonderful as Kassie's son Sebastian. The scenes he plays with Bateman are fun and often heartwarming. And, together, they help make The Switch really work.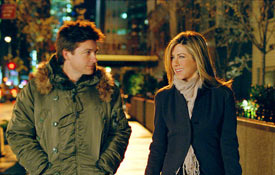 But you can't have a film like this with such a subject matter as artificial insemination without there being relatively explicit sexual content and dialog. Words like "semen" and "sperm" are used in conversation several times, as well as "seed" and more delicate ways of getting the point across. But even at Kassie's insemination party, we see a huge piece of artwork (made of balloons perhaps) that displays cartoony sperm heading towards and collecting around a woman's egg. We also see many views of a few fertility statues that look like fat, primitive sculptures with bulbous chests and bellies. The excess of such imagery adds to the absurdity of it and is played as light humor (for example, when Wally receives his invitation to the party, a ton of sperm-shaped confetti fall out of the card). The language, otherwise, is actually rather mild with only 1 "s" word, a few minor profanities and over fifteen uses of "Oh my G-d" (or "Oh G-d") as exclamations. As the film's rating suggests, there is brief nudity, but shown as part of a play that Kassie drags Wally too. We briefly see part of a man's bare butt in the foreground, and later see the man's full frontal nudity out of focus at a distance. It was quite random and completely unneeded. There is also an implied scene of masturbation (when Wally refills the specimen cup -- we see him start to undo his pants and the scene ends there) and also a mention of the act in passing conversation. Overall, the sexual content isn't really meant to be perverse but rather mostly comes along with the territory of the film's more mature theme.
The Switch may not be one you can really share with the family, but in the end it's a film that promotes families with some heartwarming moments and good chemistry between the leads. The movie offers a great cast (Jeff Goldblum as Wally's coworker and best guy buddy is a great casting choice) and a promising new talent in little Thomas Robinson. As a romantic comedy, The Switch sticks pretty close to the common formula, but takes a unique enough approach to not feel too tired or worn out -- and it doesn't take advantage of the audience's emotions like some films in the genre tend to. I would have liked to have seen some of the sexual themes toned down a bit more, but overall, it's a decent entry into the genre and one that especially married adult couples might enjoy.
-
John DiBiase
,
(reviewed: 8/20/10)
Blu-Ray Special Features Review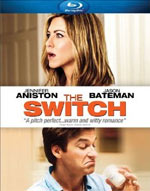 While most comedies and dramas - basically anything lacking mostly special effects - aren't must-sees in high definition, I've become ruined enough by HD that it's really become the only way to watch movies for me. The Switch, while obviously falling under the rom-com category, looks great in high definition being crisp and colorful. The Blu-Ray disc comes all by its lonesome with about fifty minutes of extras spread out across three bonus features: a making-of featurette, deleted scenes with introductions from the directors and a short blooper reel.
The Switch Conceived (14:37) - Few romantic comedies these days seem to get some real good behind-the-scenes treatment. Although "The Switch Conceived" isn't even a full fifteen minutes in length, it's a thorough and all inclusive look at the cast, script, directors and the actual filming of the movie. It offers some great b-roll footage, additional adlibs and outtakes and just random footage shot during the filmmaking process. I wish more comedies would feature content like this on their home entertainment releases.
Deleted Scenes/Alternate Ending (25:07) - There is actually a hearty helping of extra scenes that were cut out of the final product of The Switch. Directors Josh Gordon and Will Speck introduce each scene - which total ten including an alternate ending and an alternate version of when Wally "hijacks" Kassie's pregnancy. All of the deleted scenes were not especially missed from the final film but are decent watches here for those who enjoyed the movie. The directors give a little background to each cut scene and express how really difficult some of them were, but in the end, sometimes it's tough to see what was so appealing about these disposable scenes. The most interesting inclusions here are the alternate scenes. The first is an alternate take where Wally deliberately dumps out the donor's "ingredients" for his own. The finished film works better because it appears to be more accidental and less malicious. The alternate finale, as the directors reveal, was filmed when the movie was in production, but the one in the finished version of the movie was filmed 7 months after filming had finished. Basically, they (and test audiences) had felt the ending was unsatisfying and left too many questions as to what happened to some of the film's secondary characters. In this version, Kassie tells Wally she's pregnant (again, but for real this time) from the donor Roland and the final scene shows the couple three years later with a second child and Roland still being in both of their lives. It's an ending that is certainly less satisfying and just too disappointing. It was a wise decision to refilm it.
Bloopers (3:45) - This is a montage of alternate improvised lines, goof ups and goofing off on set. It's pretty amusing and neat to see how some of the actors (especially Bateman) would try out some random adlibs during takes (during these, there is 1 mis-use of Jesus' name, 1 "b*tch," and one possible muttered "f" word by actress Juliette Lewis)
So while ultimately pretty thin on extras, the home entertainment release of The Switch is a solid offering for the genre and an entertaining film (despite its mature theme). It's a worthwhile film if not just for Bateman and little Thomas Robinson's charming performances alone.
-
John DiBiase
,
(reviewed: 4/28/11)
Parental Guide: Content Summary

Sex/Nudity
: When Wally is making pleasured grunts while eating his food, Kassie teases him that he needs to stop sounding like he's having sex with his food (it doesn't really sound like that); Kassie talks openly about getting artificially inseminated; We see sperm-shaped confetti fall out of an envelope; At Kassie's party for her artificial insemination, we see a large artwork with cartoony looking sperm flocking to a woman's egg in the middle; We see nude tribal looking fertility statues with bulbous breasts (very exaggerated, not very erotic at all); At the party, Debbie teases Wally that Kassie will use a turkey baster to impregnate herself (but she won't be); Kassie refers to Roland, the donor, as the "Seed man"; Wally tries to chase off a potential donor at a party earlier in the movie when he detects that the man would be cheating on his wife to be with Kassie. Wally tells the man to go to a certain address to meet Kassie (for an affair), but just does that to get rid of him; We find out that a man's wife had presumably cheated on him with a palates instructor; Sebastian mentions something about a disease that can cause sexual problems and Kassie scolds him for using Web MD; Highly intoxicated, Wally stumbles into Kassie's bathroom and find's Roland's cup of sperm. We then see him playing with the cup, threatening to pour it near a stream of running water in the sink. When someone knocks on the door, he startles and drops the cup in the sink. We then see him pick the cup up, with a little water or its contents drip out (showing that it's now empty). Wally frets for a bit before realizing he can refill it himself. We then see him going through the magazines in the bathroom until he stops with one with Diane Sawyer on the cover and smiles. He then starts to undo his pants and the camera pans away and the scene ends there; Years later, Wally sees Diane Sawyer on TV and then nervously shifts on his couch and looks embarrassingly at his dog as he covers his crotch (presumably, he was getting aroused just by seeing her on TV in a completely innocent TV appearance, but we don't see anything explicit); Kassie and Wally go to a play and the camera pans down the back of a man on stage in the foreground of the shot. The camera stops as it reveals most of the man's bare butt, then blurs it out of focus before cutting away. Wally then complains to Kassie about the man's nudity and when they're back in their seats watching the second act, we see the man's full frontal nudity in the background behind them, but blurred out of focus (it's brief, but still enough to get the idea); On a date with a miscellaneous woman, Wally goes into a sort of automatic pessimistic prophecy of how their relationship might go, muttering something about how, while she's away, he'd be in a hotel room masturbating with his laptop. She then gets disgusted at his assumptions of their potential future. We see some cleavage in some of Kassie's outfits (and a dress Debbie wears at a party).

Vulgarity/Language
: 1 "s" word," 5 "b*tch," 1 "a" word, 3 "h*ll," 1 "d*mn," 1 "cr*p," 2 "suck," 1 "Oh my L-rd," about 17 derivatives of "G*d" (like "Oh my G-d" and "Oh G-d")

Alcohol/Drugs
: We see people drinking at a couple different parties; We see Wally get tipsy or drunk at a party; At Kassie's insemination party, Wally says he's going to stick to the hard liquor and proceeds to get very drunk. Debbie makes him take some kind of relaxing pill which she insists is "herbal." It aids in him getting very loopy and drunk

Blood/Gore
: Sebastian is watching some kind of simply-drawn cartoon that shows a bunny getting decapitated (and there's some blood); Sebastian has some bloody scrapes on his face after getting beaten up by a school bully (we don't see the fight); Wally throws up into a garbage can and we see just a little drip from his mouth when he comes up from having his face in the can

Violence
: We see briefly see a violent cartoon; Sebastian has scrapes on his face from getting picked on by a school bully; A woman slaps a man in the face
Disclaimer: All reviews are based solely on the opinions of the reviewer. Most reviews are rated on how the reviewer enjoyed the film overall, not exclusively on content. However, if the content really affects the reviewer's opinion and experience of the film, it will definitely affect the reviewer's overall rating.
To find out why we don't typically review R-rated movies,
click here