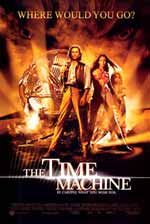 The Time Machine


- for violence, language and intense thematic elements.
Director:
Simon Wells
Starring:
Guy Pearce, Samantha Mumba, Jeremy Irons
Running Time:
1 hour, 36 minutes
Plot Summary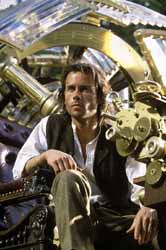 When a professor at New York City's Columbia University by the name Alexander Hartdegen (Guy Pearce) loses his fiancÚ in a tragic event he blames himself for, he spends several years developing a time machine that he can utilize to save his fiancÚ's life. After traveling to the past and realizing the events could not be changed, he ventures into the future to find the answer to why the past isn't alterable. During his quest, he travels 800,000 years into the future after an accident on the moon has caused a major disaster to the earth leaving life more primitive than before. As he begins to learn about the humans there named the Eloi, he also discovers a horrifying race named Morlocks and disturbing facts about their lifestyles.
Film Review
If you enjoy classic old films, chances are you've seen George Pal's 1960 rendition of the famous H.G. Wells novel The Time Machine. In that movie, Rod Taylor starred as George, an englishman who develops a time machine and travels to the distant future to discover the races of the Eloi and Morlocks and the primitive society that had resulted from a nuclear war catastrophy centuries prior. The film was carried by its acting, and featured amazing special effects for its time. It's a story that with today's technology could be told with much more impact if done right. In 2001, a remake was scheduled to debut in theaters around Christmas. The film was delayed on September 10th so it wouldn't have to compete with the other films releasing around the Holiday, and with the September 11th attacks, parts of the film had to be changed and refilmed, delaying the project for a March 2002 release.
I may have been the only pathetic guy in his early 20's waiting for this remake since word of its planning. I was surprised at the casting of Guy Pearce as the lead, however, after seeing him as the villain in this year's The Counte of Monte Cristo, I understand why. Pearce is an incredible actor, extremely versatile to be able to handle such vastly different roles so nicely. Now that the sufficient technology exists to make the time travelling scenes as wondrous as they should be, there doesn't seem to be a real easy way to mess up a remake, right? Well, you'd think so...
In a day and age where remakes wreak of over-blown stuffed presentations, poor scripts, and stupid plot developments, its no wonder 2002's The Time Machine isn't better than it should be. While the first half of the film is paced nicely and sets itself up quite well, it's the second half that rushes through and is over just as quickly as it begins. Odd situation-related dialog gives the feeling that a little too much of the film was left on the cutting room floor. Director Simon Wells (H.G. Wells's great-grandson) was replaced by Gore Verbinski for the last 18 days of shooting, as Simon was suffering from "extreme exhaustion". Wells apparently returned for post-production. Whether that has something to do with it or not,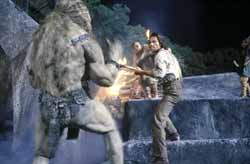 something seems unorganized about the later half of the movie. The movie begs to be a "big" film and has its fun moments, but it seems to have as many holes as a slice of Swiss.
All these complaints may indeed make you wonder why I even gave it as high a score as I did. The thing is, the film is highly enjoyable and entertaining. Although the Morlocks have a more Planet of the Apes or The Mummy feel to them, they're still quite creepy and hideous, with several sequences being borderline scary. This is especially true during an intense sequence when we're first introduced to the Morlocks as they hunt and capture several Eloi. For me, I'm usually willing to let several stupid plot developments in movies slide by to just enjoy the film I'm desiring to like. So when one of the Eloi women named Mara has the ability to speak English 800,000 years into the future, it may seem a little odd. They explain that only a few Eloi understand the language -- mainly children -- which becomes really odd once a character who earlier didn't know English is all of a sudden speaking it.
Content is mild, with especially during one instance which appeared to be paying homage to the 1960 original where we see a Morlock decompose quite rapidly as time passes. Language is very mild with just 2 uses of "h*ll" and 1 use of "d*mn." Sex/nudity is almost non-existant with the exception of Mara wearing a semi-revealing mesh-like top at one point, but nothing explicit is really shown. There are some disturbing sequences involving the Morlocks including some violence, but nothing that is all that graphic or gory.
All in all the film is decent, fans will know it could be better, and those who know better while hearing the story for the first time will also realize it lacked in parts. It's still enjoyable despite its flaws, hence the 3.5 out of 5.
-
John DiBiase
,
(reviewed: 3/9/02)
Parental Guide: Content Summary

Sex/Nudity
: Mara wears some slightly revealing clothing during the film, including a mesh top that's partially see through (but no explicit details can be seen through it).

Vulgarity/Language
: 2 "d*mn," 1 "h*ll," 2 "G-d"

Alcohol/Drugs
: None.

Blood/Gore
: After a woman is shot, a little blood is on her clothing, with also some underneath her on the snow. Alexander has a trickle of blood on his head an earthquake jostles him around inside the machine. Alexander finds some sharp tools that the Morlocks apparently use to kill the Eloi which startles him, causing him to lose his footing and fall into a pool of water filled with bones of dead Eloi. One of the Uber-Morlock's features is a gruesome looking spine that sticks out from his back. Alexander has some blood on his mouth and face from a fight. As a Morlock fights Alexander, he sends the time machine through time, causing the Morlock's body, which is outside the machine to rapidly decay down to the bone as time passes. When it dissolves, it leaves just two dismembered hands/forearms still clinging to Alexander's neck.

Violence
: A woman is shot by a mugger; The Morlocks shoot darts at people in various instances, which are covered in a black goo; We see Morlocks tackling, tying up and dragging Eloi through the ground; Alexander fights a Morlock; a man grabs another by the throat; two men brutally fight; there is a large explosion.
Disclaimer: All reviews are based solely on the opinions of the reviewer. Most reviews are rated on how the reviewer enjoyed the film overall, not exclusively on content. However, if the content really affects the reviewer's opinion and experience of the film, it will definitely affect the reviewer's overall rating.
To find out why we don't typically review R-rated movies,
click here