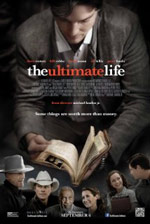 The Ultimate Life


- for a brief battle scene and mild thematic elements.
Director:
Michael Landon Jr.
Starring:
Drew Waters, Austin James, Logan Bartholomew, Peter Fonda, Ali Hillis, David Mann, Bechir Sylvain
Running Time:
1 hour, 48 minutes
Theatrical Release Date:
September 6, 2013
Christian Film Database Page
Official Site
Plot Summary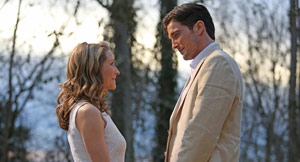 Between the pressure of running a foundation started by his late grandfather, being sued by his greedy extended family, and seeing his beloved Alexia leave on an extended mission trip to Haiti, Jason Stevens' world is unraveling. But when Jason discovers the lifelong journal his grandfather began as a Depression-era lad, Red Stevens' writings transport Jason to a front-row seat on an incredible rags-to-riches ride. With everything he loves hanging in the balance, Jason hopes he can discover THE ULTIMATE LIFE. THE ULTIMATE LIFE reminds us some things are worth more than money! (from TheUltimateLifeMovie.com)
Film Review
As a follow-up to the 2006 surprise hit The Ultimate Gift, which was based on a novel, The Ultimate Life serves as both a prequel and a sequel to the previous film. In it, Jason (who has been replaced by actor Logan Bartholomew for this pre/sequel) is about to lose the love of his life due to having his priorities wrapped up too much in the family business. But his grandfather, Red, who had left him the life lesson "gifts" we heard about in the first film, passes his personal journal on to Jason, which helps the self-absorbed billionaire re-evaluate what matters most in his life. As Jason reads the journal, we're taken back to Red's childhood as we get to see how the poor boy became the wealthy oil tycoon he became for.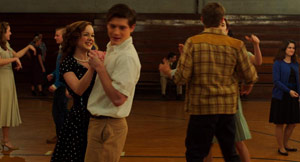 The Ultimate Life is a tricky film. For the audience to get to the grand message the film is trying to get across, the viewer must be lead down the path that Red Stevens had traveled many years ago. And from his early years as a poor kid growing up with very little to live off of, we're faced with his relentless pursuit of wealth. We see Red as a teenager leave home, meet his wife-to-be, reluctantly attend school, go off to war, and make his first million, so to speak. It jumps rather suddenly from his time in the war as a 15-year-old to being an adult with four kids already and trying to make a living from drilling oil. And it's here that we see that no matter how much he makes, it's never enough, and he's willing to ignore his family in order to continue to pursue his dream of becoming a billionaire. And what the viewer comes to realize, however, throughout the course of the film is the simple fact that, well, Red is kind of a jerk. He's completely consumed by the need for wealth that his pursuit of it is his sole motivation for living. And, as one can imagine, he eventually will realize that this isn't everything, but he has to actually earn his billionaire status to realize this, keeping the film's central character fairly unlikeable until near the film's end. As one character tells him at one point in the film, Red is "rude, self serving and greedy," and it makes his character tough to cling to. One of the biggest problems with this, too, is that the viewer already knows the lesson Red has to learn, so we're less likely to be rooting for him than wanting to smack him upside the head to help him realize he's got four children and a wife sitting neglected at home while he tries to viciously pursue his own idea of the American dream.
Still, there's just enough done well about the movie to tip the scales ever so slightly in the film's favor. (Although, admittedly, in retrospect, those reasons are tough to see. But after watching the even poorly made Snake and Mongoose, this movie is considerably better.) The modern days scenes, however, are the toughest to watch. From the overly grinning characters filling up walking-and-talking mini-scenes to the formulaic lose-the-girl-and-go-halfway-around-the-world-to-win-her-back romance plot, the movie actually fairs better when it's set in the past. From the clothes to the cars and settings, the movie works best when it's a period film. Director Michael Landon Jr. tries hard to make sure nothing present-day creeps into the background (although I could have sworn I saw a modern day car parked outside a window during a diner scene, but it was too obscured to be able to tell for sure). Only one poor green screen shot during an exchange between Red and Hobo Joe set on a train just plain didn't work. But Landon Jr. does his best to keep scenes small scale to contain the time period setting. However, the scale is so diminutive that it begins to feel abnormally so. But this may also have a lot to do with the film's budget being a third of what The Ultimate Gift reportedly had ($3 million here as opposed to $9 million for the 2006 film).

The movie's strongest scenes actually seem to be when Austin James is playing Red as a teenager. James isn't the best actor by any means, but he does the best he can with the script and material at his disposal. Only a few moments feel awkwardly handled (like the stereotypical going off to war exchange between Red and Hanna), while older Red, played by Drew Waters, plays Red much harder in personality than Austin does. Thankfully, a young Hamilton, performed by Bechir Sylvain, plays wonderfully off of Waters' older Red, and their scenes are some of the best moments of the latter half of the film. But, in the end, there's so much about The Ultimate Life that feels like it's been done before that it doesn't really quite justify its existence.
The content in The Ultimate Life is quite tame. There's a brief war scene where an explosion throws a main character and we see them with blood in their mouth and some blood on their clothes and on the hands of someone helping them, but that's the extent of the violence. Profanity is near absent with one possible "G-d" and a single use of "cr*p." And while the film doesn't set out to be preachy or painfully heavy-handed in its delivery of a spiritual message, there's a seed planted early on of Hobo Joe encouraging young Red to be thankful for God's blessings, which is something that is brought up in the finale tastefully enough to not feel too forceful. In the end, the film is a positive one with an emphasis placed on family first, and charity, as opposed to self-serving pursuits in life. It's a rough road to get to that point, and I'm not sure it was executed as well as it could have been, but the point still gets across.
Overall, The Ultimate Life is a pretty bold title for a pretty bold concept that doesn't really seem to offer audiences enough to really justify investing the necessary time and energy. It has its sweet moments, as well as a couple decent performances, but it's nothing more than an OK movie that sets out to deliver a profound message in a way that lacks the necessary profundity.
-
John DiBiase
,
(reviewed: 9/5/13)
Parental Guide: Content Summary

Sex/Nudity
: We see a miscellaneous couple kissing; Red and Hanna kiss a few times.

Vulgarity/Language
: 1 possible "G-d," 1 "cr*p"

Alcohol/Drugs
: None.

Blood/Gore
: After an explosion, Red has blood in his mouth and some on his clothed chest. Gus rips open Red's vest to apply gauze to the wound (we don't see it) and has blood on his hands; Hamilton has a bloody scab on his face after an accident.

Violence
: Hobo Joe slams Red up against a fence as some men in a trainyard beat up and kick a man who tried to sneak onto a train; Gus pushes Red in the arm really hard in a half-kidding way; To get her attention, Red roughly turns Hanna around to face him; During a war scene, we hear explosions and see machine gun nests and some gunfire. An explosion tosses Red and Gus comes and drags him to safety; We hear about an accident and later see a man lying in a hospital bed. Later, a man donates a kidney (we don't see the operation) to save the accident victim's life.
Disclaimer: All reviews are based solely on the opinions of the reviewer. Most reviews are rated on how the reviewer enjoyed the film overall, not exclusively on content. However, if the content really affects the reviewer's opinion and experience of the film, it will definitely affect the reviewer's overall rating.
To find out why we don't typically review R-rated movies,
click here