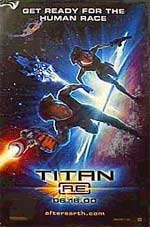 Titan [A.E.]


- for action violence, mild sensuality and brief language.
Director:
Don Bluth
Starring:
voices of Matt Damon, Bill Pullman, Drew Barrymore, Nathan Lane
Running Time:
1 hour, 34 minutes
Plot Summary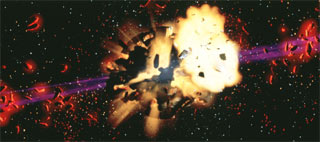 Cale's father leaves him when Earth is attacked when he was about 5. Earth gets annhilated, leaving humans homeless and scarce. Cale's father pilots the Titan ship, an enormous spaceship that is said to be the key to restoring the humans as a civilization, off of earth before it's destroyed. 15 years later, Cale is sought out by 2 humans and some aliens who need him to help find the Titan. He joins them and it's a race to find the Titan before the evil alien race, the Drej do and destroy it.
Film Review
This another one of those hyped-up movies which you see previews for over a year in advance and has such so much anticipation it's incredible. The question must be asked, "Can a movie hold up to such anticipation?" In Titan A.E.'s case, yes and no.
Titan blends computer and hand-drawn animation pretty well for this sci-fi adventure. While the story is interesting, and the animation thrilling, it's amazing the faults that exist in the final product. While the voice talents of Matt Damon as Cale, Nathan Lane as Preed, Bill Pullman as Korso, and Drew Barrymore as Akima are all good with the the characters being equally such, there are 2 charactes that personally grated on my nerves in a "Jar-Jar Binks" sort of way. Gune, voiced by John Leguizamo, and Stith, voiced by Janeane Garofolo both have relatively irritating characters who break the mood and stick out as rather misplaced. Also, the animation was a little inconsistent. At times, the drawings became rough and the animation choppy. However, sometimes the movie has such amazing animation moments where the picture couldn't get better (like the ice field scene.
One last problem, that most critics picked on and I must agree to an extent, was the dialog. It was simple, sometimes silly, and common, but the overall delivery of the film and the visual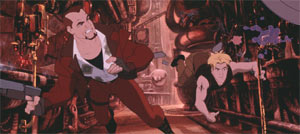 effects helped mask the problem. Content is odd for an animated feature. It's very violent and does have several instances where quite a bit of cartoon blood is seen. The worst, in the end when a character is bleeding in a weightless environment and the blood just beads up and floats away, and in another scene, a character is shot through the shoulder with cartoon blood squirting out. The language isn't too bad, but there is a possible muffled "s" word (or just a noise sounding as one),
One obvious mistake was the soundtrack selections. They played several rock tunes throughout the movie that didn't fit and only hurt. The instrumental score, what little there was, seemed to fit pretty much.
Overall, it was good. A definite for a rainy day, but not worth the 8 bucks. Also, the fantasy storyline is not to be taken seriously, especially when it occasionally borderlines on ridiculous. And if you have a choice between animated features to see, see Dinosaur. Due to the violence and the imperfections, I give 2000's Titan A.E. just 2 and a half stars.
-
John DiBiase
(reviewed: 6/18/00)
Parental Guide: Content Summary

Sex/Nudity
: As Cale is hovering above a medical table while Akima is working over him, we see his bare butt a couple times. Cale unknowingly walks in on Akima who happens to be putting a towel around her nude body, but we don't see anything.

Vulgarity/Language
: 3 "d*mn"

Alcohol/Drugs
: None.

Blood/Gore
: (All violence is drawn being it's a cartoon) Cale has some blood on his arm, and later his leg, after being shot. In one scene, we see Cale up against a windshield and some blood runs onto it. Seen from sort of a distance, Akima puts a medical instrument into the wound in Cale's leg. Akima is shot in the shoulder resulting in some blood squirting out. After being injured, we see some blood from Korso's arm float around in the air while being in a low gravity environment.

Violence
: Explosions, people being shot, creatures blown up, a planet blown up, lots of destruction, punching, kicking
Disclaimer: All reviews are based solely on the opinions of the reviewer. Most reviews are rated on how the reviewer enjoyed the film overall, not exclusively on content. However, if the content really affects the reviewer's opinion and experience of the film, it will definitely affect the reviewer's overall rating.
To find out why we don't typically review R-rated movies,
click here