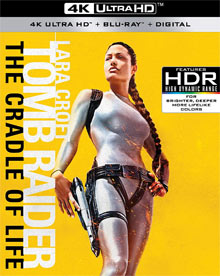 Lara Croft Tomb Raider: The Cradle of Life


- for action violence and some sensuality.
Director:
Jan De Bont
Starring:
Angelina Jolie, Gerard Butler
Running Time:
2 hours, 10 minutes
Theatrical Release Date:
July 25, 2003
Plot Summary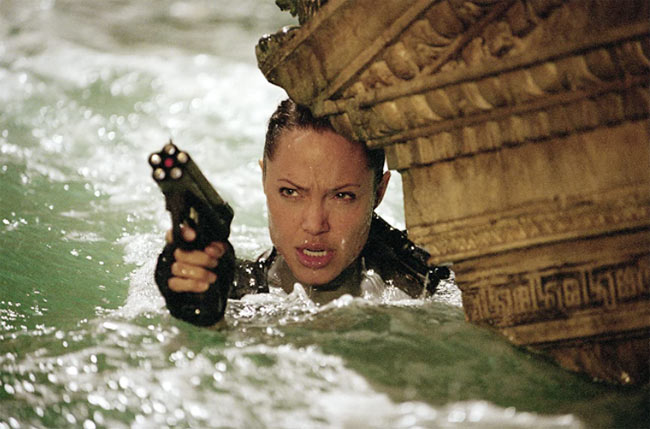 Facing her greatest challenges yet, the intrepid tomb raider Lara Croft (Angelina Jolie) travels the world on a spectacular adventure that takes her to such exotic places as Hong Kong, Kenya, Tanzania, Greece, and the Great Wall of China. Demonstrating her physical prowess and revealing her courage as never before, Lara proves that she will stop at nothing in her search for an infamous site known as "The Cradle of Life" ...especially when it means she could save the world from the most unspeakable evil ever known.
Film Review
Believe it or not, but I voluntarily chose to see the sequel to the mostly atrocious 2001 original, Lara Croft: Tomb Raider. The films are based on a popular role playing adventure video game about a shapely treasure hunter named Lara Croft. While the story could work well as a movie, given the popularity and success of the Indiana Jones adventure films, it only works sometimes. An engaging plot and likable characters are replaced with action-for-action's-sake sequences and cardboard representations of where a character should be. While Indiana Jones had the clever humor, a genuinely likable hero, truly sinister yet often sophisticated central villains, and a supporting cast that only complimented Harrison Ford's character, Tomb Raider lacks in each of these areas. While Angelina Jolie is often very good in the Croft role and adds a fun spin to her character, she doesn't seem to be able to carry the film on her own. This is the feeling that came across again the second time around. While James Bond often teams up with a beautiful and known co-star in his films, Jolie's Croft is often accompanied by slobbering nincompoops who just leave a drool path behind them as they follow Croft around like little lost puppies. So when one of those characters gets bumped off one way or another, who really cares? But shouldn't we? So with Jolie as the star of every scene, doesn't it work as a one-woman show? Oftentimes no, but sometimes yes.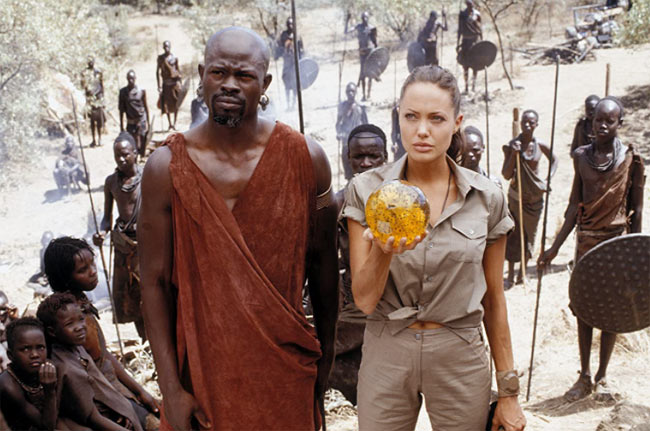 While it may sound like I'm picking on the idea of a "girl-power" heroine who can rock the socks of any man who comes toe to toe with her, that's hardly the case here. My problem is that no other characters really stand out. It's Croft in a world of lifesize cardboard stand-up representations of characters. Even though it probably would steal Jolie's thunder to be teamed with a famous actor, even a somewhat known character actor would suffice here (or at least a character with a coherent accent and actual brains. "So tell us, John, what did you like about this film? You did give it three stars!" Well folks, the fact is I like movies. And usually I can salvage a miss of a flick if the story and lead actors are interesting and watchable enough. While there's nothing in The Cradle of Life to give you the unsettled feeling of must seeing the film again before it appropriately exits the multiplexes, there are enough entertaining moments to keep your eyes busy if you'll let yourself enjoy it. My favorite moment, actually, took place towards the climax of the film that involved an encounter with some ferocious and ultimately disturbing creatures (the "hunt" in it should remind some of the velociraptor attack in the field in The Lost World). The visuals were often pretty cool but we all know that isn't enough to save a ailing film (anyone remember 1998's Godzilla?? -- If so, I'm sorry to hear that).
Language is minimal while the sensuality is kept underwraps pretty good and the violence includes some brief bloody cuts and marks as well as a brief glimpse of a character melting in acid. Also, violence is heavy, but not too bad for a PG-13 action film. As far as the plot goes, The Cradle of Life was decent yet, when analyzed, borderline blasphemous. The film proposed that life came to be from Pandora's Box -- Greek mythology -- and evolved. While we know it's idiotic but probably okay if used in a story for story's sake and not meant to be taken literally, it's a goofy premise and one that contradicts what we all believe.
Overall, I thought the movie was alright but a large step above the first film. It could have been a whole lot better. It's decent rainy day enjoyment if you don't expect much and are in the mood for improbable, and often lifeless, action/adventure. But with all taken into consideration, I grant Lara Croft Tomb Raider: The Cradle of Life 2 and a half stars. Please read all the content details carefully.
-
John DiBiase
,
(reviewed: 7/28/03)
Parental Guide: Content Summary

Sex/Nudity
: Besides seeing Lara in a revealing bikini, there's a sensual scene where Lara comes on to Terry. In that scene we see her with just a sheet of some kind wrapped around her. He comes up to her shirtless and they kiss passionately. She climbs on top of him and caresses him briefly before handcuffing him to the bed (non-sexually).

Vulgarity/Language
: 1 "s" words, 1 "a" word, 1 "a-h*le"), 1 "d*mn," 1 "h*ll", 3 "G-d"

Alcohol/Drugs
: Some people have wine and champagne.

Blood/Gore
: Lara cuts her arm to make blood spill into the ocean to attract a shark ( we briefly see the bloody cut). A man is poisoned with a form of the ebola virus and he spits up a considerable amount of blood. We see a slightly bloody cut on a man's leg. Lara has some blood on her shirt. Lara's head is pressed against some broken glass on a table and we briefly see some blood from her head on the table. We see some blood on rocks. We see a character in a pool of acid and briefly see them struggle as their skin melts off. Lara has some blood on her hands, arms, and forehead.

Violence
: Lots of shooting, punching, kicking, stabbing, some people die through the movie, etc.
Disclaimer: All reviews are based solely on the opinions of the reviewer. Most reviews are rated on how the reviewer enjoyed the film overall, not exclusively on content. However, if the content really affects the reviewer's opinion and experience of the film, it will definitely affect the reviewer's overall rating.
To find out why we don't typically review R-rated movies,
click here