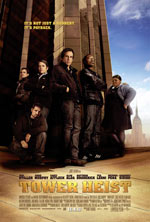 Tower Heist


- for language and sexual content.
Director:
Brett Ratner
Starring:
Ben Stiller, Eddie Murphy, Matthew Broderick, Casey Affleck, Alan Alda, Tea Leoni, Michael Pena
Running Time:
1 hour, 44 minutes
Theatrical Release Date:
November 4, 2011
Official Site
Plot Summary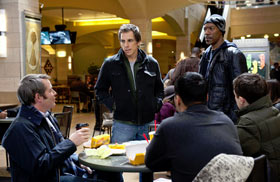 Josh Kovacs has managed one of the most luxurious and well-secured residences in New York City for more than a decade. In the swankiest unit atop Josh's building, Wall Street titan Arthur Shaw is under house arrest after being caught stealing two billion from his investors. The hardest hit among those he defrauded? The tower staffers whose pensions he was entrusted to manage. With only days before Arthur gets away with the perfect crime, Josh's crew turns to petty crook Slide to plan the nearly impossible...to steal what they are sure is hidden in Arthur's guarded condo. Though amateurs, these rookie thieves know the building better than anyone. Turns out they've been casing the place for years, they just didn't know it. (from MovieWeb.com)
Film Review
In 1998, a little action comedy by the name of Rush Hour, starring action superstar Jackie Chan and comedian Chris Tucker, put a small time director named Brett Ratner on the map. Two sequels from the popular franchise, an entry into the twisted tales of Hannibal Lecter, and the much criticized third X-Men film later, Ratner returns with a new crime comedy, Tower Heist.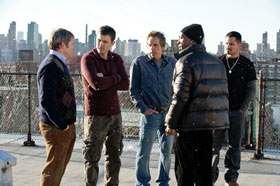 At the risk of sounding like a fourth Ocean's movie, Tower Heist takes a group of everyday working stiffs, who have suffered from losing everything when a billionaire investor swindles them out of their pensions and savings, and has them scheming to set things right. While Steve Soderbergh certainly kept the Ocean's trilogy comedic, they were primarily cool and slick heist capers centered on con artists who did this kind of thing as a full-time gig. Ratner takes a more light and almost silly approach to Tower Heist, without getting too campy or cartoonish. He also injects just enough drama to make you care about these characters. Ben Stiller is more like his Night at the Museum character, as Josh Kovacs, than some of his goofier roles, and serves as a likable average joe who just gets pushed too far when he and his coworkers are taken to the cleaners, financially speaking. Eddie Murphy is basically a foul-mouthed version of his fast-talking Shrek character, Donkey, and offers up some frenzied fun as a thief named "Slide" who Kovacs brings on to help. Matthew Broderick turns in what may be his best performance since Ferris Bueller (at least of what I've seen) as a down-on-his-luck tenant of The Tower, named Mr. Fitzhugh, who's been hit hard financially by a divorce and the poor state of the economy. With a few additional players, which include Casey Affleck (who must just love heist films after doing the three Ocean's movies), Michael Pena, Tea Leoni and the billionaire played by Alan Alda, Ratner is anything but short on strong talent for this venture.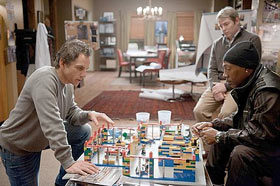 Ratner's pacing is done pretty well, and an entertaining script with a unique story are just strengthened by a great cast. Ratner has often been skillful with finding just the right tone for his comedies and thankfully Tower Heist is no exception. A lot of the comedy stems from the fact that these thieves aren't really thieves at all (save for Murphy's character), so of course mistakes are made and things get pretty out of hand at times. It may be more "realistic" than one of the Ocean's ventures because we can relate to these guys better. And also, because they're not knocking off a casino in Vegas, it feels more down to earth and tangible. Fun is the name of the game here, even if the characters aren't exactly having a ball, and these guys keep it all light and entertaining.
The film's biggest problem, however, lies within its content. The movie pushes the PG-13 envelope some, unfortunately, with at least 45 uses of the "s" word, well over a dozen of the "a" word and a wealth of other distasteful words and phrases. Also, there's quite a bit of sexual humor - from a lengthy conversation about lesbians (and how Slide loves to grope them) to some suggestive comments and a brief view of a Playboy magazine cover that shows a woman in a mesh bikini (her nipples are clearly visible). It all taints the movie quite a bit, which is disappointing, especially since it's really a fun film otherwise. There is also a comical scene where the main characters are shown shoplifting to prove to Slide that they can do this heist, so some viewers might be uncomfortable with the act and how they get away with it without any consequences (However, there are some repercussions for the main theft which take some of the allure out of the act of robbing someone).
In the end, Tower Heist is a highly entertaining comedy. The characters are relatable and fun, and it's great to see some of the actors just rolling with their characters (especially Broderick). The content really does dog the overall outcome of the film, though, and it's unfortunate because I otherwise would have recommended it.
-
John DiBiase
(reviewed: 11/13/11)
Parental Guide: Content Summary

Sex/Nudity
: Charlie rants on and on about how small his wife's vagina is for giving birth (and he says the word several times). He brings it up again in a later scene; Slide gives the guys a test to do and then goes back inside saying he's "going to go have sex with Rita." Mr. Fitzhugh then asks "Who's Rita?" but the scene ends there; While the guys are sitting around Josh's apartment, Slide asks who a hot girl in a photo is. Josh informs him that she's a lesbian. Mr. Fitzhugh, shocked, asks how it's possible and someone informs him that another beautiful girl in the building is a lesbian too. Flabbergasted, he comments about them being off the market. Slide then comments that he loves lesbians because they have great "t*ts" and then complains that straight women have guys yanking on and pulling on their breasts all the time, but lesbians don't. Josh tries to get the guys back on track and asks them what they've learned and Charlie remarks that they're surrounded by lesbians (or something like that); Odessa suggestively explains the safe-picking process to Slide. She talks about feeling around for the entry point and something about a pole, before mentioning his "pole." She then asks him if he's married. He looks her up and down and then asks "Nah, I ain't married... what's up?", but nothing happens; We see Manuel and the security guys at The Tower reading a Playboy magazine and talking about the models's degree of nudity. We then see the cover which shows a woman in a mesh bikini which reveals her breasts and nipples. We later briefly see this cover again; While drunk, Claire talks about how the last time she got drunk she made out with a fireman. When Josh asks when that was, she said it was earlier that week. She flirts with him some, but nothing happens; Josh tells Enrique the rules about what's not acceptable at The Tower and mentions no sex, among other things, while on the job. He makes another comment about keeping his "d*ck" in his pants; Josh threatens to rat on Manuel about him having an affair with another woman in The Tower; While shoplifting, Josh goes into Victoria's Secret and comes out with a few pairs of panties and a scented candle that he pulls out of his pants; And other instances of sexual innuendo...

Vulgarity/Language
: Roughly 45 "s," 17 "a" words, 3 "g*dd*mn," 3 "J-sus," 1 "J-sus Chr-st," 1 "a**h*le," 5 "G-d," 2 "S.O.B.," 10 "h*ll," 1 "d*ck," 10 "b*tch," 2 "d*mn," 3 "t*ts," 2 "p*ssy," 6 "balls" (and Slide uses the "n" word several times)

Alcohol/Drugs
: The maid sprinkles some kind of drug on a piece of cake; Claire and Josh get drunk in a bar

Blood/Gore
: None.

Violence
: A woman clotheslines a man who's running down a street. We then see a van flip on its side; We see an older man walking toward a passing subway to commit suicide. We later find out that he didn't succeed and is fine; A man takes a golf club to a car, smashing its windows; Two men struggle over a gun and it goes off accidentally, shooting a nearby vehicle; A man dangles from the side of a tower; A van drives recklessly through a parade on the streets of New York
Disclaimer: All reviews are based solely on the opinions of the reviewer. Most reviews are rated on how the reviewer enjoyed the film overall, not exclusively on content. However, if the content really affects the reviewer's opinion and experience of the film, it will definitely affect the reviewer's overall rating.
To find out why we don't typically review R-rated movies,
click here